Fans of Lancome I hope you are getting ready for summer new products!It's very cute, colorful and shining. Keep reading to learn how to take your glow to the next level with the Lancome Chiara Ferragni Summer 2019 Collection.
Italian fashion influencer Chiara Ferragni has partnered with Lancôme to launch her first makeup collaboration with the beauty company. The collection comprises of a lip and face palette, three exclusive shades of the L'Absolu Mademoiselle Shine lipstick, a trio of the L'Absolu Lacquer lippie and a limited-edition Hypnôse Drama mascara — all designed with pink packaging and the winking eye motif signature to The Blonde Salad brand.
Let's get the details together!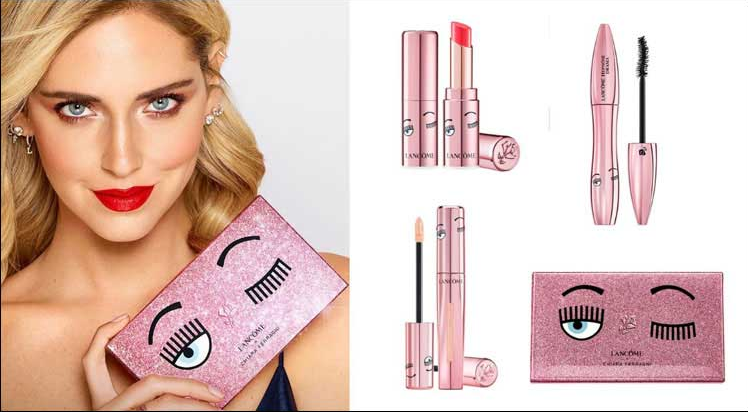 Lancome Chiara Ferragni Summer 2019 Makeup Collection
Available – Now at Italy douglasitalia ​,in France,In the US: June 13th at Nordstrom ​ In the UK : June 26th At john lewisandpartners
"This is such a milestone for me: my own capsule collection for Lancôme, that's going to be available worldwide," writes Ferragni in an Instagram caption. While the collection is not available in the US just yet, it is already available in Italy, which gives us serious FOMO. In the meantime, at least we can stalk the products online to figure out what we're going to buy when it's officially available. The collection includes three shades of L'absolu Lacquer and L'absolu Mademoiselle Shine, a face palette that's to-die-for, and the cult-classic Hypnôse Drama Mascara in limited edition packaging.
Flirting Palette / All Over Face, Lips & Eyes Makeup Palette – Limited Edition
Discover Chiara Ferragni's makeup necessities in one Face Palette.
This exclusive Flirting Makeup Palette is a palette with everything you need for face, lips and eyelids. The pigmented and highly usable range of lipsticks, eye shadows, blush and highlighters will ensure you attract attention.
The makeup palette contains 13 different colors: 1 Lip Gloss, 4 Lipsticks, 4 Eyeshadows, 1 Blush, 3 Highlights. This all-in-one makeup palette contains everything you need to add makeup to both day and night.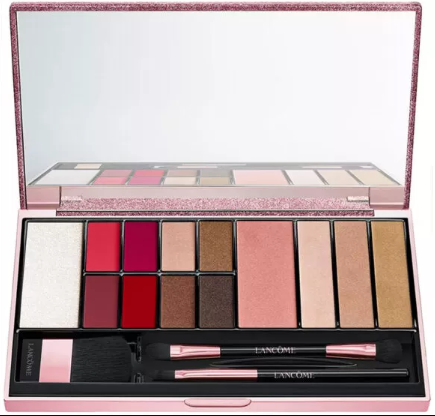 Lancome Hypnose Drama Chiara Ferragni – Limited Edition
We get the iconic Hypnose Drama in a pink limited edition package with Chiara's signature eye logo.

L'Absolu Mademoiselle Shine Lacquer – Limited Edition
Forget the traditional beauty rules and set your own with our new lipstick Lancôme L'Absolu Mademoiselle Shine. The velvet-soft texture melts on the lips and gives the lips immediate shine combined with comfort and care. L'Absolu Mademoiselle Shine leaves your lips soft and comfortable all day long. With its soft, smooth and highly moisturizing molds, L'Absolu Mademoiselle Shine is easy to apply perfectly to your lips. Always on-the-glow!
shade:
1987 Girl Next Door
2017 Power Talk
2018 Sweet Mom
L'Absolu Mademoiselle Shine – Limited Edition
shade:
Nr.0705 Positive Attitude (Shine)
Nr.0605 Independent Woman (Shine)
Nr.1903 Kinda Flirty (Shine)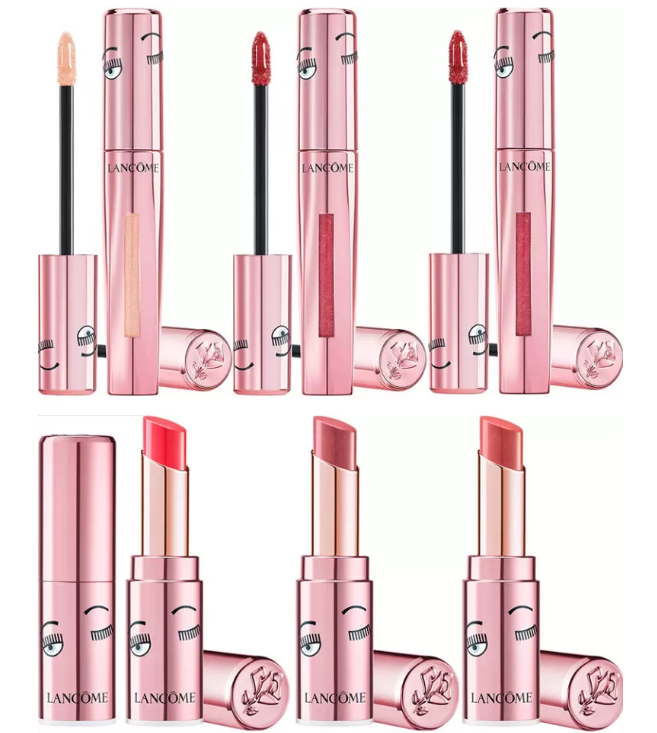 Enjoy promo photos of Lancome Chiara Ferragni 2019 Makeup Collection…