Lipstick is indispensable to every beautiful girl. A slick of bold colour can boost our confidence and lift our spirits.
I am very excited to tell you that Charlotte Tilbury Hot Lips 2 is coming,it's happiness in a tube!
it can give the strength to persevere against the odds.Charlotte Tilbury Hot Lips 2 is very beautiful. I'm fascinated by it.
Let's learn more about it!
Charlotte Tilbury Hot Lips 2 for summer 2019
Available – JUNE 18TH Online ctilburymakeup
"For Hot Lips 2, I have bottled the beauty DNA of 11 iconic, world-changing people to create new shades in homage to their inspiring beauty and lives, and the difference we can make together!" Charlotte Tilbury
Each magic shade comes in one of the 5 collectable, refillable, interchangeable case designs inspired by Charlotte's universe of fashion, Hollywood, rock 'n' roll and magic: The Timeless Leopard, Modern Red
Leopard, The Power of the Universe, The Magic Panther and The Magic Infinity Starburst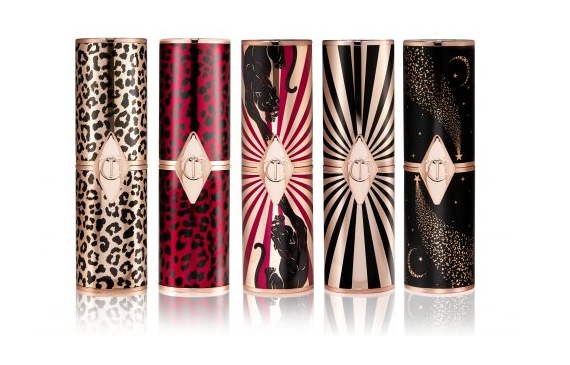 Charlotte Tilbury has bottled the beauty DNA of 11 strong, magic people and created lipsticks in homage to them in a new, suits-all range, so that everyone can experience glamour, confidence and power, every day and everywhere! Cast your magic spell on the world with these new shades:
Matte Revolution: an elegant soft, berry pink
Matte Revolution: a soft-wine shade
K.I.S.S.I.N.G: a cool, '60s, pop pink
Matte Revolution: a wearable, accessible tawny-orange red
Matte Revolution: a modern peach soft coral
K.I.S.S.I.N.G: a tawny beachy rose
K.I.S.S.I.N.G: a peachy nude-rose
K.I.S.S.I.N.G: a sunset, peachy nude
Matte Revolution: an iconic, statement red
K.I.S.S.I.N.G: pretty in pink, a luscious lip look!
NEW! Hydrating Clear Lipstick

Hot Lips 2 joins the original Hot Lips collection which launched in 2016, when Charlotte created a world-first, award-winning range of 16 Hot Lips lipstick shades inspired by some of the world's most iconic women, Miranda Kerr, Nicole Kidman, Salma Hayek, Kate Bosworth, Laura Bailey, Cindy Crawford, Helena Bonham-Carter, Liv Tyler, Emily Ratajkowski, Carina Lau, Poppy Delevingne, Kim Kardashian-West and four of Charlotte's best-selling, best-loved celebrity shades, Victoria Beckham, Kate Moss, Sienna Miller and Penelope Cruz.
Let's enjoy more photos…