Comenity Bank is one of the largest issuers of co-branded credit cards, covering retail stores, travel services, healthcare services, and more. You might have never heard of Comenity, but you could actually have a credit card issued by this bank. Over 50 million Americans have a card issued by Comenity, one of the top providers of retail store credit cards.
Information FROM Comenity Bank
Comenity Bank is located at 12921 South Vista Station Boulevard, Draper, UT 84020. Its P.O. Box is P.O. Box 182273, Columbus, OH 43218. The main telephone number is 800-675-5685 and the main website is www.comenity.com/.
The customer service telephone number for the Ulta card is 866-254-9971. The number for the Ulta MasterCard is 866-257-9195. The number for the Ulta World MasterCard is 866-271-2680.
Like many creditors, Comenity Bank may use many different phone numbers to contact debtors. Here are additional numbers Comenity Bank may be calling you from:
347-374-1555
614-754-4073
720-456-3687
855-437-5016
913-312-3217
Comenity Bank is an issuer of co-branded credit cards for retailers like BJ's, Express, J.Crew, Ulta and Wayfair. The bank's cards generally have no annual fees, low credit limits and lax approval requirements, making them a popular choice for people with fair to average credit.
Ulta Beauty is the largest U.S. beauty retailer, offering more than 25,000 products across all categories and price points, including its own private label.
The Ulta Ultamate Rewards Card is a Comenity credit card for Ulta Beauty, Inc., Comenity offers an Ulta credit card, Ulta MasterCard, and Ulta World MasterCard. Benefits of the standard card consist primarily of reward-points for every dollar spent, while the MasterCards offer double reward-points on Ulta purchases and reward-points for money spent anywhere MasterCard is accepted.
You'll rack up even more points faster on every dollar you spend with the Ultamate Rewards MasterCard®.
Earn 1 extra point* for every $1 spent at Ulta Beauty. That's double your points!
Earn 1 extra point for every $3 spent outside of Ulta Beauty using your card.
No annual fee
500 points when you spend $500 in the first 90 days outside of Ulta Beauty
Click to APPLY the Ulta credit card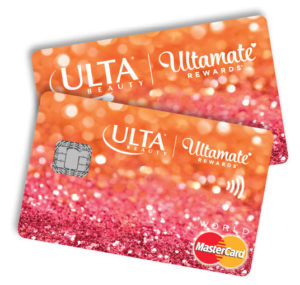 What is my Ulta Beauty Card – Comenity Bank credit card interest rate (APR)?
It doesn't take long to figure out that credit cards are not free money. The way Ulta Beauty Card – Comenity Bank makes money from offering you a credit card is from the interest you pay when you don't pay the card off in full by the end of the billing cycle. So how much interest are you paying exactly? That depends on your APR.
Find your Ulta Beauty Card – Comenity Bank credit card APR on your bank statement
The easiest way to find your Ulta Beauty Card – Comenity Bank credit card APR is to find it on your statement. On most statements, you can find the APR in the disclosure section. Note that you will likely see several different APR's for purchases, cash advances, balance transfers, etc. Make sure you are looking at the right rate for the type of transactions you're considering.
Call Ulta Beauty Card – Comenity Bank and ask what your APR is
If you can't get your hands on your statement or are having a hard time understanding the APR's listed, it might be best to give Ulta Beauty Card – Comenity Bank a quick call. Find the correct customer service number online.
Comenity Ulta Credit Card Login
Follow these easy steps:
Step 1. Go to Comenity Ulta Credit Card Login page via official link below.
Step 2. Login using your username and password. Login screen appears upon successful login.
Step 3. If you still can't access Comenity Ulta Credit Card Login then contact service.
Is Comenity Bank legitimate?
Yes. Comenity Bank is a legally licensed bank that issues credit cards for a number of major consumer brands and corporations.
What stores use Comenity bank?
Ann Taylor Mastercard.
Bealls Florida Credit Card.
Big Lots Credit Card.
BrylaneHome Platinum Card.
Buckle Credit Card.
Catherines Credit Card.
David's Bridal Credit Card.
Gamestop Credit Card.
Does Ulta do makeup for free?
Stop by your local Ulta Beauty location for a free complimentary makeup touch-up. … Pop in right before an event to add a finishing touch to your makeup look or to find out if you really should splurge on that new release — the answer is probably "yes."
---
Ulta Beauty conducts many major sales each year. This page cover all the great sales and deals of Ulta around the year and it will be updated with the latest messages when the shopping events start. Bookmark this page and find the best time to shop at Ulta Beauty in 2021.
You can check the details by clicking the following links.
Ulta Beauty Sales Calendar 2021
Ulta Beauty Best Sales & Deals This Week