If you're looking for Ulta Beauty's top-selling products, this is the place to look. Ulta Beauty has many big sales every year. This page covers all of Ulta's major promotions and offers throughout the year and will be updated with the latest news when shopping events begin. Bookmark this page to find the best times to shop at Ulta Beauty in 2021.

Available now:
ULTA Beauty offers up to 50% off+gift with purchase Ulta Beauty Sale.
Plus, 1487908: Mix and Match! select NYX Cosmetics, Wet n Wild, Makeup Revolution, Morphe, Kiss and more Buy 2 Get 1 Free (valid thru 10/29/22) [10/23-10/29]
Free shipping on orders over $35.
---
You can check out more information about ulta by clicking the link below.
Ulta Beauty's bi-annual 21 Days of Beauty sale!
Ulta Beauty Gorgeous Hair Event 2021
Ulta Spring Haul Event April 2021 ! Check the Details Here!

Ulta Beauty Sales Calendar 2021
Love Your Skin Event (Jan. 3–Jan. 23, 2021)
The Ulta Beauty Love Your Skin Event 2021 was just finished a couple of days ago. Hope you discovered new favorites from the hottest brands during Ulta Beauty's Love Your Skin Event. This 2021 Ulta Love Your Skin Sale is a 21-day event centered around skincare. It features 3 weeks of daily steals up to 50% off and promotions that run throughout the entire event. Check the details at Ulta Beauty Love Your Skin Event 2021.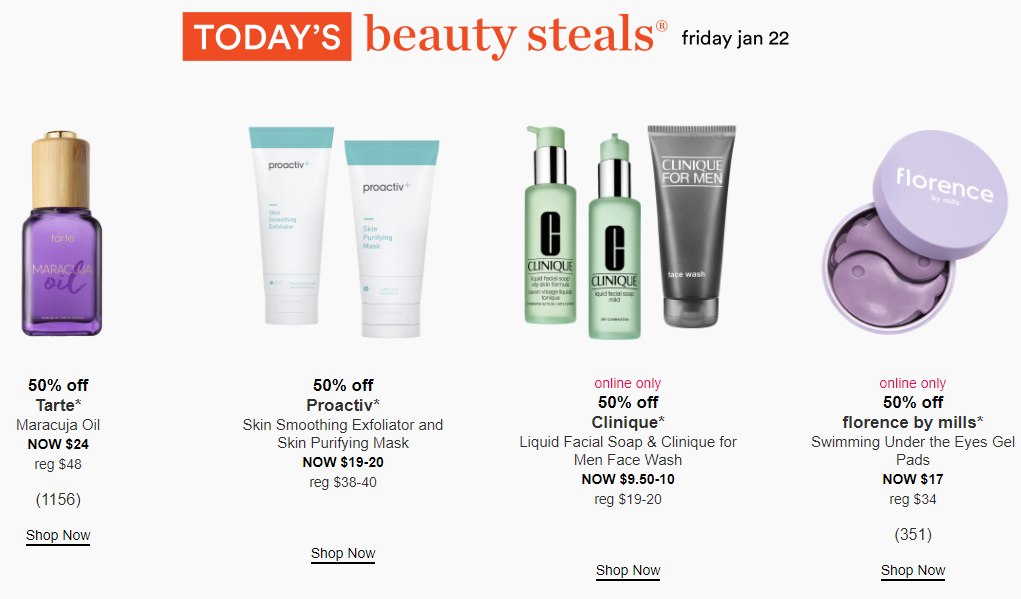 The Love Your Skin sale works just like Ulta's other big event: the 21 Days of Beauty sale. Every day of the sale will have new Beauty Steals (50% discounts on a handful of premium beauty products). But the discounts only last for 24 hours, so you have to shop every day to get the best deals.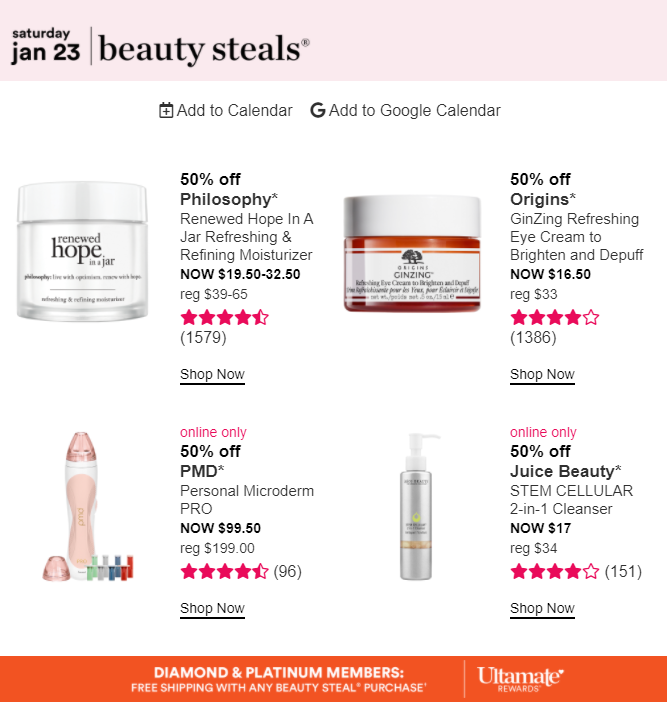 Ulta 21 Days of Beauty Sale (March and September, 2021)
Ulta's 21 Days of Beauty Sale is one of the biggest sale events of the year. For three weeks every March and September, shoppers will find huge discounts on best-selling makeup and skincare products. Everyday during the Ulta 21 Days of Beauty at least two items are discounted up to 50% off. These are called Ulta Beauty Steals. The discount for these beauty steals is only available for 24 hours and while supplies last.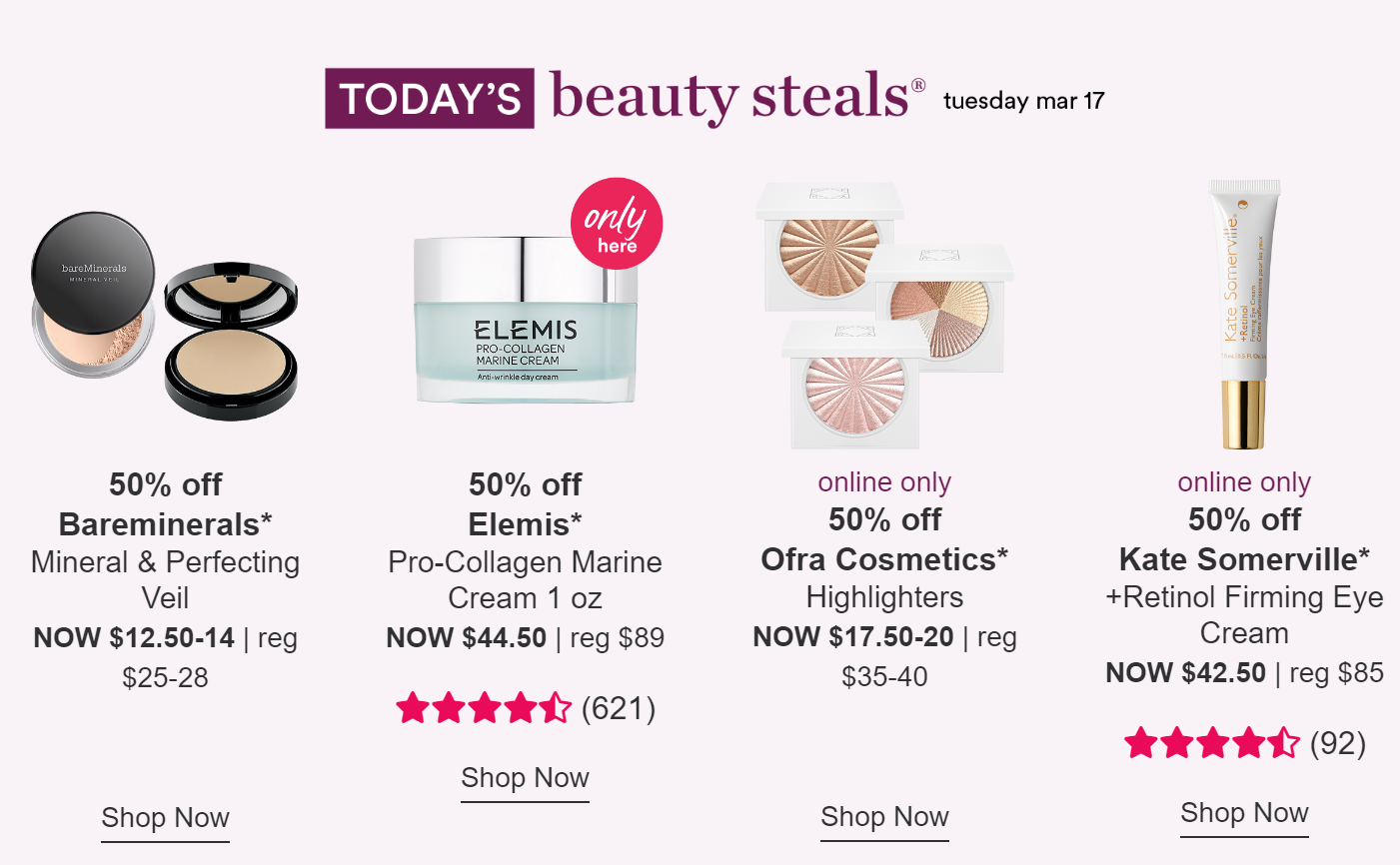 The best deals—50% off some of the biggest names in makeup and skincare—only last for a day, but there are also dozens of 30% off Hot Buys that are available for an entire week during the sale.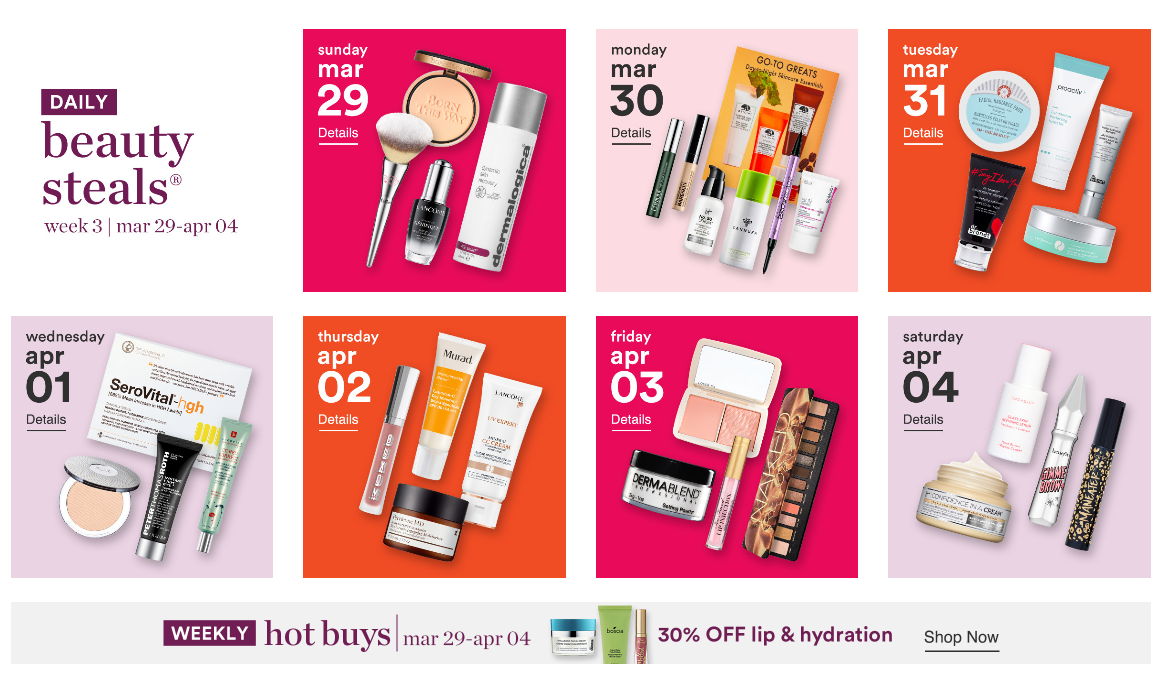 ULTA 21 Days of Beauty Spring 2021, March 14 – April 3 – 50% off beauty steals

The beloved beauty retailer, known for its vast range of drugstore and luxury brands, will be offering 50% off of hundreds of skin-care, makeup, and hair-care products from March 14 through April 3.
Ulta Jumbo Love Hair Sale—Dec. 25–Jan. 23, 2021
This semi-annual Ulta sale is also called the Liter Sale. Look for the month-long sale every winter and then again in the late summer. Now until Jan. 23 is the perfect time to stock up on expensive haircare needs, as liters of shampoo and conditioner from your favorite professional haircare brands are on sale for up to 50% off! Drugstore brands like Matrix start at just $12.50 each, and salon-worthy brands like Biolage and Joico are $24.99. Ulta often offers extra bonuses for Ultamate Rewards members during its sales. From Jan. 7 to 16, members get 5X points on select haircare brands, including Alterna, dpHue, Hempz, Lime Crime, Nioxin, Not Your Mother's, Ouai, Sexy Hair, and Shea Moisture.
There are a lot of brands include in the Ulta Jumbo Love Sale, such as Kenra, Biolage, Redken, DevaCurl Joico, Ouidad, Matrix. Take a look and find your favourite brands and products.
Ulta Summer Sale (July 2021)
The online only Ulta Beauty Summer Sale is also known as the Ulta Beauty Fourth of July Sale, because it is always running on July 4th. It gets bigger every year! This event places hundreds of items from drugstore and prestige brands on sale in three price categories: Under $10, Under $20, and Under $30. Many of these items get discounted up to 50% off making some of these deals more valuable than steals offered in larger events.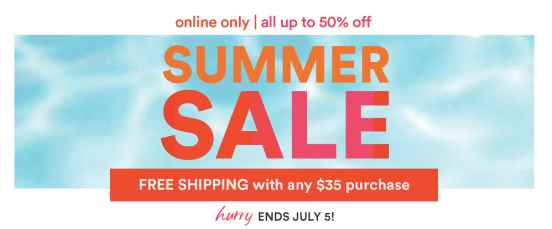 The Summer Sale isn't one of Ulta's big beauty blowouts, but you can find great deals on hundreds of products. There are a lot of discounts as high as 50% on brands like Murad, Stila, It Cosmetics, Redken, and so much more.
Faul Haul (Sept. 2021)
The Ulta Beauty Fall Haul Event is back in 2019, and it gets bigger every year. Shop the Ulta Beauty Fall Haul Event. Stock up on everyday faves, with up to 50% off on the makeup, skincare, haircare and bath products you love. More than 50 brands were included in the the sale, ranging from makeup and brushes to skincare and haircare.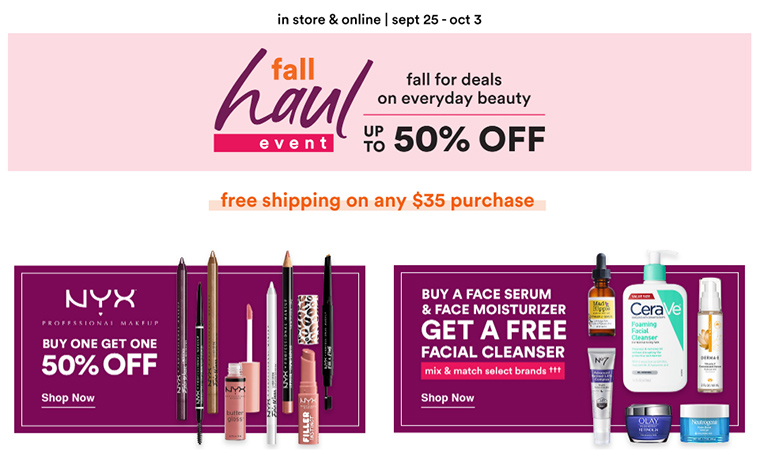 Gorgeous Hair Event—Oct. 2021
The Ulta Beauty Gorgeous Hair Event 2021 happens twice a year. It takes place every spring starting in May and every fall usually starting in October. It is a 21-day event where hair products from mostly high-end brands get discounted up to 50% off for one day only.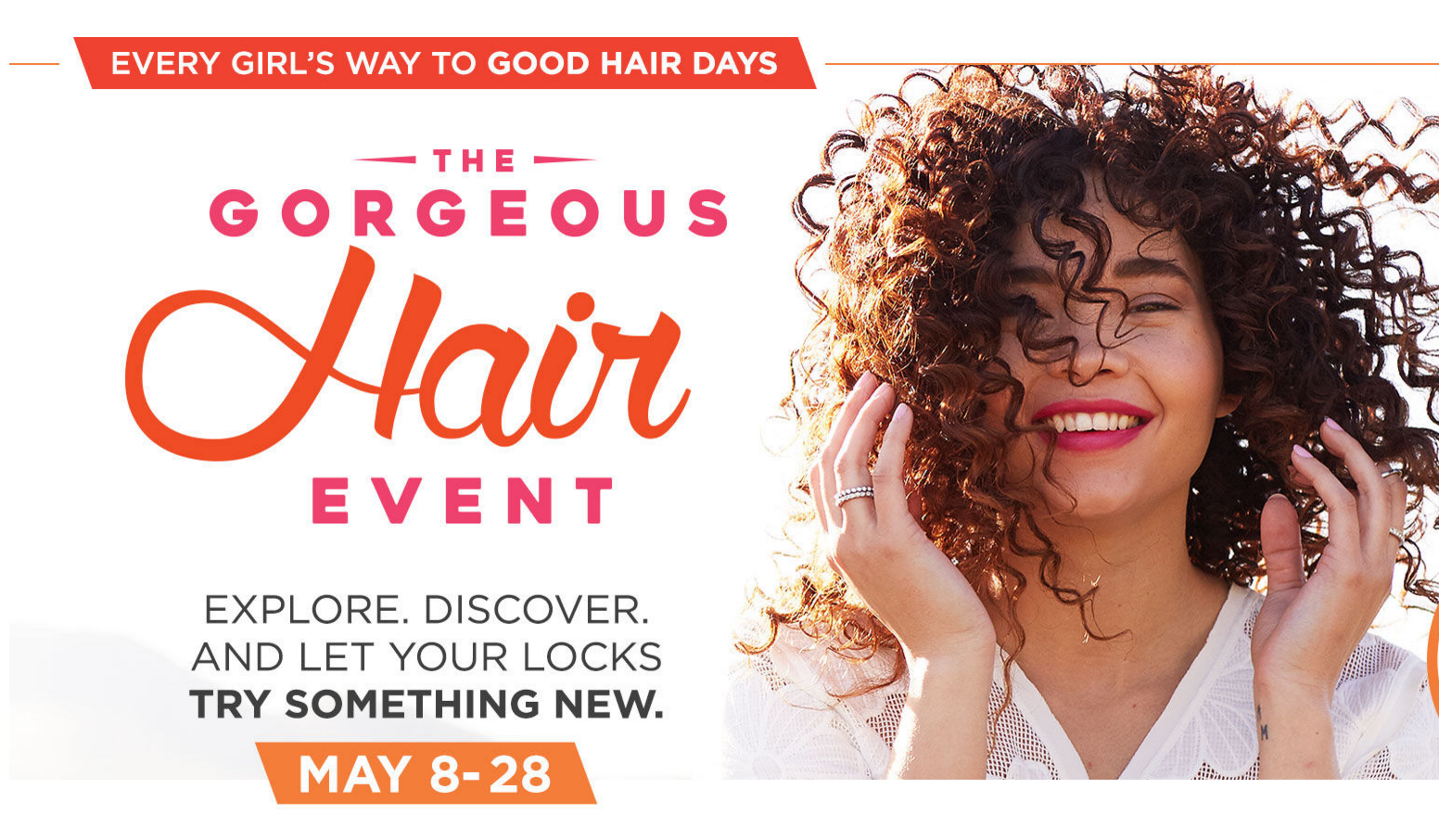 This twice a year Gorgeous Hair Event has steals for all things hair (shampoo, conditioner, styling, tools, and much more). There are also specials that run throughout the event. Take a look and find your favourite produsts.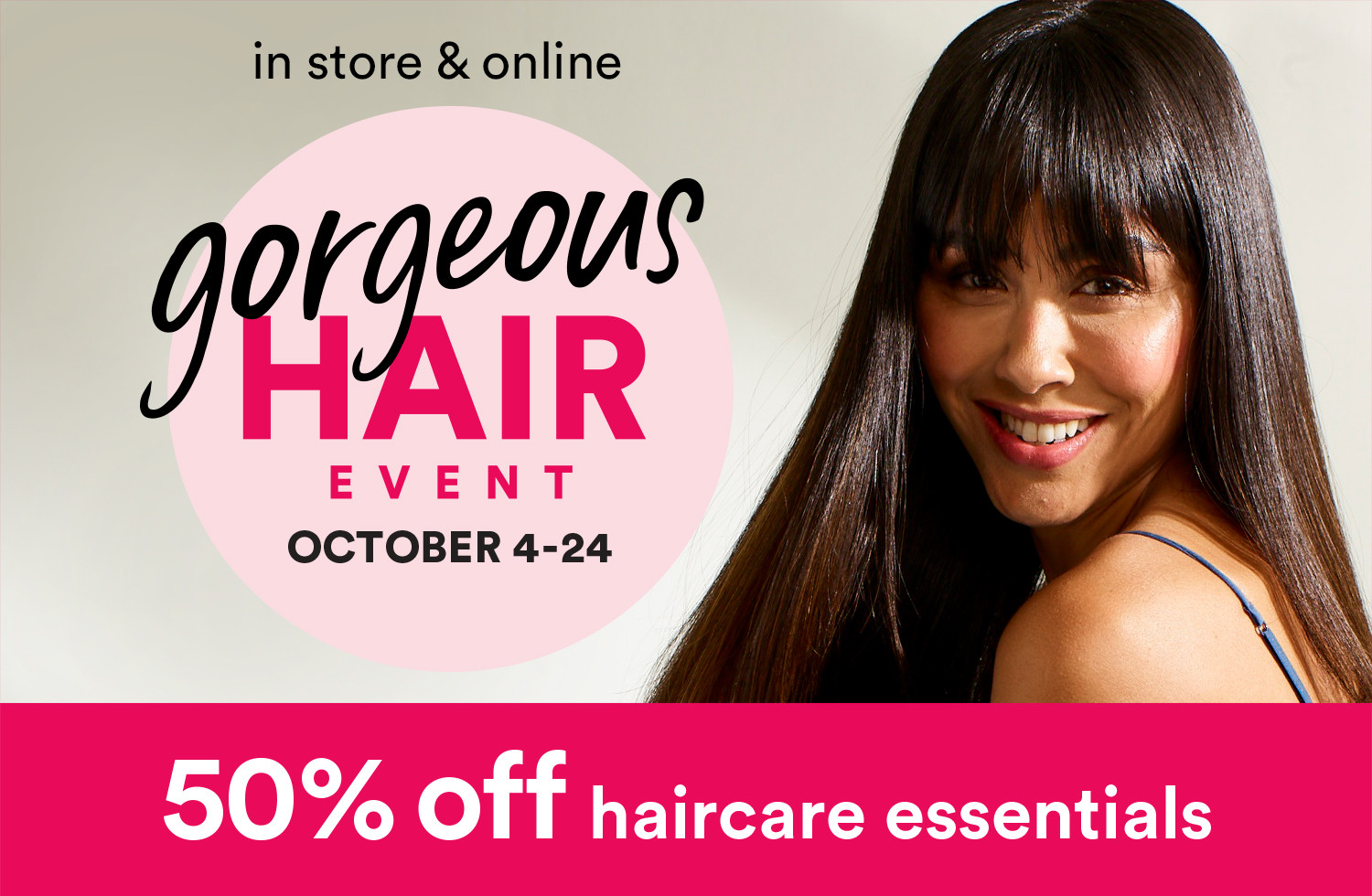 FAQ about Ulta Beauty Sales Calendar 2021
How Do I Get an Ulta Birthday Gift?
You must have purchase history on your account to trigger an Ulta birthday gift coupon. All UltaMate members with purchase history should get a coupon on the first day of their birth month to redeem a gift in-store. They also get 2x points during their month of birth. The birthday gift changes every month, but it changed by quarter before that.
What are Beauty Bags?
Bags full of items ranging from foils to full-sizes that are free with a minimum purchase. These can pop up at any time throughout the year and are available to everyone.
What are Ulta Beauty Breaks?
A 4-6 hour GWP event that available on most Wednesday mornings, but can take place on other dates and times.
This calendar page will be updated when Ulta Beauty has a new sale, be sure to bookmark this page and check back. I hope you find the latest and greatest Beauty products at Ulta Beauty.