Check the latest Ulta Beauty Sales & Deals in this week. See Ulta Beauty Promo Codes With Sales, Perks, Promotions, Deals, GWP Offers, and Other Ulta Beauty Beauty Insider Exclusives.
This page will be updated weekly with the best sales events at Ulta Beauty. So make sure to bookmark this page and take a look back often.
You can click the tab directly to see it.
ULTA Selected Beauty Products Hot Sale

ULTA Beauty offers up to 50% off Sale Items Event.
Members earn 2X Points, Platinum earns 3X Points, Diamond earns 4X Points on all purchases.
Free shipping on orders over $35.
♥L'Oreal
Free Deluxe Face Primer with $15 L'Oreal Makeup purchase
♥Laura Mercier
Free Pure Canvas Primer Blurring deluxe sample with $50 Laura Mercier purchase
♥Maybelline
Free Master Precise Liner mini with $15 Maybelline purchase
If you are not satisfied with the events up here or you are wating for a better time to get what you like, You can check out more information about Ulta by clicking the link below.
Ulta Beauty Sales Calendar 2021.
Ulta 21 Days of Beauty Event 2021
Ulta Beauty Love Your Skin Event 2021
Hope you will find your favourite beauty produsts at Ulta.
Click on the button below to see Expired Ulta offers.

More about Ulta
Ulta is a popular cosmetics retail store chain in the United States. Founded in 1990 as Ulta Salon Cosmetics & Fragrance, Ulta grew into a billion-dollar company. Richard George and Terry Hanson are former Osco executives who came up with the idea for this company. By 2013, Ulta had grown to more than 675 stores in the United States. Currently, Ulta owns more than 1,124 cosmetics stores that generate nearly $5 billion a year. Ulta Beauty is popular with customers because it offers more than 25,000 beauty products, 500 top brands and affordable pricing. Each store has a salon that offers personalized services for its clients. Ulta provides makeup, hair, skin and brow services. Ulta Beauty employs more than 45,000 associates in a variety of positions. Company awards include Forbes 2019 The Best Employers for Diversity, Forbes 2020 The Best Employers for Women and Forbes 2020 The Best Employers for Diversity. Ulta Beauty has a strong social media presence on Instagram, Twitter and Facebook. Customers can shop on Ulta's website for all of the items they will find in the storefront locations. The company's headquarters are located in Bolingbrook, Illinois.
Ulta Customer Support Hours & Contact Information:
Customer Service: 1-866-983-8582
7 days a week
7:00 am – 11:00 pm (CT)
Normal Hours of Operation:
Monday-Saturday: 10:00 am – 9:00 pm
Sunday: 11:00 am – 6:00 pm
*ULTA store hours may vary by location. Please check with your local store for accurate hours of operation.
How to use your Ulta coupons
Using your coupon is quick, easy and effective. To do so, all you'll need to do is:
Select the promo code that works with your order.
Add the items you want to buy to your cart.
Go to "Checkout" and find the "Add Coupon Code" section.
Paste the code and click "Apply."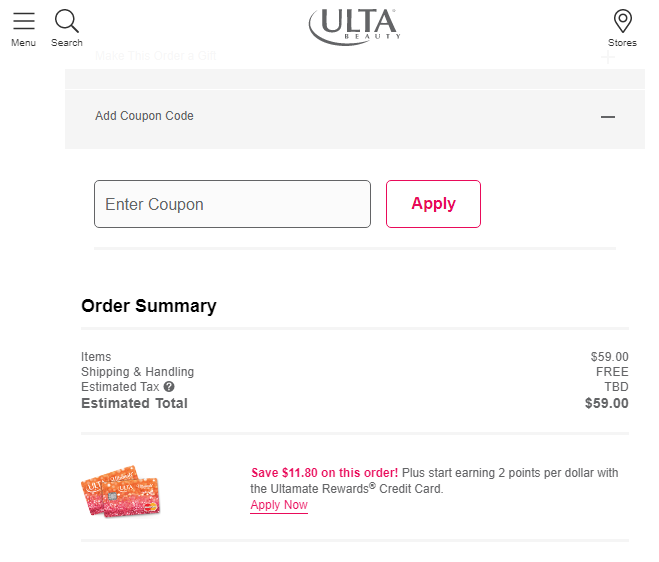 It really is as simple as that.
FAQs about Ulta coupon codes
Does Ulta have a Loyalty Program?
Ulta's loyalty program is called Ultamate Rewards where you earn points on every dollar spent at Ulta. The program is free to sign up and the points are good for one calendar year.
Does Ulta offer Buy Online Pick Up In Store?
Yes. You can buy online and do a free in-store pick at Ulta. When the order is ready, go to the Order Pickup Counter inside Ulta with your photo ID and order email confirmation.
How to get a 20% coupon at Ulta
Two or three times a year, Ulta sends a little treasure to its loyal customers in the form of a 20% off coupon. Why is this so special? Because these 20% coupons don't exclude prestige brands. Look for one during the last couple of months of the year and again in the spring. In 2020, Ulta included one in their holiday ad, and it was valid for about three weeks.
How do Ulta coupons for specific brands work?
On top of promotional events and sitewide coupons, ULTA often offers discounts in partnership with specific brands and products. For example, you might be able to get a discount on your purchase of Tarte Cosmetics or a free gift with purchase when you buy a specific Fenty Beauty highlighter. Check the ULTA promotional pages to see all these discounts. You can also check the terms and conditions, including any restrictions on coupons.
How can I track my ULTA order?
Simply sign in to your ULTA Beauty account to check your order history and status. Alternatively, visit the ULTA 'Order Status' page with your order number and email address to hand to check your parcel's progress.
How do you get free stuff at Ulta?
The store often has BOGO deals, allowing you to enjoy free beauty products with select brand purchases. There are also plenty of free gifts on offer when you spend over a certain amount, so check this page regularly for the latest freebies!
Can I combine Ulta coupons?
Unfortunately, this usually isn't possible. In most cases you can only use one Ulta promo coupon with your order. Be sure to choose the best for your order so that you save as much as possible.
When is this year's Ulta Memorial Day sale?
Details for the 2021 Ulta Memorial Day sale should start coming out around April 1. We know that the sale will end shortly after Memorial Day, May 31, but we aren't sure exactly when it will begin. If you had caught the best 2020 Ulta Memorial Day deals before they expired, you could have enjoyed savings of 25% to 35%. This year's Ulta Memorial Day discount event might be focused on designer fragrances and makeup kits.
Does Ulta have student discount?
No, Ulta does not have any official on-going student discount.
What perks do cardholders get?
you're approved for an Ultamate Rewards Credit Card, the first thing you'll recevie is a coupon for an extra 20% off your next purchase, valid on products & services! Plus, you'll earn 2x the points on every Ulta purchase and 1 point spent on everything outside of Ulta beauty. Earn 500 Welcome Bonus Points when you spend $500 in the first 90 days outside of Ulta Beauty
Do they host annual sales?
Yes! Their 21 Days of Beauty sale happens once a year both online and in stores, usually in the spring, which features big savings of up to 50% off on some of Ulta's most popular brands. The Fall Haul sale, is another general annual sale to look out for, as are the hair and skin specific Gorgeous Hair Event and Love Your Skin Event. And don't forget the winter holidays! Cyber Monday and Holiday Hot Buys always feature major discounts.