La prairie's anti-aging stress cream is very worth buying. I wanted to go to the counter to buy a sleep mask originally, but the clerk recommended this cream, he said that it can also be used as a sleep mask~
I have used this cream for about six months. So I learned more about it. I wanted to share my experience with you later. Now I am going to talk a little bit about it's specific information. Including, the official introduction, the price, the size and the type of skin it aimed for.
TASTE
The taste of the cream is a very high-grade fragrance. It is not thick or light, it is very fresh, and people will fall in love with it once they smell it.
PRODUCT EFFECT
I will not talk about the normal function of moisturizing and anti-wrinkle tightening effect, anyway, the effect is good. Let me talk about its special effects!
The cream is called anti-aging stress cream. The most amazing effect of this cream is to fight against stress skin~
Nowadays, people's life is fast-paced, and they are under pressure from society, family and work. Not only will it affect the health of the central system and the body, but the damage to the skin is even greater! This cream is aimed for skin dullness due to stress, large pores, acne breeding and wrinkles~ Recently, I am suffering from insufficient sleep because of preparing for the exam. After using this cream for three or four days, I saw enough magical effects. Almost everyone knows the caviar luxe series and platinum rare series~ But they don't know that the anti-aging stress cream could bring you a super amazing experience! Acne skin and sensitive skin can also be used. Because it passes the experiments of allergy. And it does not produce acne! If you are also suffering from invisible pressure, many skin problems cannot be solved, you can use this cream. Because you just need a cream that can solve your skin pressure~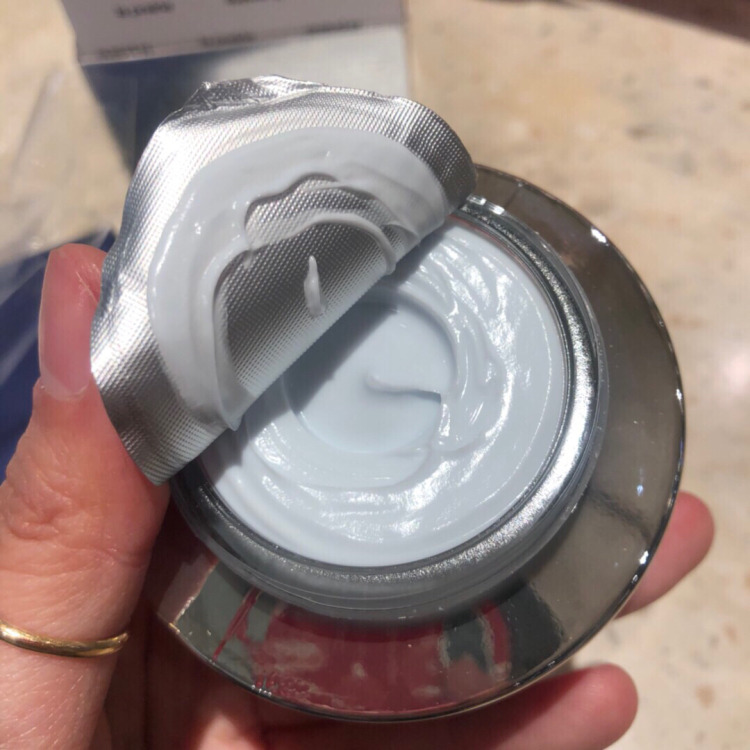 Now the decompression cream is not exclusive to a certain brand. Skin researchers are increasingly aware of that the invisible damage caused by stress on human skin is great! Many skin problems such as dark skin, wrinkles and acne are caused by stress. You can think about the problem of stress if you can't solve the problem with hydration. So many brands have produced products that fight against skin damage caused by stress ~ Everyone's skin problems are more or less caused by stress. So, such a cream is really a kind that modern people really need~ This is why I wrote this blog specifically to recommend it to everyone~
THE OFFICIAL INTRODUCTION
THE ANTIDOTE TO STRESS
The luxuriously moisturizing Anti-Aging Stress Cream targets the effects of stress on your skin. Fine lines and wrinkles appear to relax. Skin is restored and healthy-looking. Formulated with nature's de-stressors to reduce the appearance of fine lines and wrinkles.
BENEFITS
Helps reduce the appearance of fine lines and wrinkles
Restores firmness and elasticity
Gives the skin a plumped appearance, temporarily filling lines and wrinkles
THE USER EXPERIENCE
Someone said that: I have been struggling with an extremely dry face in the winter months and I've experimented (and wasted money) on many different moisturizers. Finally, I came across this one! Right away my dry skin went away. I would moisturize in the AM and by nighttime my face would still be moisturized! I was so happy with the results and I will recommend this product to anyone. Additionally, I have very sensitive acne prone skin, but this cream does not cause any problems.
And another one said that: After dealing with some serious dry skin issues from some bad makeup, I turned to LA PRAIRIE to help repair my sad skin. The anti-aging stress cream was the first product I tried, and it's become a twice-daily part of my skincare routine. I use it in the morning after cleansing and in the evening as a last step after my serum. I sometimes even smooth a little over dry areas before going outside for a cool weather run in the colder months, just to keep my skin hydrated. If you have really dry skin (like me) try mixing in a few drops of a facial oil for added moisture.
Objective to speak, the information about the La prairie's anti-aging stress cream has been introduced in detail above. Now, let's talk about a few questions about the La prairie's anti-aging stress cream.
1.How much does the La prairie's anti-aging stress cream?
The La prairie's anti-aging stress cream costs about $245, of course, I bought this product at a discount, lower prices, and welcome everyone to pay attention to my blog. I will share some deal to help you buy this product at a lower price.
2.What type skin suited for the La prairie's anti-aging stress cream?
It is suited for oily, mixed and dry skin respectively. I bought this La prairie's anti-aging stress cream for oily skin, and I like to be refreshing. So, whether you have oily skin, dry skin, or combination skin, you can use this cream.
3.What size is the La prairie's anti-aging stress cream?
This cream comes in only one size of 50ml. It is enough for you to use for about four months.
Overall feeling is a very good. It was love at first touch — such a beautiful, rich and silky texture and instantly revived my skin. This cream is so potent I only use a little each time. I feel it is helping to bring out my best skin yet and especially addressing wrinkles. In my opinion, it is worth the cost.
If you have any questions about LA PRAIRIE's products. please leave a message below. If I know, I will answer for you at once. And I'd be happy to discuss some other issues with you. I wish that you will have a good experience with it.
Thanks for the visit guys!
If you like, please click the following options to share, thank you anyway.