The inevitable Christmas countdown has begun , and whether you love it or loathe it we can bet you still as excited as us about nabbing a snazzy beauty advent calendar. LANCOME ADVENT CALENDAR 2019 is coming, Maybe a surprise.
Updated on 30 September 2019: More photos and details about Selfridges Lancome Advent Calendar 2019
This year, the Lancome Advent Calendar is still highly anticipated. At present, the most attention is the beautiful bright pink and gold calendar, this is Boots edition.Surprisingly, there is also Selfridges edition advent calendar, but there is currently no detailed information. These two calendars include the makeup and skin care products of this luxury brand. If you're a lover of all things premium beauty, then the luxurious Lancome advent calendar is here to make all your Christmas wishes come true. Check them out!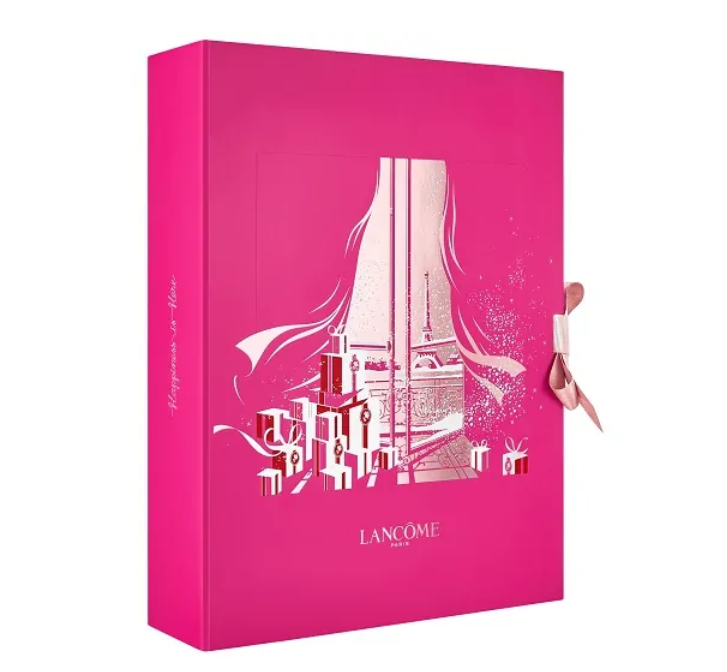 Boots Lancome Advent Calendar 2019
Available – September 25th at Boots
The price is £95
Rénergie Nuit Multi-lift Night cream 15ml
Hydra Zen Cream-gel 15ml
Mini Foundation Brush
Bi-facil 30ml
Advanced Génifique Concentrate 7ml (x2)
Lait Galatéis Douceur 50ml
Le Crayon Khôl Mini 01 noir 0.7g
Rénergie Multi Lift Cream 15ml
Effacernes Longue Tenue 02 beige sable 5ml
Tonique Confort 75ml
Advanced- Génifique Yeux 5ml
Advanced- Génifique Yeux Light-Pearl™ 5ml
L'Absolu Rouge Drama Matte 505 Adoration 1.6g
Absolue Revitalizing Night Ritual Mask 15ml
L'Absolu Rouge 132 Caprice Cream 1.6g
La Vie Est Belle Eau de Parfum 4ml
Trésor Shower Gel 50ml
Absolue Soft Cream 15ml
Monsieur Big Mascara 01 Big is the new black 2ml
Ô de Lancôme Body Lotion 50ml
Hypnôse Mascara 01 Noir Hypnotic 6.2ml
Prep & Matte Refreshing mattifying make-up primer 10ml
Idôle Le Parfum 5ml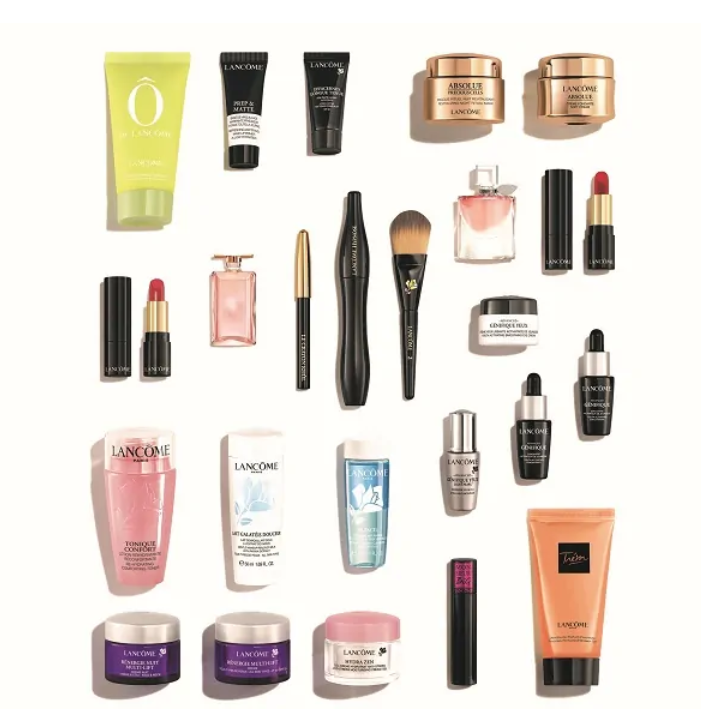 Selfridges Lancome Advent Calendar 2019
Available – Now exclusive to Selfridges
Beauty Fantasies advent calendar – £95.00
Lancome have a calendar exclusive to Selfridges and it's a 12 day countdown with skincare and make-up from the best-selling brand. Expect to find favourites like Hypnôse mascara, Tonique Confort hydrating toner and Advanced Génifique.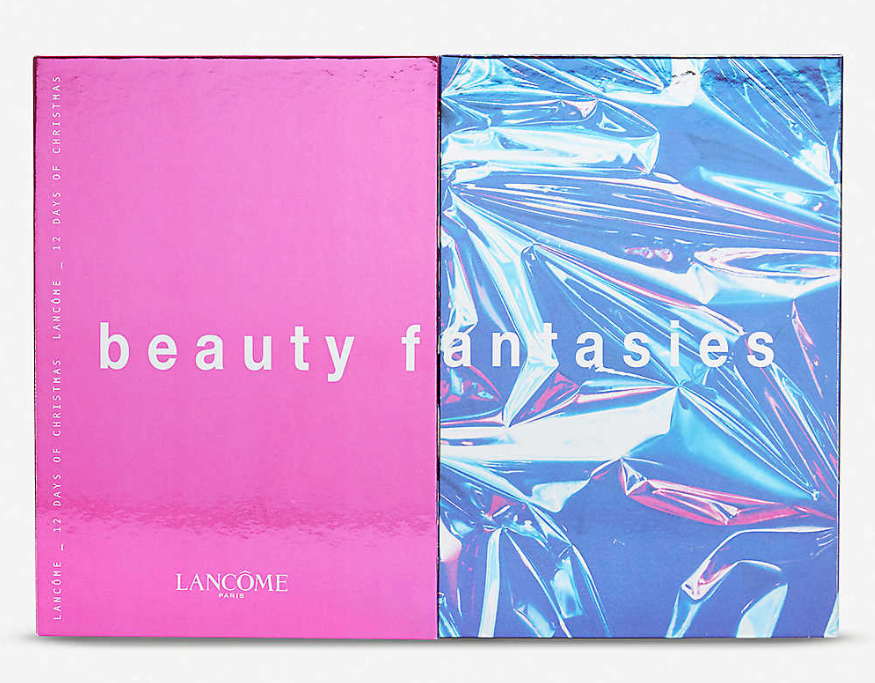 CONTENTS
Lancôme Miel en Mousse 15ml
Lancôme Confort Tonique 50ml
Lancôme Bi Facil Eye Makeup Remover 30ml
Lancôme Genefique Serum 20ml
Lancôme Absolu Revitalising Soft Cream 15ml
Lancôme Genefique advanced Eye Cream 5ml
Lancôme Absolu rouge drama matte lipstick
Lancôme La Vie Et Belle fragrance 30ml
Lancôme La Base Pro Primer 5ml
Lancôme Absolu lip Lacquer
Lancôme Hypnose Mascara
Lancôme Mini Khol Eye Pencil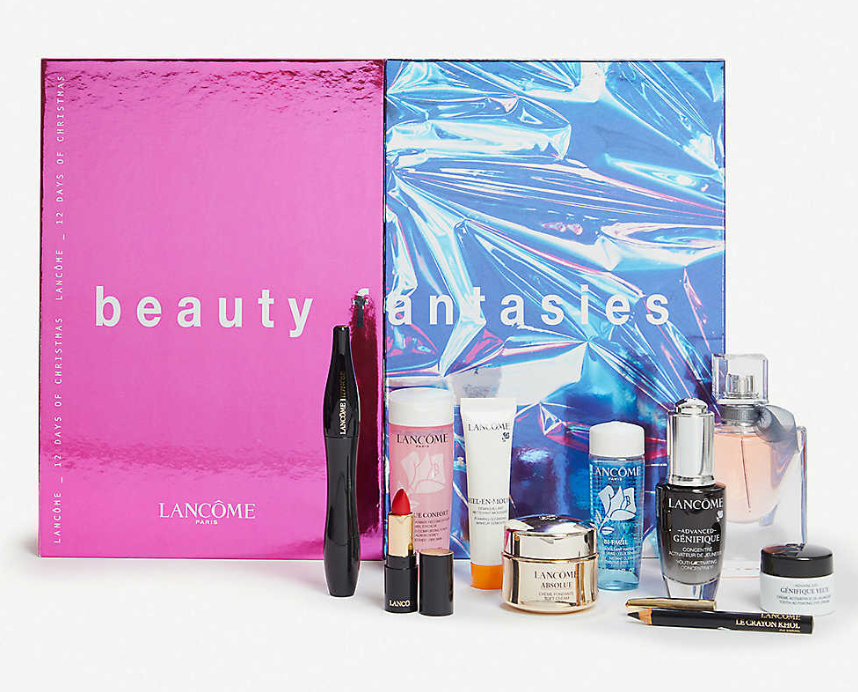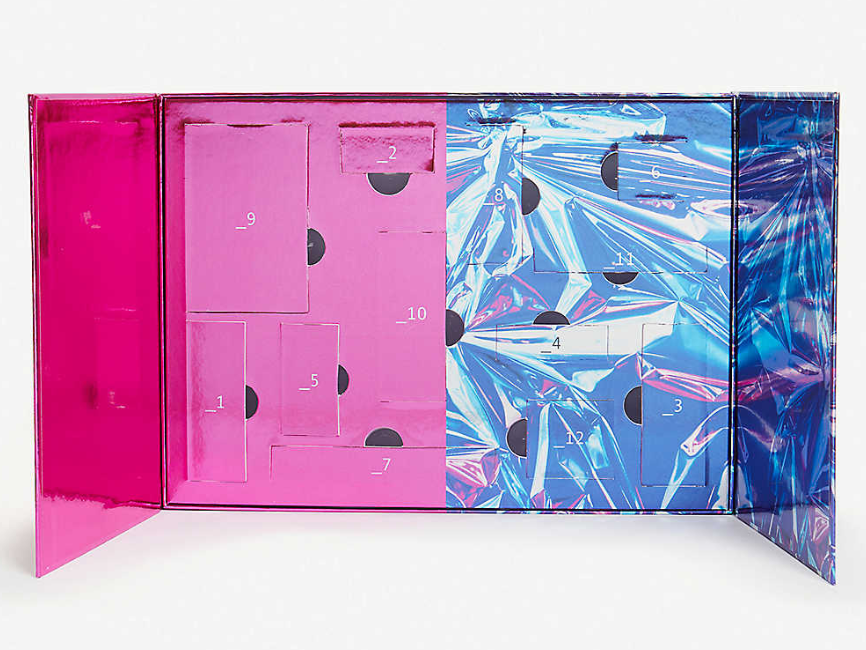 TIPS:
Gone are the days when we'd count down to Christmas with a teeny tiny chocolate that'd disappear in a single bite. Now, everything from stunning scented candles and wonder-serums, to luxe body oils and fragrances that smell so good it's insane are hiding behind those little paper doors – and we are 100% here for them.
Check out our list of beauty ADVENT CALENDAR releases, and be sure to check back as many more are announced. Our heart is growing three sizes just looking at these beauties.
RELATED: List of Lancome gift with purchase 2019 schedule
RELATED: LANCOME 2019 Christmas Holiday Collection & Gift Sets