The holidays are the best time of year to score major deals on makeup—whether you're buying for yourself or your loved ones. Beauty retailers launch limited edition Christmas collection for the holidays every year , This is the most worthwhile thing we have every year. SMASHBOX 2019 Christmas Holiday Collection is coming, Let me pay attention to the updates on this page:
Smashbox Holiday 2019 Collection has just been launched, this is a very rich and attractive collection. The collection features three bundled sets, one for cheeks and eyes, one for lips, and one for skin. This collection is carefully matched and every product is full of surprises. Their outer packaging is decorated with a sparkling starry sky, which is full of dreamy charm. I have to say that this year's Smashbox Holiday Collection is eye-catching, these products have a gorgeous appearance and super high quality. The practicality of each product is also very strong, it is worth looking forward to!
Smashbox Makeup Collection For Holiday 2019
Available – Now online at sephora,ulta
Smashbox Cosmic Celebrations Planetary Cheek Palette – $29
A unique blush and highlighter palette to create a glow that's out of this world.
Shades:
Sugar & Space Highlighter – warm pink sparkle, white pink duo chrome & warm rose gold shimmer
Heart & Solar Highlighter – champagne shimmer, warm bronze & gold sparkle
Planet Out Blush – coral, light pink & watermelon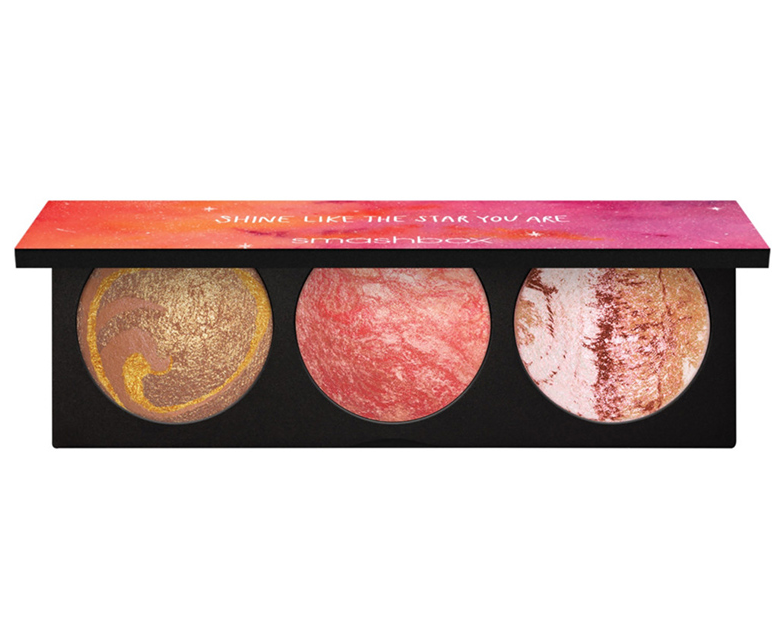 Smashbox Cosmic Celebration Photo Finish Star Power Primer Set – $22
Get skin that looks out of this world with this trio of makeup primers. The original Photo Finish Foundation Primer goes on clear to smooth the look of skin and blur flaws. Primer Water primes, hydrates, and refreshes skin. Primerizer hydrates skin for up to 24 hours.
Includes:
Travel Size The Original Photo Finish Smooth & Blur Primer (0.41 oz)
Travel Size Photo Finish Primer Water (1.0 oz)
Travel Size Photo Finish Primerizer (0.50 oz)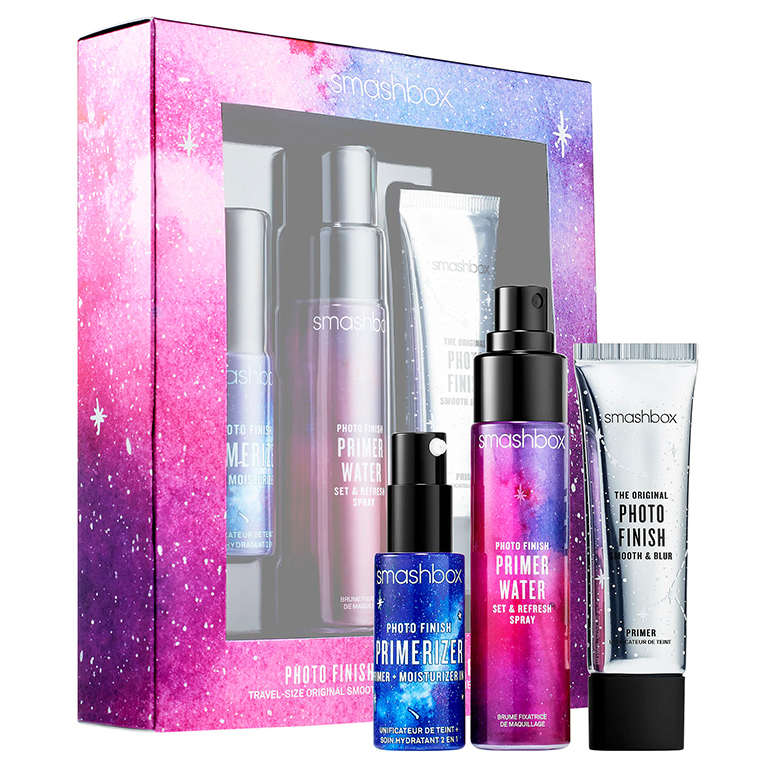 Smashbox Cosmic Celebrations Divine Shine Gloss Angeles Trio – $25
Saturate your lips with high-shine. These lip glosses are infused with hyaluronic acid to hydrate lips, while vitamin E nourishes and keeps them soft. They evenly build sheer to medium color.
Shades:
Gloss Angeles in Mercurial Mauve – berry shimmer (limited-edition)
Gloss Angeles in Shimmer Nova – champagne shimmer (limited-edition)
Gloss Angeles in Beachy Keen – deep nude cream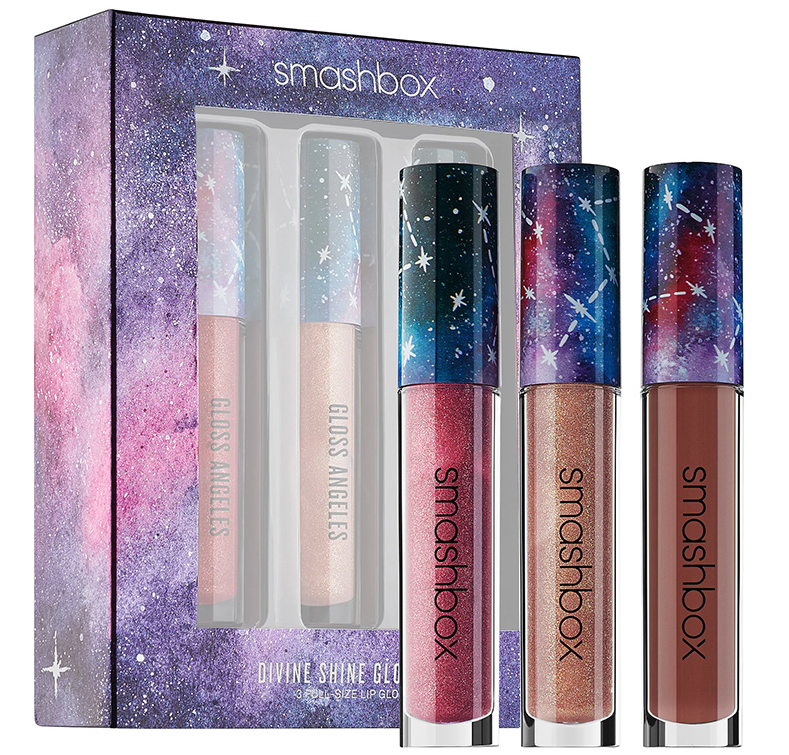 Smashbox Cosmic Celebrations 3-Palette Shooting Star Set – $39
A gift set featuring 2 full-size Cover Shot Palettes in Nova and Minimalist and 1 limited-edition Star Bright Cheek Palette with blush, bronze & highlight.
Cover Shot Eyeshadow Palette in Nova shades:
Breeze – light purple matte
Mars Mallow – white shimmer
Orchid – deep purple matte
Half Moon Bae – red purple metallic
Rom Comet – neutral pink matte
High Heelium – purple silver metallic
Stormy – blue purple iridescent shimmer
Space Ex – black with purple shimmer
Cover Shot Eyeshadow Palette in Minimalist shades:
Deco – rose gold shimmer
Vanilla – creamy nude matte
Nude – red brown matte
Cinnamon – bronze shimmer
Java – deep red brown matte
Hang – dove grey matte
Platinum – taupe shimmer
Cruise – deep taupe matte
Star Bright Cheek Palette:
Photon Op – champagne silver
Bronze Age – warm midtown brown matte
Atom's Apple – pink matte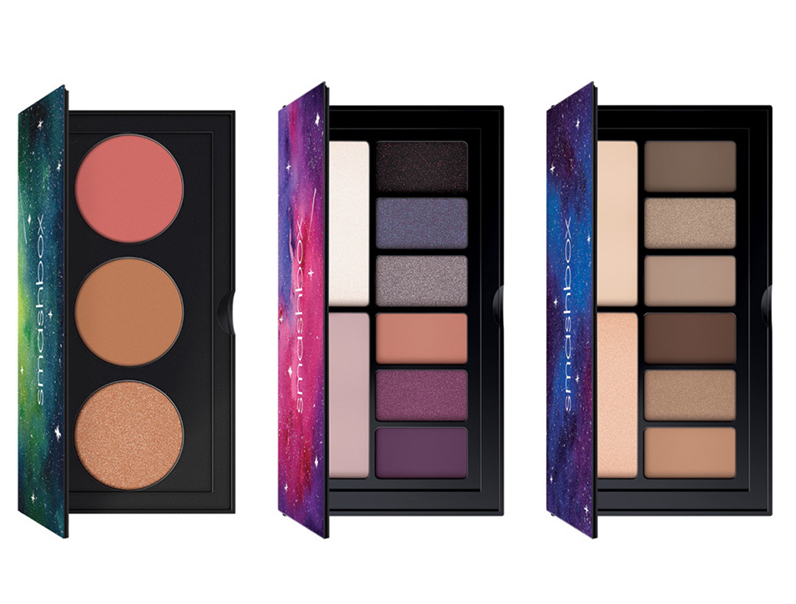 TIPS:
We're making our list and we're checking it twice, because it seems every beauty brand is getting into the holiday spirit this season, and we're just trying to keep up! With themed drops from Kat von D, Givenchy, YVES SAINT LAURENT, Tom Ford,Fenty Beauty, Tarte, and so many others, our own stockings are stuffed as much as we're shopping for the people on our list. Check out our list of 2019 holiday makeup and beauty releases, and be sure to check back as many more are announced. Our heart is growing three sizes just looking at these beauties.
Related:SMASHBOX NEW DENIM & DESERT COVER SHOT EYE PALETTES 2019