Check the latest Sephora Sales & Deals in this week. See Sephora Promo Codes With Sales, Perks, Promotions, Deals, GWP Offers, and Other Sephora Beauty Insider Exclusives. This page will be updated weekly with the best sales events at sephora. So make sure to bookmark this page and take a look back at it often.
Available now !
Sephora.com offers up to 50% Off last chance.
Plus, Sephora Additional 30% off Sephora Collection Sale, via coupon code SCSALE
Plus, All Beauty Insider members will receive 4X the number of points per dollar on the purchase of standard-size Anastasia Beverly Hills Brow Genius Brow Serum, via coupon code BROWGENIUS
Coupon Code
Choose 1 of 2 Treatment/Acid Trial Sizes, use code: TIME2GLOW
Get Ultimate Blurring Setting Powder trial size in shade Universal Translucent- 0.7 oz, use code: ONEBLUR
Choose 1 Cyber Sample Bag. use code: OMGSAMPLES
Choose 1 Alterna Trial Size, use code: YAYALTERNA
Get Christophe Robin Curl Cleansing Balm trial size – 75 mL, use code: CRCURL
Get Moroccanoil Body Souffle – Fragrance Originale trial size – 20 mL, use code: ARGANBODY
Choose 1 Guerlain Trial Size, use code: GETGUERLAIN
Choose 1 Dior Trial Size, use code: DIORSHADE
Choose 1 Complexion Trial Size, use codes: STUNNING
Choose 1 New Skincare Trial Size, use code: CHOOSENEW
Choose 1 Serum Trial Size, use code: POWERSERUM
Get Gisou Honey Infused Leave-in Conditioner trial size – 0.41 oz./12 mL, use code: GISOUSTAY
Get DevaCurl Flex Factor trial size, use code: FLEXCURL
Choose 1 Sol de Janeiro trial size, use code: SDJJOY
Choose 2 Lancôme Trial Sizes, use code: TEINTIDOLE
Choose 1 NARS Trial Size, use code: softnars
Choose 1 IT Cosmetics trial size, use code: CCTIME
Free shipping for VIBR. Free shipping for BI and VIB via code FREESHIP
Get More Sephora Best Sales & Deals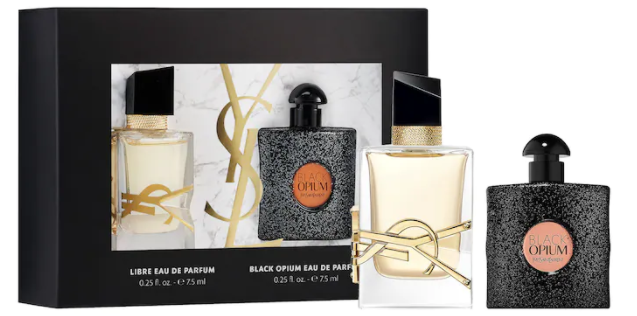 Restocked: Yves Saint Laurent Mini Black Opium & Libre Eau de Parfum Duo $30.00
Restocked: CHANEL N°5 Eau de Parfum 1.7 oz $108.00
Restocked: Yves Saint Laurent Water Stain Lip Stain 610 $38.00
New Rewards at Sephora
Lancôme Advanced Génifique Radiance Boosting Face Serum 100 points
Birthday Gifts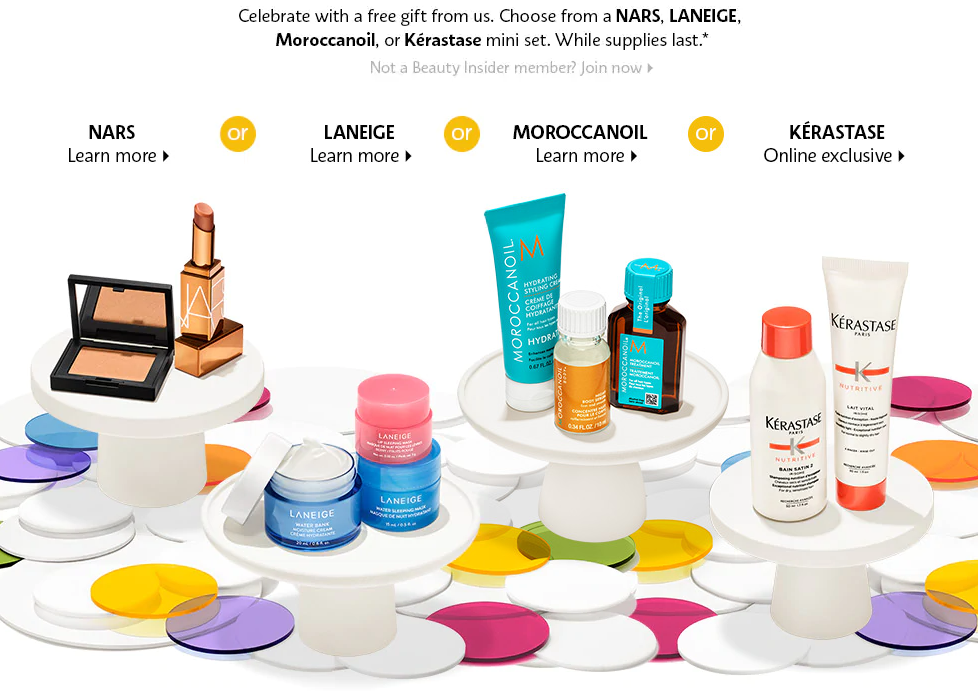 If you are not satisfied with the events up here or you are wating for a better time to get what you like, click here for the Sephora Sales Calendar 2021. learn about all the details about the best time to shop at Sephora, including Sephora Oh Snap 2021Sephora Spring Bonus Sale 2021, Sephora Holiday Bonus 2021, Sephora Black Friday 2021, Sephora Cyber Monday 2021. Hope you will find your favourite beauty produsts at Sephora.
Learn More About Sephora Offers
Sephora Sales Calendar
Sephora Oh Snap
Sephora Holiday Bonus
Click on the button below to see Expired Sephora offers.

More about Sephora
If there's one makeup store that mixes accessibility and luxury, it's Sephora. Founded in France in 1970, Sephora has since become a worldwide sensation; nowadays, it operates over 2,500 stores across 32 countries. The first United States Sephora was opened in Soho in 1998, and Sephora.com was launched in 1999, bringing Sephora's unique style of beauty to all Americans, regardless of whether they live near a Sephora store. You can also use the Sephora app to access everything that Sephora has to offer. It's an incredibly wide-reaching brand with lots to offer the customer, and whether you're a complete newcomer to the beauty world or you've been putting on a full face of makeup every day for decades, Sephora wants to help you get your perfect look.
If you love shopping at Sephora, make sure you're signed up for the Beauty Insider club. Beauty Insider is free to join, and as soon as you join, you'll start earning points that you can exchange for rewards. Spend more to get more. At $350 in a calendar year, you'll become a VIB, which will let you earn more points and receive more rewards, and at $1,000 in a calendar year, you'll become a Rouge member, which gives you even more points, rewards, and savings. Members also get access to beauty services and classes, as well as the online Beauty Insider community. Because it's free to sign up, it's a good idea to create an account before your first purchase.
Sephora has always been involved in numerous charitable efforts related to its goals. Sephora Stands, the company's charity, supports female beauty founders, provides specialized beauty training for major life transitions, and supports Sephora employees going through hard times. It's partnered with over 500 nonprofits and plans to have helped 100,000 people to attend its Classes for Confidence by 2020. Whether you help by getting the word out about Sephora Stands items, buying items that contribute money to Sephora Stands, or researching some of the nonprofits that Sephora has partnered with, these charitable movements are a formative part of what the company stands for.
How to Use Promo Codes for Sephora.com
After adding your desired cosmetics and beauty products to the online 'shopping basket,' you will redeem a Sephora.com coupon code during the checkout process, which is illustrated below:
In the Promotion Code field, enter your coupon code. Click 'Apply.'
Click 'Checkout' to continue.
Select three free samples, and click 'Add Samples' to proceed.
Returning customers are asked to login, while new users can create an account or gain access by providing their email address. Click 'Continue' or 'Sign In' after making your selection.
Enter your shipping address details.
Select your preferred delivery option: Standard 3-Day, 2 Day Shipping, 1 Day Shipping, or USPS Priority. Click 'Continue.'
Enter your payment details, and verify the billing address. Click 'Continue.'
Verify your total order, personal details, and add a password before clicking 'Place Order' to complete the transaction.
FAQs from Sephora
Can I get a military discount at Sephora?
Unfortunately, there is no Sephora military discount at this time. However, service members are recommended to seek further information from their local Sephora store, as there may be unique discounts provided at certain locations.
is there a Sephora cashback offer?
Currently, there is not a Sephora cashback program on their website. Sephora customers can routinely find offer codes and other programs that allow them to earn cashback on their Sephora orders. Many of these codes and offers can be used in conjunction with other Sephora offer codes.
Can I join a Sephora rewards program?
The Sephora rewards program offers a host of benefits. If you join the program, you begin earning points when you purchase items from Sephora. These points can then be redeemed for discounted or free merchandise on future orders. Rewards program members also get access to exclusive items and a free gift every year on their birthday.
The Sephora Memorial Day sale 2021
The Sephora Memorial Day sale is one to check out, with discounts taking place in most departments. The Memorial Day specials are likely to start a couple of days before May 31. So, you'll want to start watching out for deals a couple of days before and on Memorial Day. The 2020 Sephora Memorial Day deals included up to 50% off select face cream lines, makeup, beauty products, and much more.
Does Sephora ever have 20% off?
The best time to save 20% at Sephora is during the VIB Beauty Sale which happens a couple times a year. This is when members get access to the best Sephora promo codes for their favorite beauty products.
Are there Sephora Black Friday deals?
Sephora's Black Friday sale is live, with deals up to 50% off. Different items will be going on sale every day so come back to Sephora frequently. Sephora's Black Friday sale is running all month long. Enjoy deals on holiday gift sets and get 4x the Beauty Insider points for qualifying items. Sephora deals are available in-store and online while supplies last.
What is VIB Sephora?
Join the Business insider Benefits for free to enjoy free standard shipping, early access to sale events, a FREE birthday gift of your choice, and exclusive codes. VIB sale is also available, expect to save this year 10-20% off. In addition to VIB sales and offers, you can find available daily coupons for free samples, skincare products, makeup items for their popular foundations and mascaras, and perfumes.
Can I get free shipping through JCPenney?
Sephora at JCPenney!? Orders over $99 at JCPenney ship free (including Sephora), and you can ship any order over $25 for free using the site-to-store option
Does my order come with free samples?
With every online order, you can request up to three free samples.
Does Sephora have a student discount?
Students are in luck! Register your student ID on a trusted third party website to get your student status verified and you can enjoy a 10% discount on your purchases. Students can also take advantage of Sephora discount codes and vouchers to save on their beauty and makeup products. Make sure to browse through this page to discover all the new ways you can save today!
Can you use Sephora coupons at JCPenney?
Yes, you can use Sephora coupons at JCPenney.
Are Sephora makeovers free?
All Sephora customers are eligible for free 15-minute mini-makeovers. A mini-makeover targets one area of the face, such as the eyes. It is recommended to book an appointment due to a makeup artist's availability.
Can you return opened products to Sephora?
Yes, opened products are accepted for returns or exchanges along with receipt. For online orders, you must return the item to Sephora.com within 60 days of the purchase date for a full refund — minus original shipping fees, but a complimentary return label is included in the original packaging.
What products can I find at sephora.com?
Products available at Sephora include makeup, perfume, body & bath items, hair products, candles, skincare items.