Background
Clinique came about in 1968 following an article in US Vogue which discussed whether great skin can actually be achieved through a proper skin care regime. Acting like some kind of beautifying magical trinity, US Vogue editor Carol Phillips, Evelyn Lauder (daughter-in-law of Estée), and dermatologist Norman Orentreich MD worked together to develop a brand that brought dermatological thinking to cosmetics. Clinique was launched and is now one of the biggest skin care and cosmetics brands on the market, with stores in 135 different countries. And yes, it's yet another cog in the giant Estée Lauder machine.
The idea at the core of Clinique is their 3-step skin care system: cleanse, exfoliate and moisturise. Not exactly rocket science but not always an easy rule to follow. Cleanse, yes. Moisturise, always. But exfoliate? When I remember. Having said that, I have started to use Clinique's 7 Day Scrub Cream (£17 for 100ml, clinique.co.uk) in the shower some mornings and I'm really noticing the difference it's making. Skin is much smoother and I feel my make-up goes on easier. Ultimately, like all good exfoliators, it renews skin by getting rid of dead cells and dirt to leave it all shiny and new. Clinique offer a whole range of gentle exfoliators depending on your skin type, from very dry to very oily.
Best Clinique Products
A five-piece sampler kit to refresh and hydrate skin.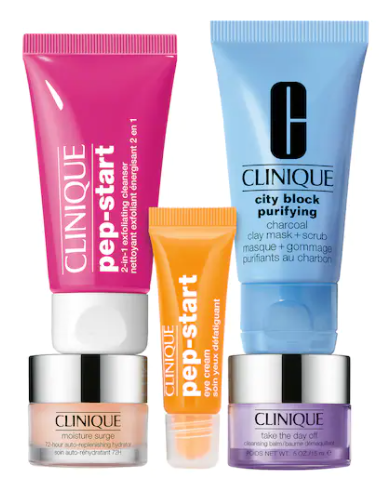 Clinique Pep-Start™ 2-in-1 Exfoliating Cleanser gives skin a smooth-looking finish and a radiant glow. Pep-Start Eye Cream hydrates, brightens, and perks up your look. Addictively refreshing Moisture Surge™ 72-Hour Auto-Replenishing Hydrator with hyaluronic acid and activated aloe water locks in moisture for an endlessly plump, dewy, healthy-looking glow. For a delightful clean, City Block Purifying™ Mask detoxifies and polishes skin. Take The Day Off™ with a balm makeup remover feels like a spa treat.
Great Skin, Great Deal Set for Combination Oily Skin
A dermatologist-developed three-step skin care regimen for combination oily skin types.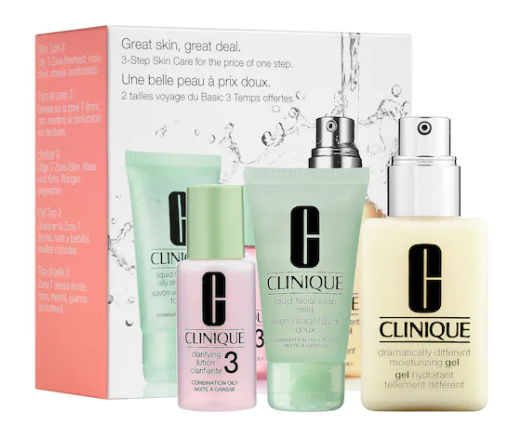 Customized to give combination oily skin exactly what it needs to be great skin, this must-have set includes deluxe travel sizes of Liquid Facial Soap Oily Skin Formula and Clarifying Lotion 3. The non-drying Facial Soap cleanses skin gently and thoroughly, producing a comfortable, refreshed complexion. The calming, exfoliating lotion whisks away pore-clogging oil and flakes to reveal clearer skin. Plus, it features a full-size Dramatically Different Moisturizing Gel to soften, smooth, and improve.