Kylie Jenner took to social media to reveal that a new collection will be launched. It's called "Under The Sea" collection. Kylie Cosmetics Under The Sea collection in an all-new makeup formula and will release on July 10. Many fans say they can't wait till this beautiful collection drops.
Taking to Instagram, Jenner previewed and swatched the entire line through a series of videos. The collection includes two lip glosses, three lipsticks, four cream shadows , one face gloss and an eyeshadow palette with twelve colors that range from nude to a metallic turquoise. Let's get the details!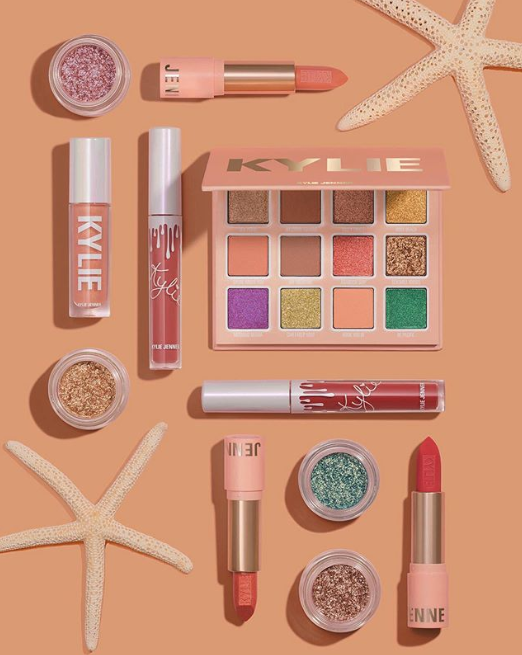 Kylie Cosmetics Under The Sea collection For Summer 2019
Available – JULY 10TH online at kyliecosmetics.
The Summer Eyeshadow Palette
The palette holds a mixture of more experimental colours and textures. There are 12 shades, eight shimmer and four matte. In the shimmers, there is a vibrant purple, bright turquoise, hot coral and variations of gold, copper and champagne. There are also four matte, nude and brown shades, thrown in for good measure.
The Lipsticks:
In shades:
Endless Summer – metallic topper
Beach Bum – matte lipstick
Paradise Please – matte lipstick
The Lip Blush:
New formula for the lip blush,natural tinted lips with a matte finish
In shades:
The Shimmer Eye Glaze:
The Shimmer Eye Glazes are major in the most magical sense. All four shades are super pigmented and pack an out-of-this-world sparkle, which is guaranteed to transform any basic eyeshadow into an extraordinary one. "You guys will fall in love with this new formula," the beauty boss promised.
In shades:
Night Swim
Ocean Child
Deep Sea Dreams
Aqua Mama
The High Gloss
There is only one gloss in the collection, and it's a gorgeous peach, with flecks of glimmering gold. In Kylie's swatch, it comes out sheer and super glossy.
In shades:
You Are The Sun
The entire collection comes packaged in a shell shaped case which we are obsessed with.
Enjoy more photos and swatches…