Featuring holiday-inspired designs by artist Marylou Faure, this collection houses one of our customer favorite skincare products behind each door for the ultimate gift that keeps on giving!
Beginning on December 1st and going through December 24th, open the miniature door with the date of the day you are opening it to reveal a small gift hidden inside. It's a fun way to count down to the holidays and gives you something to look forward to amidst the hustle and bustle that comes with the spirited season.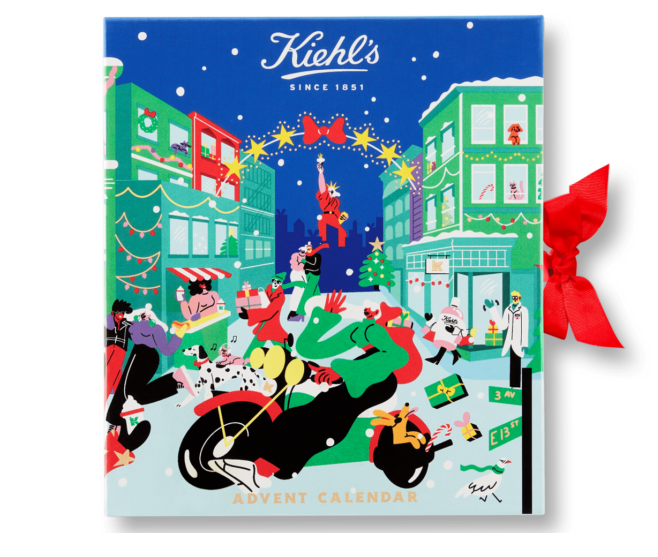 PRICE:
$99.00
Official Release Date:
Available now at Kiehl's
This year, we've partnered with French illustrator and artist Marylou Faure, who specializes in character design. Her lively illustrations lend a playful, cheeky attitude to our 2021 advent calendar—and provide the perfect backdrop for a blowout Kiehl's holiday celebration. Wherever you display it, this year's bold and bright advent calendar is sure to catch everyone's eye.
My Rating: 4 /5
Contents:
Ultra Facial Cream 28ml
Ultra Facial Oil-Free Gel Cream 7ml
Super Multi-Corrective Cream 7ml
Calendula Serum-Infused Water Cream 7ml
Midnight Recovery Concentrate 15ml
Clearly Corrective Dark Spot Solution 4ml
Powerful-Strength Line-Reducing Concentrate 5ml
Vital Skin-Strengthening Super Serum 4ml
Hydro-Plumping Serum Concentrate 5ml
Retinol Skin-Renewing Daily Micro-Dose Serum 10ml
Rare Earth Deep Pore Cleansing Mask 14ml
Calendula Petal-Infused Calming Mask 14ml
Ultra Facial Cleanser 30ml
Calendula Deep Cleansing Foaming Face Wash 30ml
Calendula Herbal-Extract Alcohol-Free Toner 75ml
Ultra Facial Toner 40ml
Powerful-Strength Line-Reducing & Dark Circle-Diminishing Vitamin C Eye Serum 3ml
Creamy Eye Treatment with Avocado 7ml
Lip Balm #1 15ml
Amino Acid Shampoo 65ml
Amino Acid Conditioner 65ml
Creme de Corps 30ml
Facial Fuel Energizing Moisture Treatment for Men 15ml
Ultimate Strength Hand Salve 30ml