Hello beauties! The countdown to Christmas is always exciting, but beauty advent calendars make each morning all the more special.
If you want to know all the details on the NYX Advent Calendars 2020 , Check out the details below!
PRICE
25 Day Countdown – £50
12 Day Countdown – £30
Official Release Date:
Available now at Very, Pretty Little Thing and Amazon
End of Sept at NYX, ASOS, Look Fantastic, Boots and Superdrug
Available now in the US at NYX – 25 Day Countdown / 12 Day Lip Calendar
Brand Description:
NYX have two fabulous bright pink calendars with a 'Diamonds & Ice' theme. It's 24 day one called Diamonds & Ice Please. Another is a 12 day lipstick countdown calendar.
MY RATING: 5 /5
25 Day Countdown CONTENTS
• Sheer #ThisIsEverything Lip Oil Mini
• Sheer Blush This Is Everything Lip Oil Mini
• Perfect Red Matte Lipstick Mini
• Natural Matte Lipstick Mini
• Siren Matte Lipstick Mini
• Whipped Caviar Matte Lipstick Mini
• #ThisIsEverything Lip Balm
• Cannes Soft Matte Lip Cream Mini
• Rome Soft Matte Lip Cream Mini
• Crème Brulee Butter Lip Gloss Mini
• Tiramisu Butter Lip Gloss Mini
• Angel Food Cake Butter Lip Gloss Mini
• #ThisIsEverything Lip Scrub
• Crystal Eyeshadow
• Glam Purple Eyeshadow
• Golden Bronze Eyeshadow
• Antique Gold Eyeshadow
• Bronzed Goodness Eyeshadow
• Rose Gold Eyeshadow
• Born To Glow 01 Illuminator Mini
• Born To Glow 02 Illuminator Mini
• Pore Filler Primer Mini
• HD Finishing Powder Mini
• HD Studio Primer Mini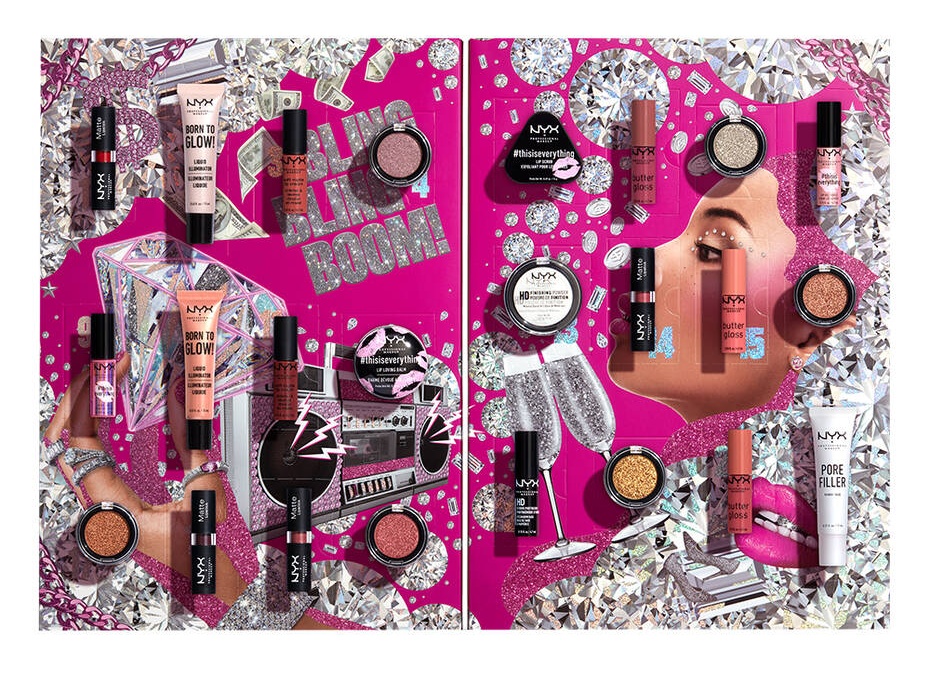 12 Day Countdown CONTENTS
#ThisIsEverything Lip Oil x2
Cream Lipstick x2
Matte Lip Cream x2
Creamy Butter Lip Gloss x3
Matte Lipstick x3