The holidays are the best time of year to score major deals on makeup—whether you're buying for yourself or your loved ones. Beauty retailers launch limited edition Christmas collection for the holidays every year , This is the most worthwhile thing we have every year. Kat Von D 2019 Christmas Holiday Collection is coming, Let me pay attention to the updates on this page:
Kat Von D 2019 Christmas Holiday Collection is currently available. This collection includes eye shadow palettes and some essential makeup sets for eyes and lips. One of the most eye-catching is the new Kat Von D Lolita Por Vida Eyeshadow Palette, which has an elegant color scheme and unique design. This collection style is not only suitable for the holiday season, but also very suitable for the use of daily makeup. If you are interested in the make-up of this brand, let us learn more!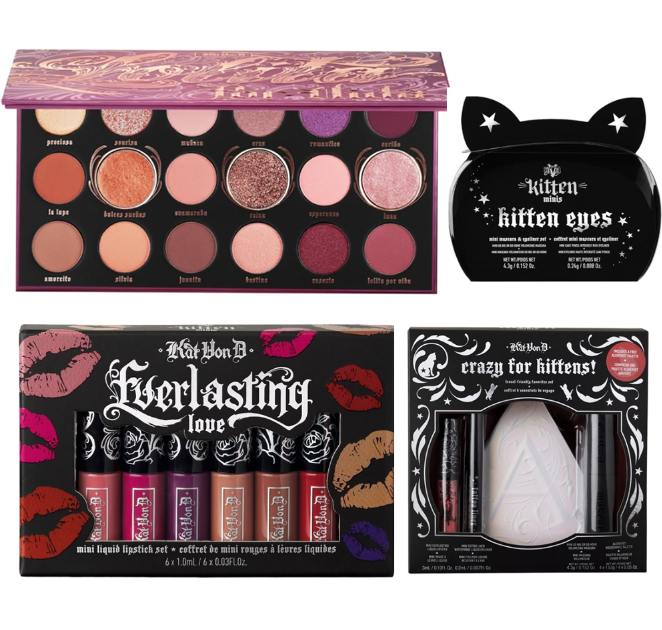 Kat Von D 2019 Christmas Holiday Collection
Available – Now at Sephora
Kat Von D Lolita Por Vida Eyeshadow Palette – (Limited Edition) – $49.50
A palette that includes 18 romantic shades in matte, shimmer, foil, and super-glitter finishes that flatter every skin tone.
All shades in this eyeshadow palette were created with just the right balance of undertones to look beautiful on a range of skin tones. With everyday warm, neutral, and mauve tones, you can add dimension with smooth mattes, glitz it up with shimmers, and instantly foil your lids with creamy metallics.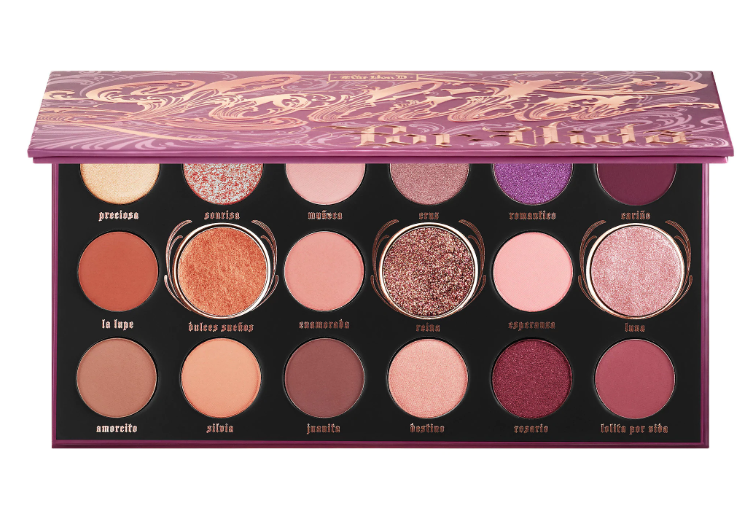 Shades include:
Preciosa (custard cream shimmer)
Sonrisa (apricot with turquoise shimmer)
Muñeca (matte lavender-taupe)
Cruz (bronze-rose shimmer)
Romantico (vibrant amethyst shimmer)
Cariño (matte warm eggplant)
La Lupe (matte rust orange)
Dulces Sueños (terracotta copper foil)
Enamorada (matte pastel peach)
Reina (reflective metallic super-glitter)
Esperanza (matte porcelain pink)
Luna (rose gold foil)
Amorcito (matte caramel)
Silvia (matte macadamia cream)
Juanita (matte deep clay)
Destino (golden petal-pink shimmer)
Rosario (garnet shimmer)
Lolita Por Vida (matte burgundy rose)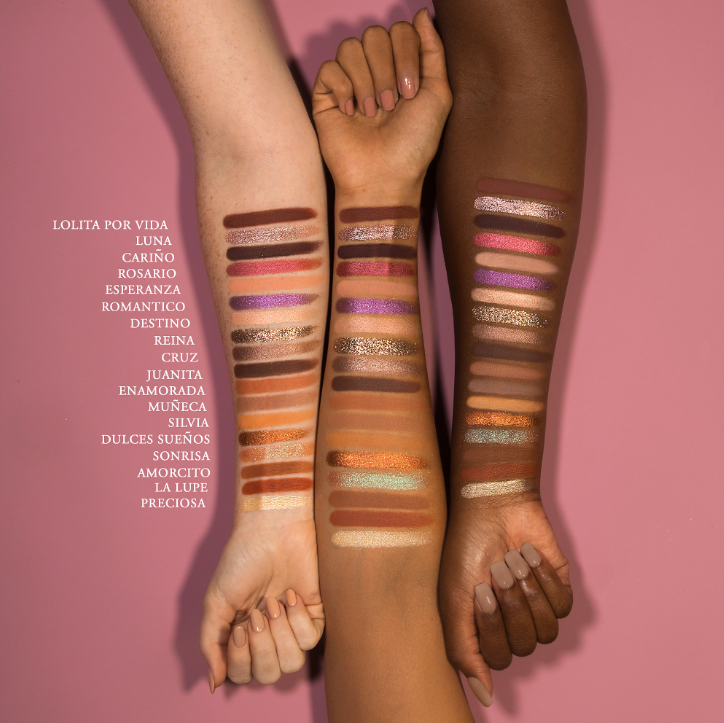 Kat Von D Kitten Eyes Mini Mascara & Eyeliner Set – (Limited Edition) – $19
An adorable, travel-friendly duo featuring Go Big or Go Home Mascara and Cake Pencil Eyeliner to create subtle cat eyes (or kitten eyes) on-the-go.
Create the perfect "Kitten Eye"—a subtle wing with big, volumized lashes. With Cake Pencil Eyeliner, you can have it all: Super-creamy glide with waterproof long wear in an easy-to-use pencil. Finish big with Go Big or Go Home, an extreme volume vegan mascara, powered by plant-based fats.
Includes:
Mini Go Big or Go Home Volumizing Mascara in Trooper Black
Mini Cake Pencil Eyeliner in Trooper Black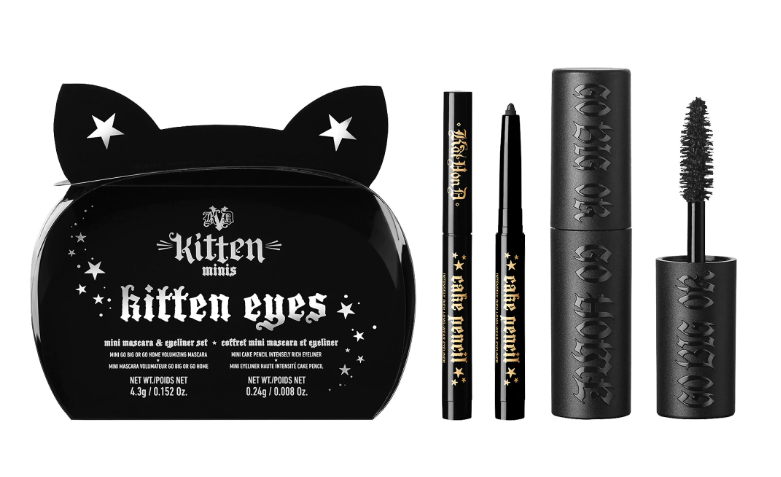 Kat Von D Crazy for Kittens! Mini Makeup Set – (Limited Edition) – $34 ($66.00 value)
Go crazy for Kitten Minis with this four-piece set featuring the award-winning Tattoo Liner, Go Big or Go Home Mascara for extreme vegan volume, and Everlasting Liquid Lipstick in the iconic shade, Double Dare. Plus, get a free full-size Alchemist Holographic Palette, the ultimate prismatic transformer.
Includes:
Go Big or Go Home Volumizing Mascara in Trooper Black
Tattoo Liner in Trooper Black
Eyeshadows in Emerald (green holographic), Pink (opal holographic), Ultra-Violet (amethyst holographic), Saphyre (blue holographic)
Everlasting Liquid Lipstick in Double Dare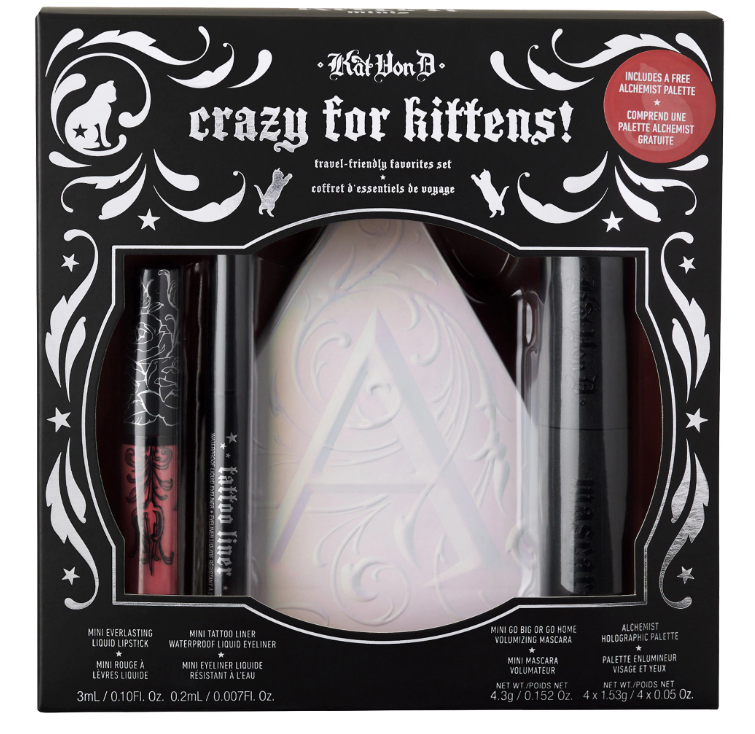 Kat Von D Everlasting Love Mini Liquid Lipstick Set – (Limited Edition) – $16 ($21.00 value)
A six-piece liquid lipstick set with the shades you've always wanted to try, from everyday neutrals to iconic bolds—all in a long-wear, matte formula.
Fall in Everlasting Love with the ultimate set, featuring five favorite liquid lipstick shades, plus never-before-seen Nocturna, a deep grape, found only in this set. The new and super-portable ultra-mini size means you can take your shades to go, so you're never without the perfect lip color.
Shades:
Lovecraft (mauve pink nude)
Hawkwind (Nude Sienna)
Nocturna (deep grape)
Bow N Arrow (fawn nude)
Nahz Fur Atoo (blood crimson)
Bauhau5 (deep raspberry)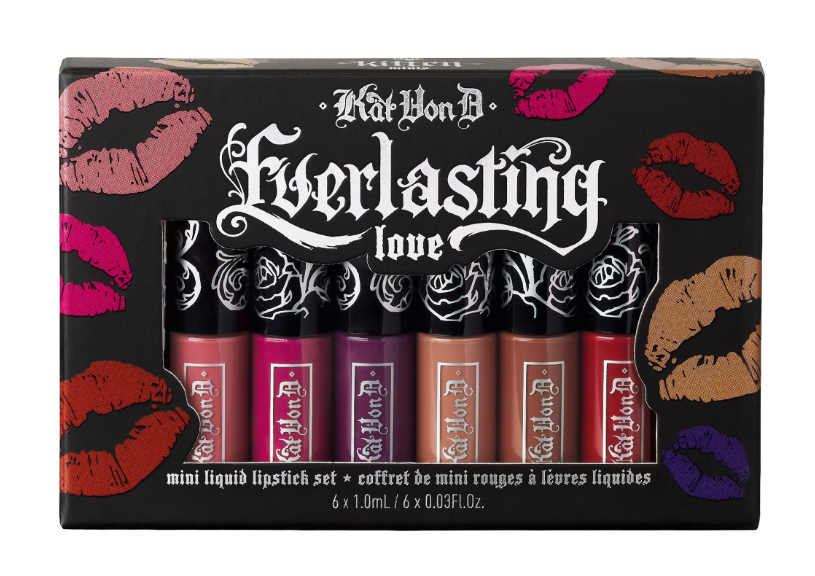 TIPS:
We're making our list and we're checking it twice, because it seems every beauty brand is getting into the holiday spirit this season, and we're just trying to keep up! With themed drops from Kat von D, Givenchy, YVES SAINT LAURENT, Tom Ford,Fenty Beauty, Tarte, and so many others, our own stockings are stuffed as much as we're shopping for the people on our list. Check out our list of 2019 holiday makeup and beauty releases, and be sure to check back as many more are announced. Our heart is growing three sizes just looking at these beauties.