The inevitable Christmas countdown has begun , and whether you love it or loathe it we can bet you still as excited as us about nabbing a snazzy beauty advent calendar.
Now, Get all the details on the Jo Malone London beauty advent calendar 2020, Check out the details below!
Official Release Date:
Available exclusively at jomalone.co.uk from 1st October for a 2 week preview before nationwide launch in all boutique
Brand Description:
Retailing at £320, this luxury offering marks the sixth year running that Jo Malone London has created a beauty advent calendar, with past iterations selling out fast due to the cult-like status of the fragrances, body products and candles inside.
The full list of treats to discover inside the calendar are:
1. Pine & Eucalyptus Mini Candle
2. Honeysuckle & Davana Cologne 9ml
3. Wild Bluebell Body & Hand Wash 30ml
4. Wood Sage & Sea Salt Cologne 9ml
5. Myrrh & Tonka Cologne Intense 9ml
6. Peony & Blush Suede Mini Candle 35g
7. Pomegranate Noir Cologne 9ml
8. Dark Amber & Ginger Lily Cologne Intense 9ml
9. Poppy & Barley Cologne 9ml
10. Blackberry & Bay Body Crème 50ml
11. Velvet Rose & Oud Cologne Intense 9ml
12. Wild Bluebell Cologne 9ml
13. Red Roses Body & Hand Wash 15ml
14. Oud & Bergamot Cologne Intense 9ml
15. Green Tomato Leaf Mini Candle 35g
16. Lime Basil & Mandarin Cologne 9ml
17. Tuberose Angelica Cologne Intense 9ml
18. Lime Basil & Mandarin Hand Cream 15ml
19. English Pear & Freesia Cologne 9ml
20. Sweet Almond & Macaroon Mini Candle 35g
21. Blackberry & Bay Cologne 9ml
22. Vetiver & Golden Vanilla Cologne Intense 9ml
23. Peony & Blush Suede Cologne 9ml
24. English Pear & Freesia Mini Soap 50g * plus additional surprise!
So, mark your diaries for 1 October, when this year's calendar becomes available on jomalone.co.uk for a two-week preview before a nationwide launch in all boutiques. We expect virtual queues around the street…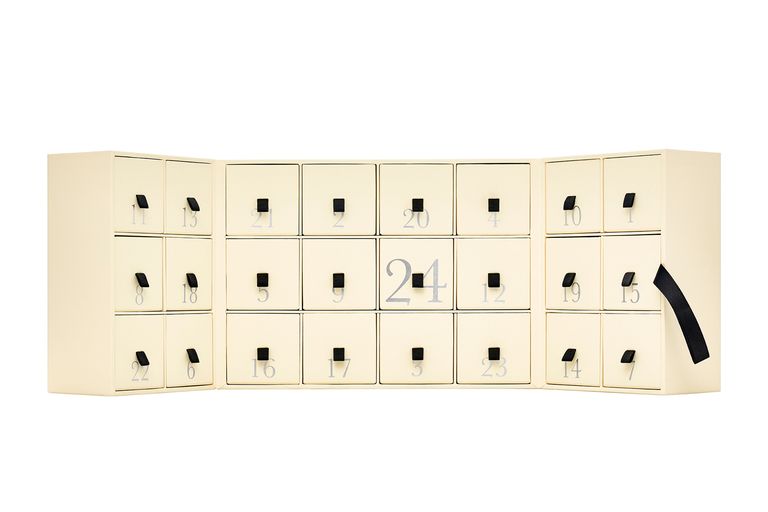 TIPS:
Gone are the days when we'd count down to Christmas with a teeny tiny chocolate that'd disappear in a single bite. Now, everything from stunning scented candles and wonder-serums, to luxe body oils and fragrances that smell so good it's insane are hiding behind those little paper doors – and we are 100% here for them.
Check out our list of beauty ADVENT CALENDAR releases, and be sure to check back as many more are announced. To help guide you to find the 'best beauty advent calendar of 2020', we've rounded up every single beauty advent calendar for 2020 – Watch this space for more details and in the mean time check out the best beauty advent calendars to snap up this Christmas. and if a brand is yet to share any details, we've predicted their offering based off last year. From the products included inside (think, lipstick, perfume, eyeshadow and so much more, to the on-sale dates.