The inevitable Christmas countdown has begun , and whether you love it or loathe it we can bet you still as excited as us about nabbing a snazzy beauty advent calendar. GIORGIO ARMANI BEAUTY Advent Calendar 2019 is coming, Maybe a surprise.
Armani Advent Calendar 2019 is one of the most exciting beauty calendars.Because this is the first calendar ever launched by their brand.This time the design uses the Armani classic red with gorgeous gold, which is full of festive atmosphere.This calendar has 24 days of mini deluxe make-up sizes.Includes 24 of the brand's most popular products, covering cosmetics, skin care and fragrances.This is a full demonstration of the charm of Armani Beauty.Let's get the details!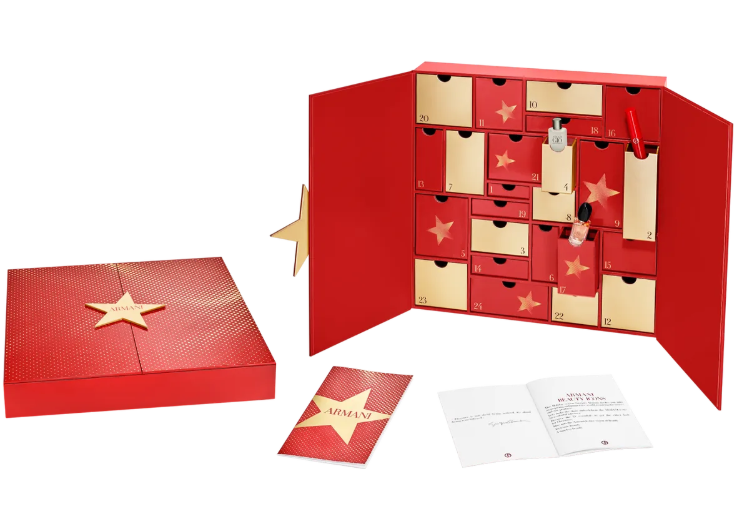 Giorgio Armani Beauty Advent Calendar 2019
Available – October at Selfridges
Armani Beauty Advent Calendar – £249
Full Size products
Eyes to kill Stellar #2
Lip Maestro #400
Pins
Bow design
Lip magnet design
Lip design
Si Pass design
Key ring
Makeup Deluxe Minis
Ecstasy Shine #400
Rouge D'Armani Matte #102
Lip Magnet #400
Ecstasy Lacquer #402
Lip Maestro #500
Eyes to Kill Mascara Classic
Eye tint #12
Makeup remover
Crema Nera Eye cream 5gr
Cushion Toneup #02
Crema Nera Acqua Pantelleria 30ml
Fragrance Deluxe Minis
Si EDP 7ml
Aqua Di Gioia EDP 5ml
Si Fiori 7ml
Code EDT 4ml
Si Pass 7ml
Aqua Di Gio EDT 5ml
TIPS:
Gone are the days when we'd count down to Christmas with a teeny tiny chocolate that'd disappear in a single bite. Now, everything from stunning scented candles and wonder-serums, to luxe body oils and fragrances that smell so good it's insane are hiding behind those little paper doors – and we are 100% here for them.
Check out our list of beauty ADVENT CALENDAR releases, and be sure to check back as many more are announced. Our heart is growing three sizes just looking at these beauties.
RELATED: List of Giorgio Armani Beauty gift with purchase 2019 schedule
RELATED: ARMANI PASSIONE RED MAESTRO FALL 2019 COLLECTION