The inevitable Christmas countdown has begun , and whether you love it or loathe it we can bet you still as excited as us about nabbing a snazzy beauty advent calendar. FENWICK BEAUTY ADVENT CALENDAR 2019 is coming, Maybe a surprise.
Fenwick Beauty This year's Advent Calendar is very worth looking forward to.This year's artist Julie Verhoeven made a very beautiful Christmas fairy tale theme box for it.This calendar is filled with many quality products from very popular brands. This gorgeous thing contains a brilliant mix of skincare, makeup, fragrance, haircare. And it's also very attractive in terms of price, retails at £150, and the contents are valued at over £450. If you think you will use, or would like to try, enough of the products then it's a great way to try them out.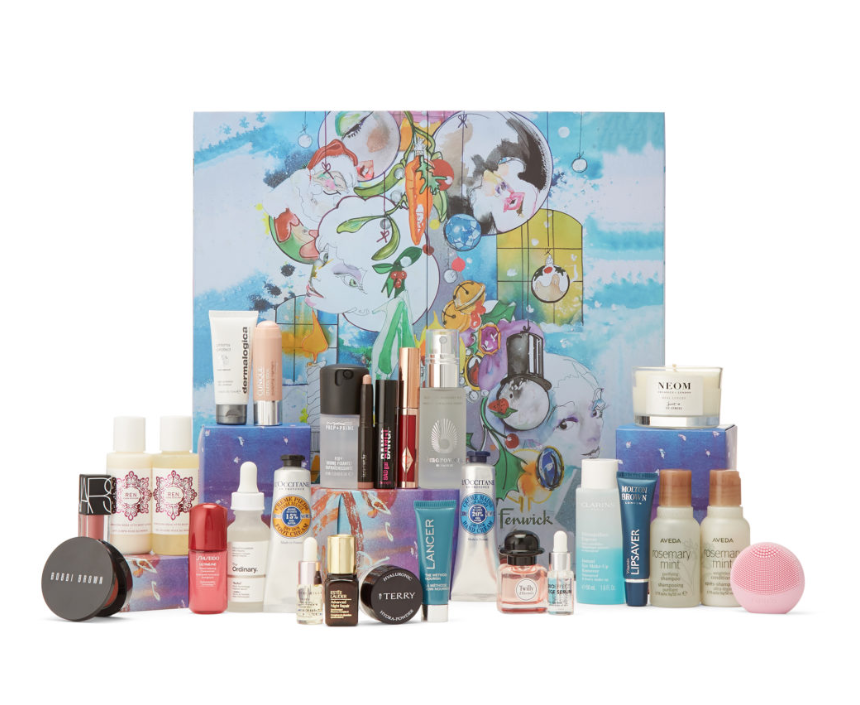 Fenwick Beauty Advent Calendar 2019
Available – October 21st in store and online at Fenwick
Fenwick Beauty Advent Calendar – £150 (worth over £450)
The packaging features a design by y Fenwick's 2019 Artist in Residence, Julie Verhoeven, whose "desire was to create a fanciful world of make believe at Christmas. A box of treats sprinkled with fairy dust. It illustrates the Christmas fairy's journey, darting through open windows, fireplaces and into the twilight. The domestic Christmas setting becoming somewhat confused, upside down, inside out, magical and fun".
The full line-up of products in the Fenwick Beauty Advent Calendar is listed below:
Bobbi Brown Pot Rouge for Lips and Cheeks (full-size 3.7g)
By Terry Hyaluronic Hydra-Powder Face Setting Powder (deluxe travel size 1.5g)
Clarins Instant Eye Make-up Remover (deluxe travel size 50ml)
Dermalogica Prisma Protect Moisturiser SPF 30 (deluxe travel size 12ml)
Foreo Luna Play in Fuchsia (deluxe travel-size)
Hermes Twilly D'Hermes Eau De Parfum (deluxe handbag-size 12.5ml)
Laura Mercier Mini Caviar Stick in Au Natural (deluxe handbag-size 1g)
Nars Mini Velvet Lip Glide in Roseland (deluxe handbag-size 2ml)
L'Occitane Shea Butter Hand Cream (deluxe handbag-size 30ml)
L'Occtinae Shea Butter Foot Cream (deluxe travel size 30ml)
Omorovicza Queen of Hungary Facial Mist (deluxe travel size 30ml)
REN Moroccan Rose Otto Body Wash (deluxe travel size 50ml)
REN Moroccan Rose Otto Body Lotion (deluxe travel size 50ml)
Shiseido Ultimune Power Infusing Concentrate Serum (deluxe travel size 10ml)
The Ordinary Buffet (deluxe travel size 30ml)
Lancer Skincare The Method: Nourish Moisturiser (deluxe travel size 7ml)
Neom Organics De-stress Scented Travel Candle (full size)
Charlotte Tilbury Hollywood lips in Screen Siren (full size 6.8g)
BioEffect EGF Serum (deluxe travel size 5ml)
Estee Lauder Advanced Night Repair (deluxe travel size 7ml)Chantecaille Rose de Mai Face Oil (deluxe travel size 4ml)
Aveda Rosemary Mint Purifying Shampoo (deluxe travel size 50ml)
Aveda Rosemary Mint Purifying Conditioner (deluxe travel size 50ml)
Clinique Chubby Stick Sculpting Highlight (deluxe handbag-size 3.6g)
Molton Brown Vitamin Lip Saver (full size 10ml)
MAC Prep and Prime Fix+ (full-size 30ml)
MAC Complementary 30 mins Service bounceback card
Benefit Bad Gal Bang (deluxe handbag-size 3g)
TIPS:
Gone are the days when we'd count down to Christmas with a teeny tiny chocolate that'd disappear in a single bite. Now, everything from stunning scented candles and wonder-serums, to luxe body oils and fragrances that smell so good it's insane are hiding behind those little paper doors – and we are 100% here for them.
Check out our list of beauty ADVENT CALENDAR releases, and be sure to check back as many more are announced. Our heart is growing three sizes just looking at these beauties.