Estée Lauder just released their new limited-edition 24 Beauty Surprises Countdown Luxe Gift Set for the 2022 Holiday season.
Enjoy a delightful treat each day of the holiday season. Featuring our best-selling skincare, makeup favorites and more.
This limited edition collection includes 24 deluxe travel size beauty essentials.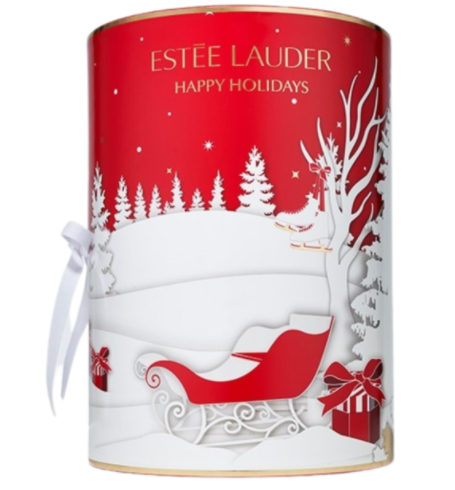 Rating: 4/5
Price: $275.00
Number of days: 24
Available now
This set has a cylindrical design, with a red, white and gold color theme. It is held together with a white ribbon, and you get twenty-four numbered drawers.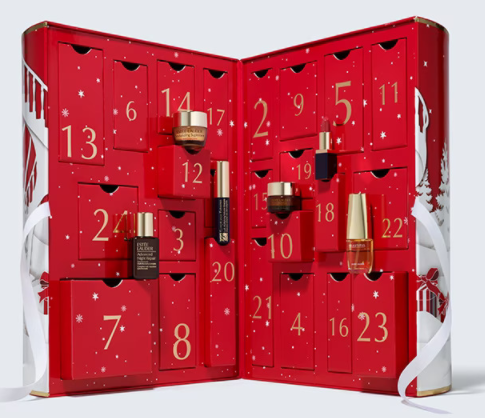 Set Includes:
Advanced Night Repair Serum Synchronized Multi-Recovery Complex, deluxe travel size (.5 oz./15ml)
Advanced Night Repair Eye Supercharged Gel-Creme Synchronized Multi-Recovery, deluxe travel size (.17 oz./5ml)
Advanced Night Repair Intense Reset Concentrate, deluxe travel size (.17 oz./5ml)
Advanced Night Repair Eye Concentrate Matrix Synchronized Multi-Recovery Complex, deluxe travel size (.17 oz./5ml)
Perfectly Clean Multi-Action Foam Cleanser/Mask, deluxe travel size (.5 oz./15ml)
Perfectionist Pro Rapid Brightening Treatment with Fermentᵌ + Vitamin C, deluxe travel size (.5 oz./15ml)
Revitalizing Supreme+ Moisturizer Youth Power Creme, deluxe travel size (.24 oz./7ml)
Revitalizing Supreme+ Night Intensive Restorative Creme, deluxe travel size (.24 oz./7ml)
Revitalizing Supreme+ Youth Power Eye Balm, deluxe travel size (.17 oz./5ml)
Micro Essence Skin Activating Treatment Lotion with Bio-Ferment, deluxe travel size (1 oz./30ml)
Micro Essence Skin Activating Treatment Lotion Fresh with Sakura Ferment, deluxe travel size (1 oz./30ml)
Soft Clean Infusion Hydrating Essence Lotion Amino Acid + Waterlily, deluxe travel size (1 oz./30ml)
Bronze Goddess Powder Bronzer in 02 Medium, deluxe travel size (.19 oz./5.4g)
Pure Color Envy Lip Repair Potion, deluxe travel size (.15 oz./4.6ml)
Pure Color Envy Color Replenish Lip Balm, deluxe travel size (.06 oz./1.6g)
Pure Color Envy Sculpting Lipstick in 420 Rebellious Rose, deluxe travel size (.04 oz./1.2g)
Pure Color Envy Matte Sculpting Lipstick in 333 Persuasive, deluxe travel size (.04 oz./1.2g)
Pure Color Envy Kissable Lip Shine in 107 Tender Trap, deluxe travel size (.15 oz./4.6ml)
Double Wear Stay-in-Place Lip Pencil in 07 Red, deluxe travel size (.028 oz./.8g)
Double Wear Stay-in-Place Eye Pencil in 01 Onyx, deluxe travel size (.028 oz./.8g)
Futurist Aqua Brilliance™ Watery Glow Primer, deluxe travel size (.5 oz./15ml)
Sumptuous Extreme Lash Multiplying Volume Mascara in 01 Extreme Black, deluxe travel size (.09 oz./2.8ml)
Beautiful Magnolia Eau de Parfum Spray, deluxe travel size (.14 oz./4ml)