Ulta Beauty launched a new product. It's the Limited Edition Beauty Box featuring the Artist & Caboodles Editions. If you want to know more, please read this article.
PRICE:
$29.99
Official Release Date:
Available now at Ulta Beauty
Brand Description:
ULTA Beauty Box: Artist Edition Purple – Be inspired to express yourself with this gorgeous makeup assortment. The spacious train case with extendable trays makes it a pefect gift for anyone who loves makeup! This iconic, limited edition Caboodles On the Go Girl case features a spacious interior, removable accessory tray and a flip lid mirror. Not only will you enjoy this classic case, but the cosmetics inside will inspire you to explore and express yourself!
My Rating: 4 /5
Contents:
Beauty Box: Artist Edition
36 Eye Shadows
4 Glitter Top Coats
3 Brow Powders
2 Eye Liner Pencils
2 Lip Glosses
2 Sheer Lip Glosses
2 Blushes
2 Highlighters
1 Bronzer
1 Brow Wax
1 Brow Gel
1 Eye Shadow Primer
1 Foundation Primer
1 Dual Ended Eye Shadow & Brow Brush
1 Blush Brush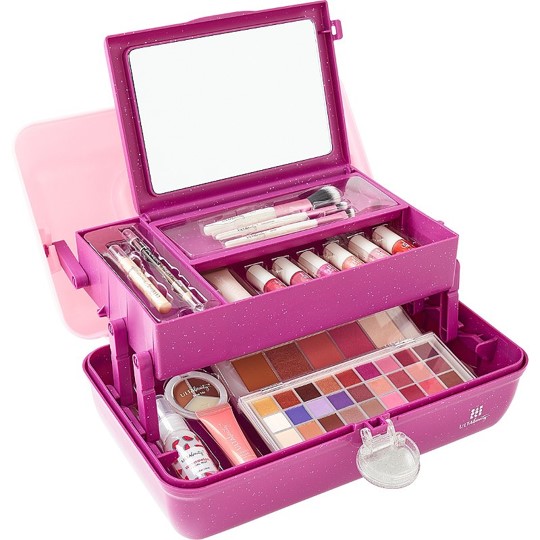 Beauty Box: Caboodles Edition
1 Eyeshadow Palette (36 Shades)
1 Face Palette (2 Bronzers, 2 Blushes, 1 Highlighter)
1 Brow Trio (2 Brow Powders & 1 Brow Wax)
2 Lip Glosses
2 Sheer Lip Glosses
2 Lip Oils
1 Eyeshadow Primer
1 Brow Highlighter
1 Dual Ended Brow Pencil
1 Watermelon Facial Mist
1 Liquid Blush
1 Blush Brush
1 Eyeshadow Brush
1 Brow Brush