The inevitable Christmas countdown has begun , and whether you love it or loathe it we can bet you still as excited as us about nabbing a snazzy beauty advent calendar.
Now, Get all the details on the Elemis Advent Calendar 2020, Check out the details below!
Official Release Date:
This dreamy thing costs £175 (it was£165 last year) .The value of the contents is in excess of £403 (£344 last year). Another major bargain and even better than last year.
launch exclusively at Elemis.com on 14th September 2020.
Brand Description:
25 Days of Spectacular Skin has a turquoise design with twenty-five drawers to open on your countdown to Christmas, inside you will find products from Peptide4, Pro Collagen and Superfood and exciting new launches such as the ULTRA SMART Pro-Collagen Complex 12 Serum and Superfood CICA Calm Hydration Juice.
CONTENTS
Pro-Collagen Marine Cream 50ml FULL SIZE
Pro-Collagen Eye Renewal 5ml
ULTRA SMART Pro-Collagen Complex 12 Serum 4ml
Pro-Collagen Hydra-Gel Masks – 1 pair
Pro-Collagen Cleansing Balm 20g and Cleansing Cloth
Pro-Collagen Oxygenating Night Cream 15ml
Pro-Collagen Marine Oil 5ml
Dynamic Resurfacing Facial Wash 30ml
Dynamic Resurfacing Pads – 14 pads
Peptide4 Thousand Flower Mask 15ml
Peptide4 Overnight Radiance Peel 10ml
Peptide4 Plumping Pillow Facial 15ml
Peptide4 Adaptive Day Cream 15ml
Superfood Vital Veggie Mask 15ml
Superfood Day Cream 20ml
Superfood Night Cream 20ml
Superfood CICA Calm Hydration Juice 20ml
Superfood Blackcurrant Jelly Exfoliator 15ml
Soothing Apricot Toner 50ml
Papaya Enzyme Peel 15ml
Herbal Lavender Repair Mask 15ml
Frangipani Monoi Shower Cream 50ml
Frangipani Monoi Body Cream 50ml
Frangipani Monoi Body Oil 35ml
Sea Lavender & Samphire Body Cream 50ml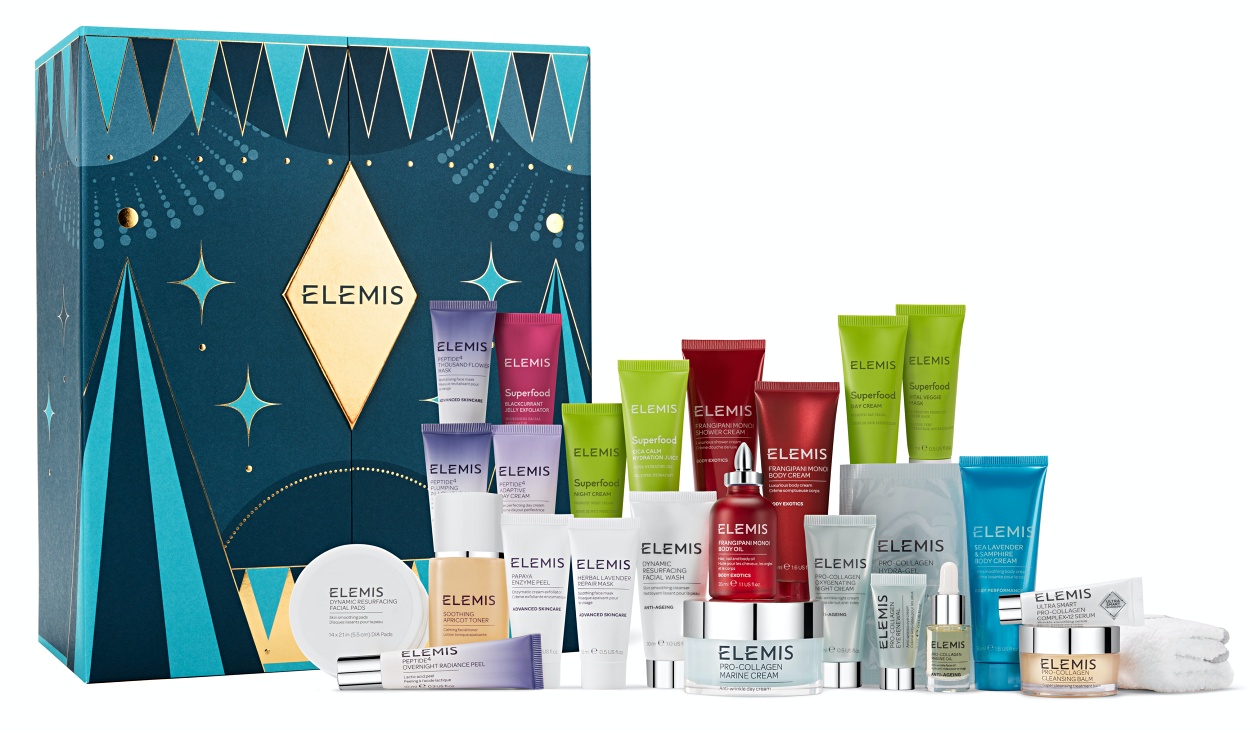 TIPS:
Gone are the days when we'd count down to Christmas with a teeny tiny chocolate that'd disappear in a single bite. Now, everything from stunning scented candles and wonder-serums, to luxe body oils and fragrances that smell so good it's insane are hiding behind those little paper doors – and we are 100% here for them.
Check out our list of beauty ADVENT CALENDAR releases, and be sure to check back as many more are announced. To help guide you to find the 'best beauty advent calendar of 2020', we've rounded up every single beauty advent calendar for 2020 – Watch this space for more details and in the mean time check out the best beauty advent calendars to snap up this Christmas. and if a brand is yet to share any details, we've predicted their offering based off last year. From the products included inside (think, lipstick, perfume, eyeshadow and so much more, to the on-sale dates.