Molton Brown fans are going to absolutely love this year's festive edition. Here's a look at the Molton Brown Advent Calendar 2021.
It celebrates Molton Brown's Christmas traditions since it launched in 1971 and features the brand new Jubiliant Pine and Patchouli.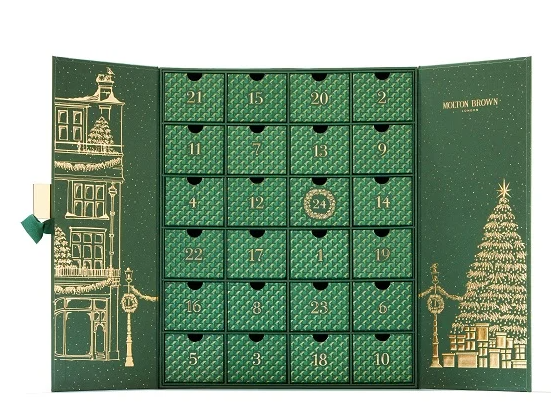 This beauty advent calendar, green and gold, always elegant and sober tone, is composed of removable drawers where the luxury brand Molton Brown has hidden a delicious selection of fragrances, body creams and scented candles.
It has a green and gold design and inside are 24 fragrances, body and home delights hidden behind each original salon door.
PRICE:
The price is £195 with a value of £313.
Official Release Date:
Available now at Molton Brown , cult beauty
My Rating: 4 /5
Contents:
Jubilant Pine & Patchouli Festive Bauble 75ml
Jubilant Pine & Patchouli Eau de Toilette Travel Case Refill 7.5ml
Fragrance Travel Case
Orange & Bergamot Bath & Shower Gel 100ml
Jubilant Pine & Patchouli Body Lotion 100ml
Heavenly Gingerlily Eau de Toilette Travel Case Refill 7.5ml
Fiery Pink Pepper Eau de Parfum Travel Case Refill 7.5ml
Delicious Rhubarb & Rose Vibrant Body Oil 45ml
Delicious Rhubarb & Rose Mini Candle
Re-charge Black Pepper Eau de Parfum Travel Case Refill 7.5ml
Coastal Cypress & Sea Fennel Bath & Shower Gel 100ml
Fiery Pink Pepper Fine Liquid Hand Wash 100ml
Coastal Cypress & Sea Fennel Eau de Toilette Travel Case Refill 7.5ml
Coastal Cypress & Sea Fennel Bath Salts 25g
Mesmerising Oudh Accord & Gold Eau de Parfum Travel Case Refill 7.5ml
Delicious Rhubarb & Rose Fine Liquid Hand Wash 100ml
Orange & Bergamot Body Lotion 100ml
Fiery Pink Pepper Hand Cream 40ml
Anti-fatigue Bai Ji Eye Gel 15ml
Flora Luminare Hand Cream 40ml
Mesmerising Oudh Accord & Gold Mini Candle
Mesmerising Oudh Accord & Gold Precious Bathing Oil 45ml
Vitamin Lipsaver 10ml
Vintage With Elderflower Festive Bauble 75ml