ColourPop Cometics has released the latest collaboration with Kathleen Lights, the Minor In Astrology and Light As Air Signs Palettes. They are a 24-color eye shadow palette and a 6-color blush palette.Each shade is carefully selected by Kathleen Lights to create a warm, elegant look. They continue the brand's consistent high quality,the highly pigmented shadow that applies evenly and feels ultra-velvety and silky.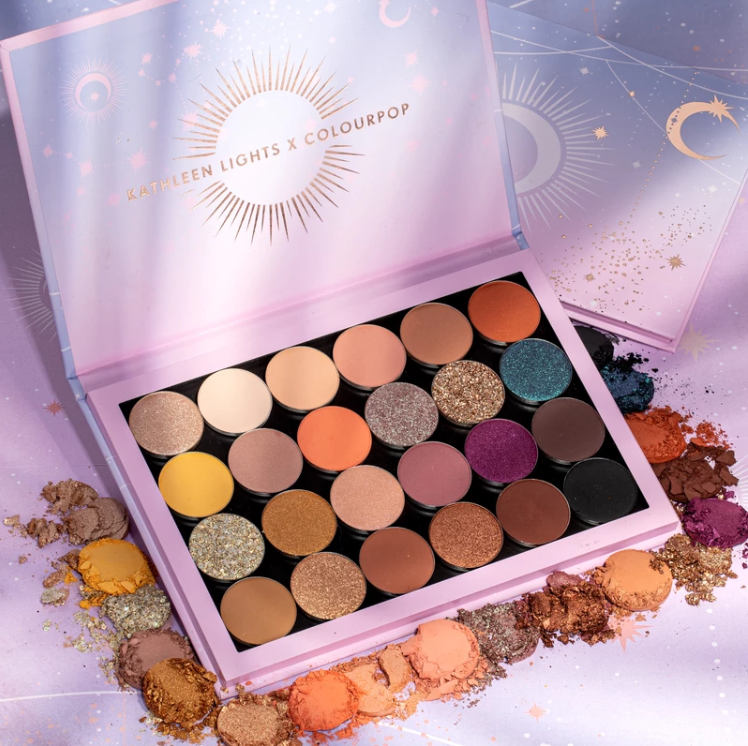 ColourPop X Kathleen Lights Minor In Astrology & Light As Air Signs Palettes
Available -Now at colourpopcosmetics
Minor in astrology palette – $45
Kathleen Light's newest curated 24 pan shadow palette. Warm-toned neutrals with pops of rich jewel tones, this palette is a vibe. Mixed finishes of matte, metallic, and Pressed Glitter easily create looks perfect for day or night.
Shades:
ringer: metallic champagne
hear me out: matte white peach
issues: matte pastel peach
lay low: matte soft coral
sidetracked: matte sattle brown with gold flecks
martian: matte warm terracotta with gold flecks
tiki: matte warm yellow with flecks of gold
two birds: vibrant warm gold
best coast scenario: matte bright tangerine
glass bull: duochrome lavender icy-blue
renegade: soft rose gold with a copper sheen
antimatter: metallic turquoise with a deep purple duochrome flip
get lost: warm opalescent gold with large rainbow holographic glitter
the libra: matte light dusty rose
cutoffs: soft metallic peach with a pink shift
pretty cruel: matte berry mauve with gold flecks
paradiso: metallic violet
cloud nine: matte plummy brown
the taurus: matte camel brown
20 something: metallic peachy gold
top notch: matte terracotta brown
milli: metallic intense penny copper
feathered: matte rich chocolate brown
let's do it: blackest black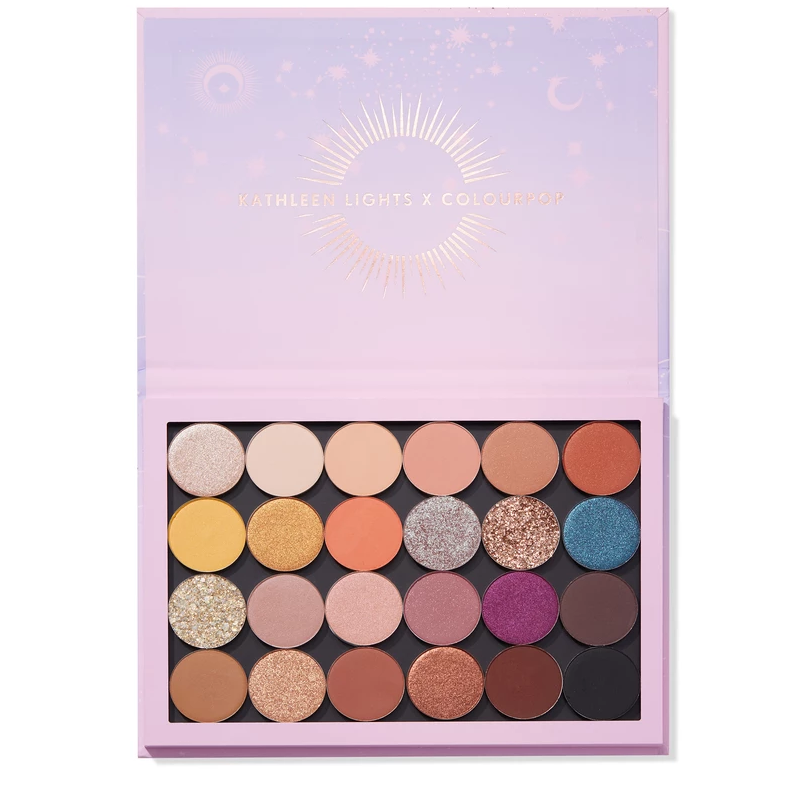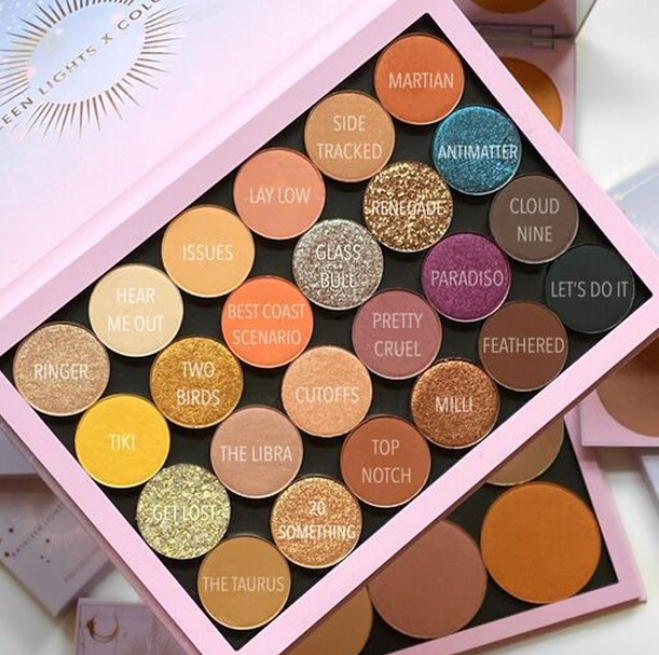 Light as air signs palette – $45
Kathleen Lights' go-to cheek palette, including her fave Pressed Powder Highlighter, Bronzer, and 4 exclusive Blushes! This perfectly curated cheek palette is an easy, breezy warm-toned vibe.
Products Include:
Padded Down Pressed Powder Highlighter
My Sun and Stars Pressed Powder Blush
Private Party Pressed Powder Bronzer
Lunar Has It Pressed Powder Blush
I Need Space Pressed Powder Blush
So Retrograde Pressed Powder Blush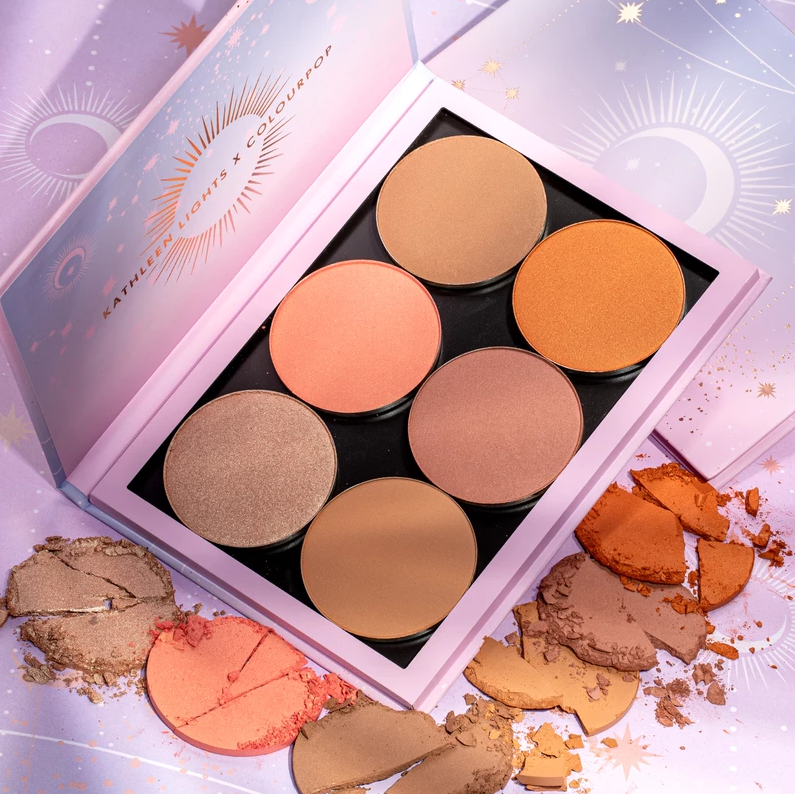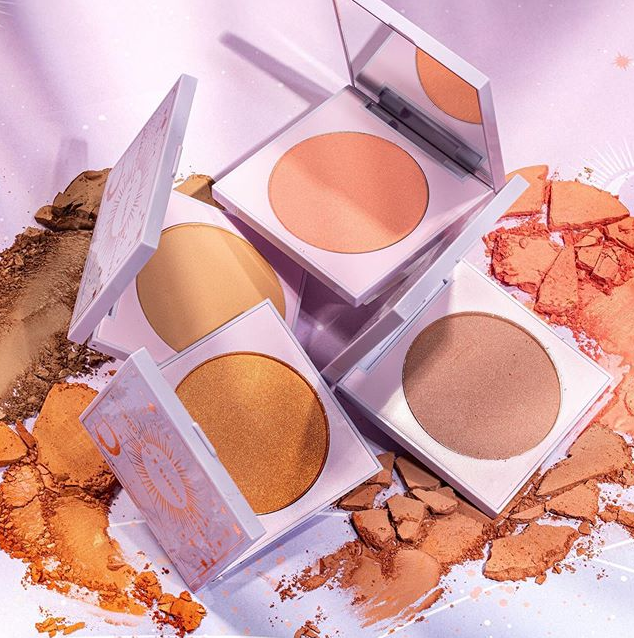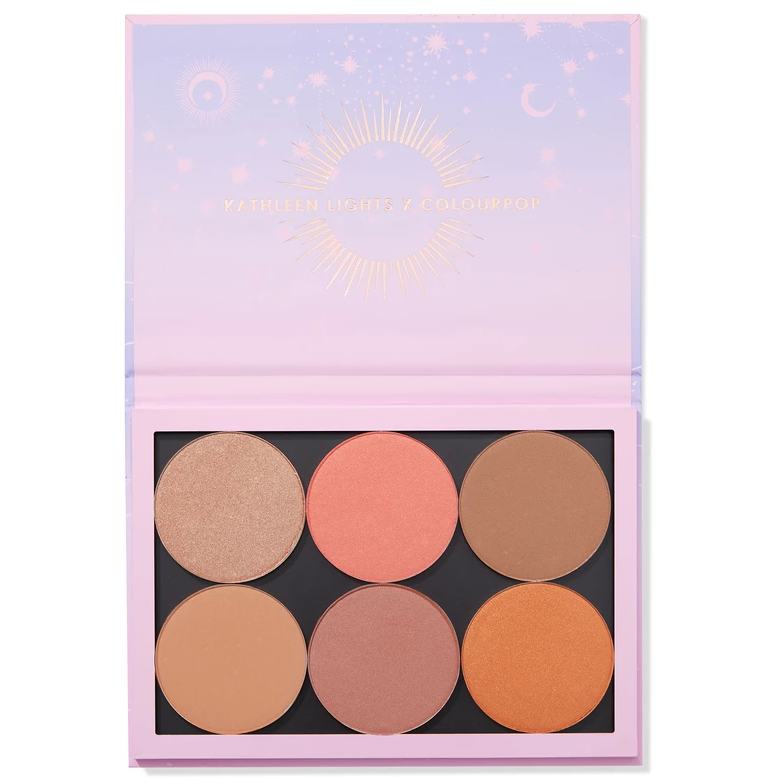 RELATED: COLOURPOP × KATHLEENLIGHTS THE SO JADED EYESHADOW PALETTE
RELATED: COLOURPOP DISNEY FROZEN 2 COLLABORATION —— FEATURING ELSA AND ANNA SETS