The inevitable Christmas countdown has begun , and whether you love it or loathe it we can bet you still as excited as us about nabbing a snazzy beauty advent calendar. CLINIQUE ADVENT CALENDAR 2019 is coming, Maybe a surprise.
Clinique advent calendar is one of the more affordable luxury festive offerings. This year's calendar includes 24 best-selling products, bursting with the brand's signature skincare, fragrance and make-up must-haves. It features a bright pink fun box design,full of festive spirit. The value of this calendar is higher than the cost price, so Clinique fans want to add beauty products, don't miss this great opportunity. Let's get the details!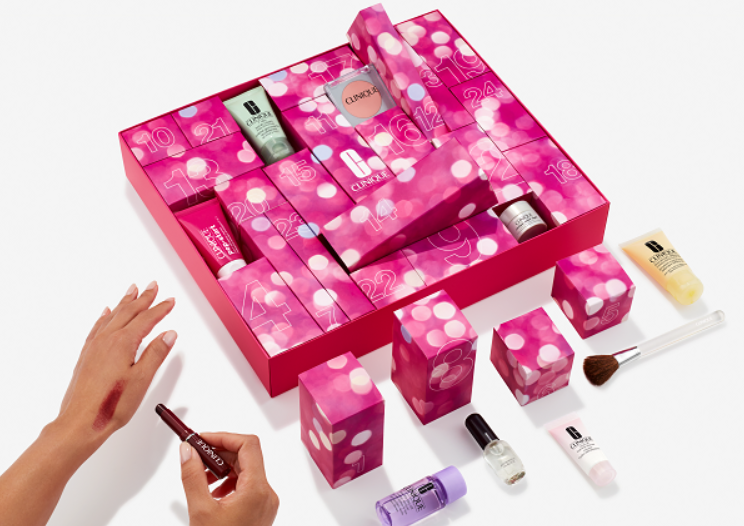 Clinique Advent Calendar 2019
Available – Now at Clinique and Selfridges.
24 Days of Clinique Advent Calendar – £85 ( value is over £200)
Pop Lip Colour + Primer 3.9g Love Pop
Facial Soap Mild 15ml
Clarifying Lotion 2 60ml
Dramatically Different Moisturising Lotion + 30ml
Moisture Surge 72 Hour Auto-Replenishing Hydrator 7ml
Moisture Surge Hydrating Supercharged Concentrate
Clinique Smart Custom Repair Night Moisturiser 7ml
Rinse-Off Foaming Cleanser Gel 15ml
7 Day Scrub Cream Rinse-Off Formula 30ml
Moisture Surge Overnight Mask 7ml
Clinique Smart Custom Serum 15ml
Fresh-pressed Renewing Powder Cleanser
All About Eyes 5ml
Clinique Pep-Start Eye Cream 7ml
Deep Comfort Hand & Cuticle Cream 30ml
Take the Day Off Lids, Lashes & Lips 30ml
Pop Splash Lip Gloss + Hydration – Air Kiss
Almost Lipstick – Black Honey
Pop Lip Matte Colour + Primer 2.3g – Love Pop
Blushing Blush Powder Blush 3.1G – Blushing Posy
Blush Brush
Lash Power Mascara 2.5ml Black Onyx
Quickliner for Eyes Intense Ebony
Aromatics in Black 4ml
Pep-Start 2 in 1 Exfoliating Cleanser
TIPS:
Gone are the days when we'd count down to Christmas with a teeny tiny chocolate that'd disappear in a single bite. Now, everything from stunning scented candles and wonder-serums, to luxe body oils and fragrances that smell so good it's insane are hiding behind those little paper doors – and we are 100% here for them.
Check out our list of beauty ADVENT CALENDAR releases, and be sure to check back as many more are announced. Our heart is growing three sizes just looking at these beauties.
RELATED: List of Clinique gift with purchase 2019 schedule
RELATED: CLINIQUE 2019 Christmas Holiday Collection