If you like Disney fairy tales, be sure to check out Besame, a make-up brand. Besame Cosmetics has just launched The Complete Sleeping Beauty 1959 Collection, the latest collaboration with Disney. This collection inspired by the 1959-released film. This series of designs is both novel and creative, and it is amazing when it comes out. The most eye-catching is this eyeshadow palette, which is a retro-inspired book with a jewel inlay. This is a piece of art worth collecting! This series aims to evoke your childhood dreams and dress yourself as elegant and noble as the princess. This collection might be the brand's best assortment of Disney-themed makeup to date. If you like fairy tales, interested in this collection, let us know more!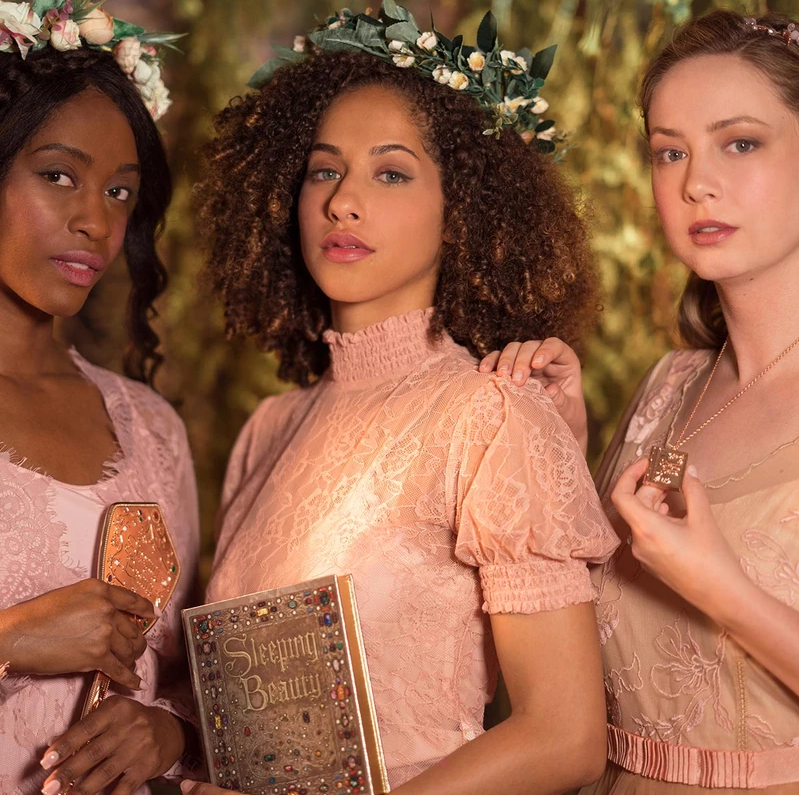 Besame Cosmetics The Complete Sleeping Beauty 1959 Collection
Available – Now online at besamecosmetics
In honor of the 60th anniversary of Walt Disney's classic film Sleeping Beauty, Besame has collaborated with Disney to create this exclusive collection, inspired by the artwork and story of the beloved Princess Aurora. Through extensive research with the Disney Archives and Disney Ink and Paint Department, we have faithfully matched the colors and artwork to bring you a beautiful and authentic recreations from the classic 1959 film.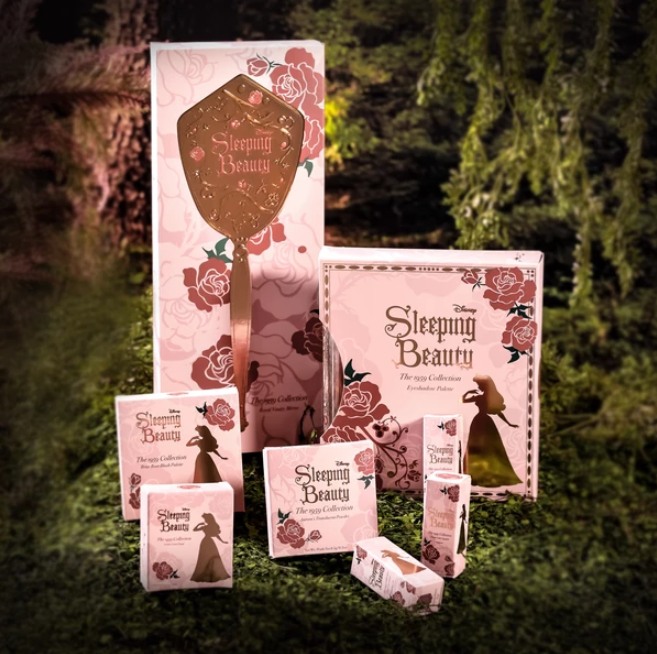 1959 EYESHADOW PALETTE – $ 68
The 1959 Sleeping Beauty Eyeshadow Palette features 20 matte eyeshadows that are matched to the original Disney ink and paint department colors used in the classic film, Disney's Sleeping Beauty.
The cover is a true match to the famous book at the beginning of the film, and Besame Cosmetics founder Gabriela Hernandez was invited back to the Disney archives to study the original book cover and match the metallic finish and jewel tones to be true-to-life.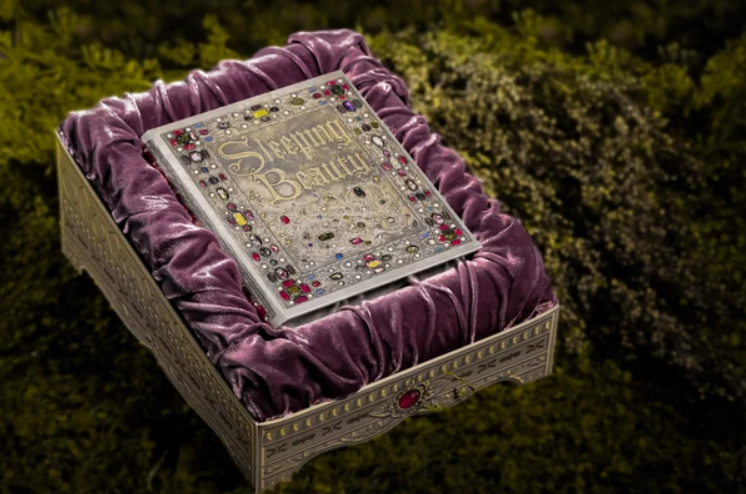 A range of colors from pretty pinks, soft greens, beautiful blues, and luxurious neutrals are a part of this perfect palette. An accompanying page serves as a guide to the actual colors used in the movie and how to get a look inspired by Aurora or Maleficent.
These highly-pigmented shadows are soft, blendable, buildable, and long-lasting true to Besame Cosmetics luxury quality you know and trust.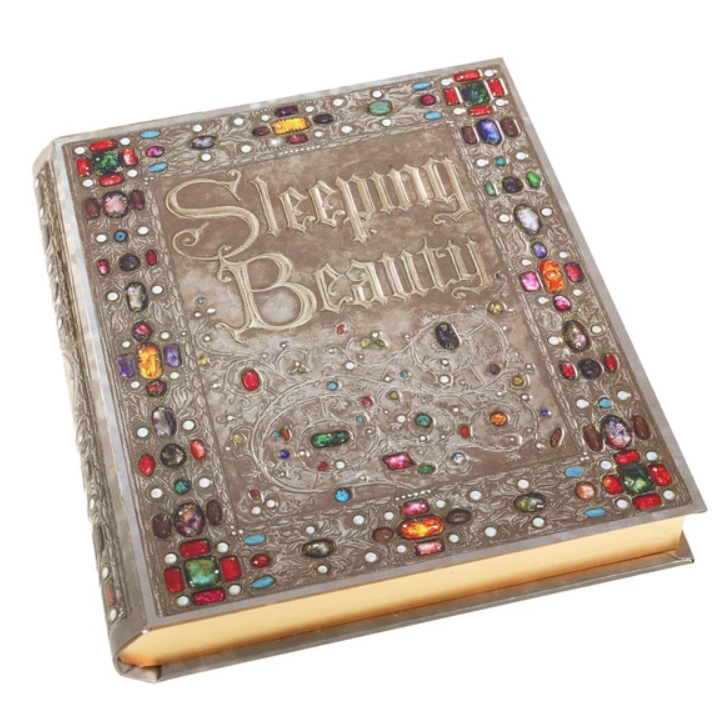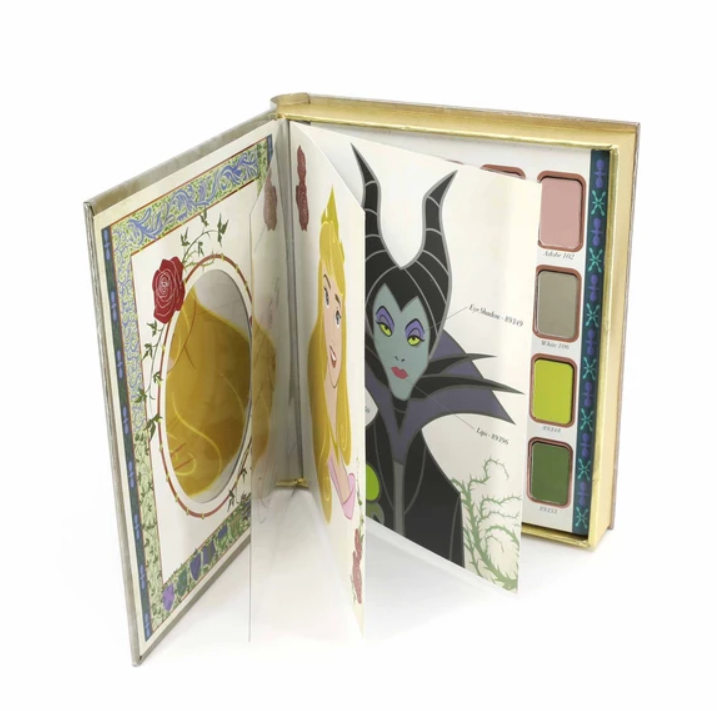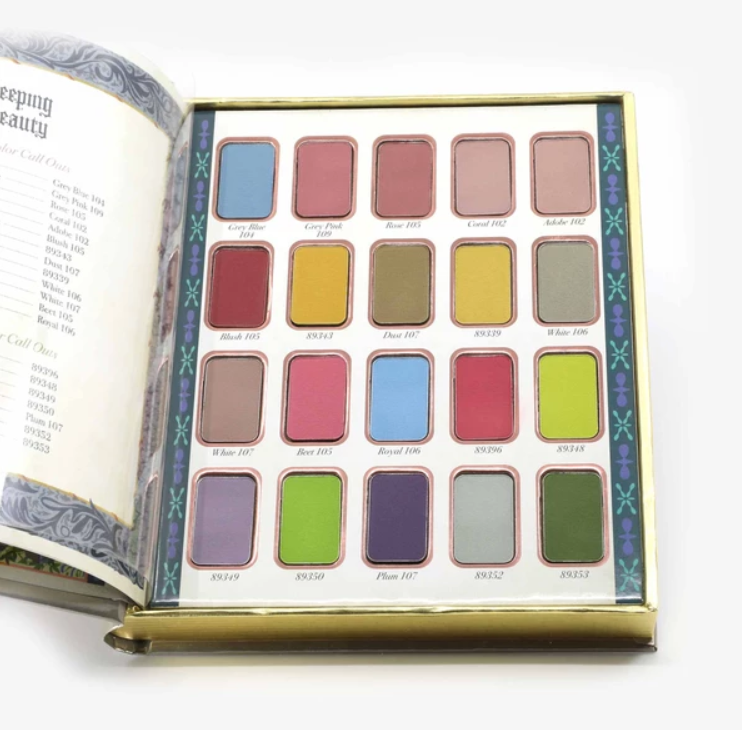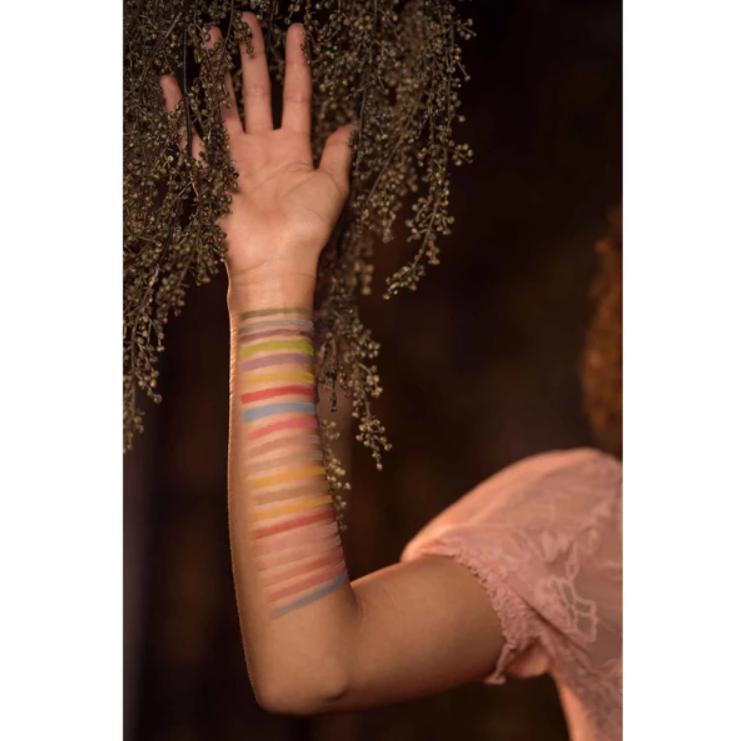 THREE LIPSTICKS – $24 each:
This lipstick is made with the signature Besame formula, using only the safest, high-quality ingredients for a high concentration of pigment and a moisturizing, long-wearing lip color. The semi-matte satin finish makes lips look full, soft, and velvety. Our iconic wedge-shaped tip means no lip pencil is required- just apply to outer lips with the narrow edge, fill with the flat edge, and blot once or twice with a tissue for the perfect shape and fill.
Encased in a rose gold metal tube inspired by vintage lipsticks of the 1940s, and decorated with Disney film artwork of beautiful roses and the original 1959 film logo, this lipstick is a true keepsake. The perfect item for any vanity or collection.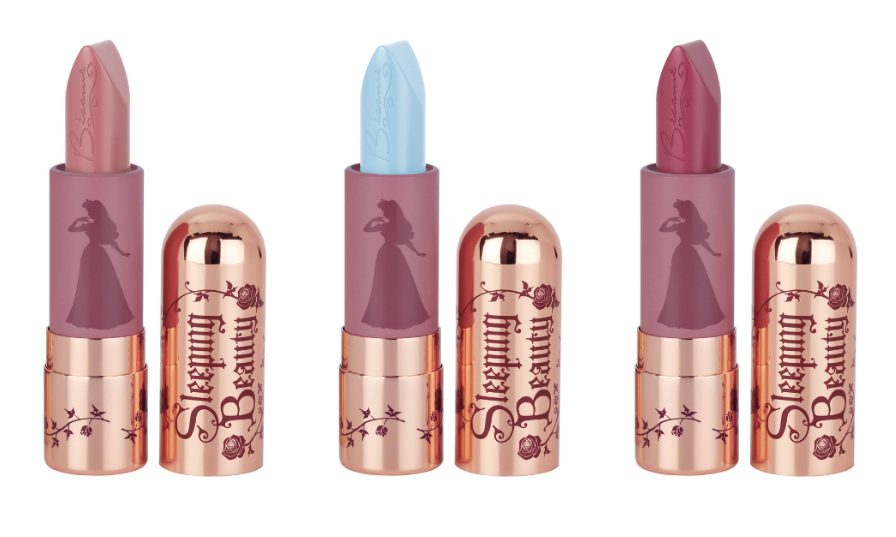 SHADES:
Sleeping Beauty Pink – a dreamy lipstick that is a faithful recreation of Aurora's actual lip color. A pale, nude pink for a more natural look.
Maleficent – an enchanting lipstick that is a faithful recreation of Maleficent's actual lip color. A deep pink with medium brightness and a cool undertone.
Make it Blue, Make it Pink – a magical color-changing lipstick which is blue, but transforms to a pink shade once applied to your lips.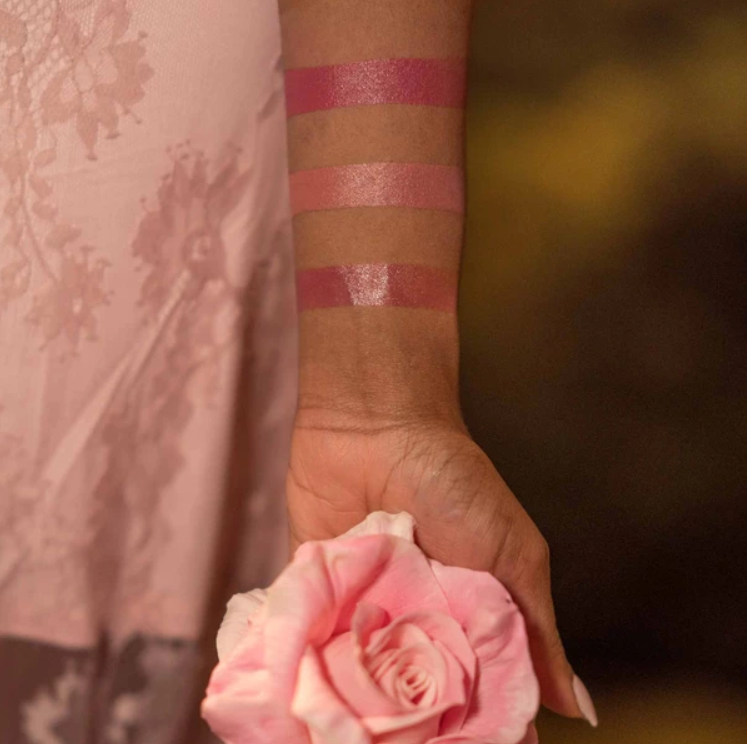 BRIAR ROSE BLUSH PALETTE – $ 35
Based on the true shades used in Sleeping Beauty from Disney's ink and paint department, Besame has created this unique and collectible blush palette. The two shades of blush correlate with the exact shades of blush worn by Aurora and Maleficent, and they are each accompanied by highlight shades to match. Get Aurora's princess-like glow using the two lighter shades of blush and highlight, or get Maleficent's dramatic elegance with the two darker shades of blush and highlight color.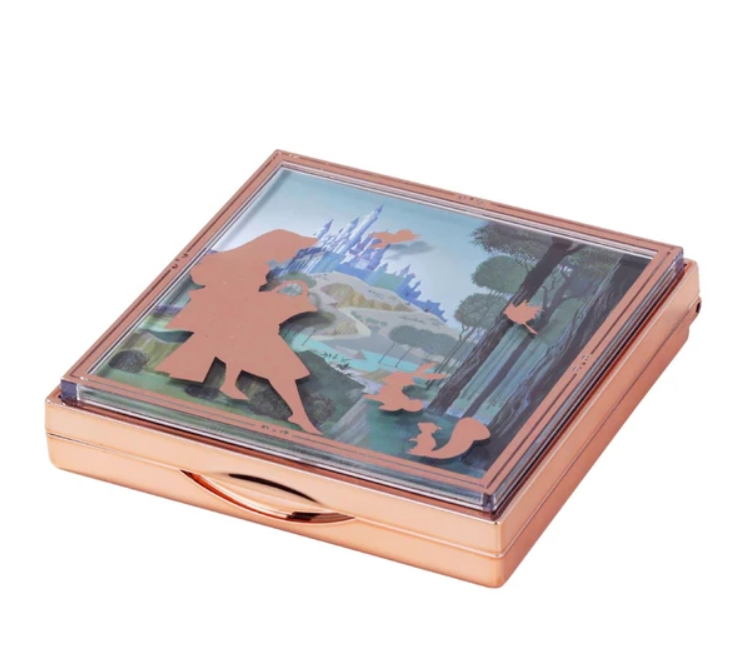 The blush is Besame's signature formula of highly-pigmented powder with long-lasting wear. The highlight includes subtle and natural-looking flecks of shimmer for a fairy-like glow to highlight the cheekbones, brow bones, or any other part of the face. These highlight powders are safe to use on the eyes as well.
The top of the palette features artwork from a film cel used in the actual 1959 film, which Besame founder Gabriela Hernandez procured from the Disney archives. It also features the graceful silhouette of Sleeping Beauty herself, as she wonders about her prince in the forest.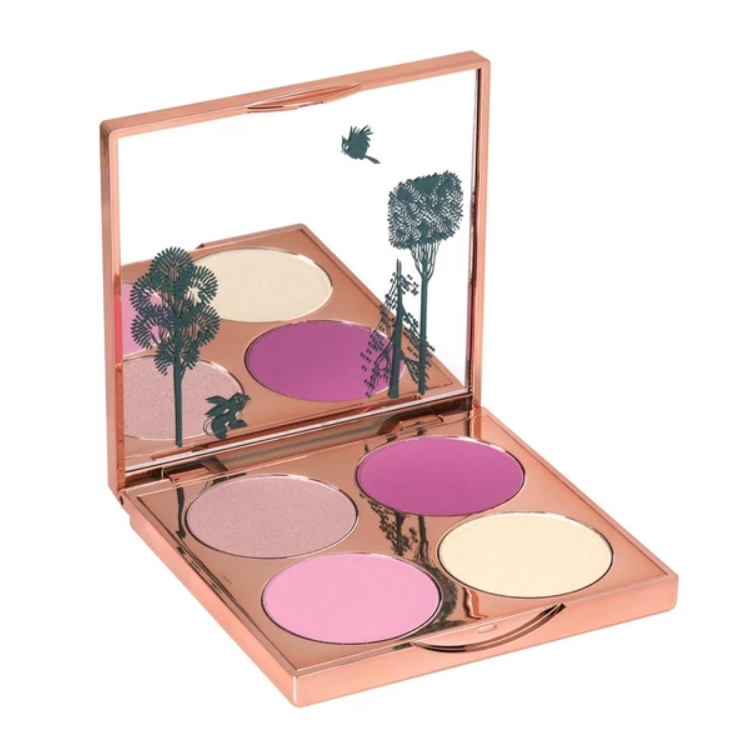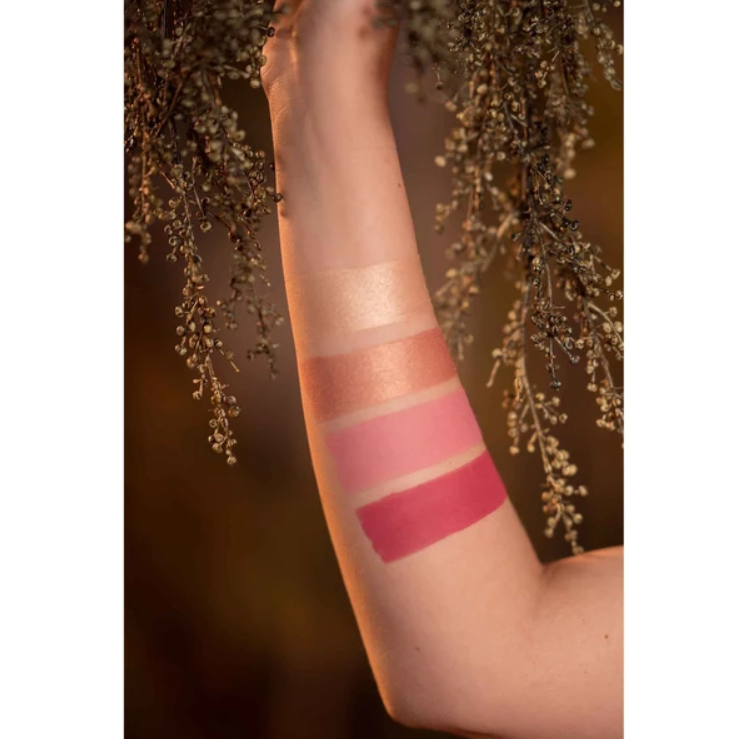 AURORA'S TRANSLUCENT POWDER – $ 18
Though this powder appears pink, once pressed or buffed onto the face, the super-refined powder gives a sheer matte coverage while giving a hint of warm glow to the complexion of any skin tone. Not only will this powder keep your makeup looking freshly-applied, it will also give a matte finish to correct the tiniest complexion imperfections.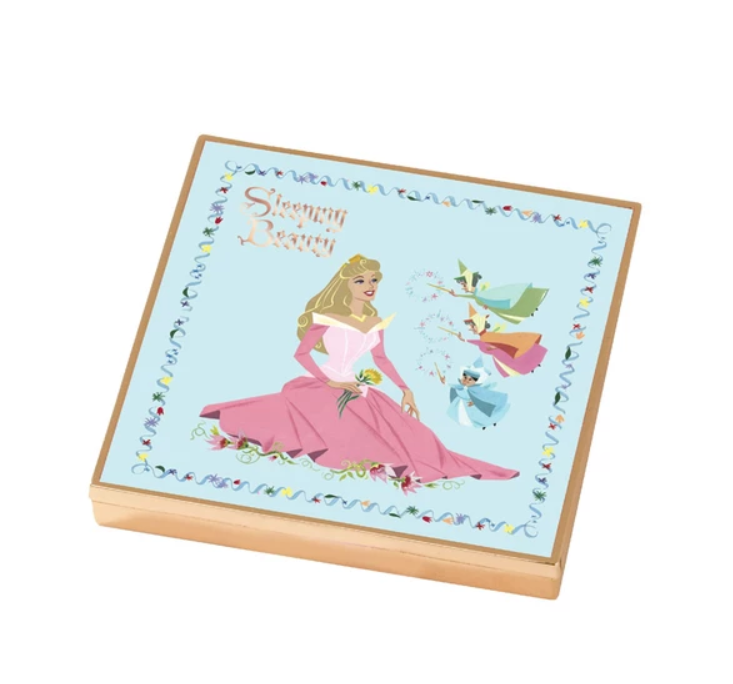 The artwork on the lid of this recyclable foiled-paper square compact is rare, making it a unique item for any collection. Gabriela discovered it from an original coloring book produced when the film was released in 1959. The compact is accompanied by a golden soft powder puff for perfect application, every time.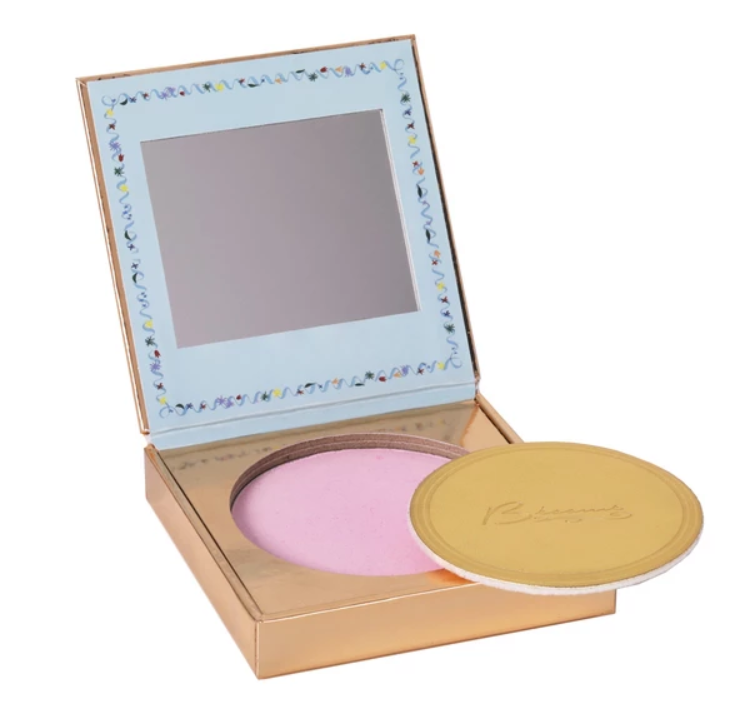 LOCKET CREAM ROUGE – $ 18
This special, collectible locket is a true treasure for any princess. The locket is a rose gold plated necklace that hangs gracefully around your neck, displaying a double-sided embossed storybook pendant; one side shows the front of the "book" with the Sleeping Beauty original 1959 logo, while the other side shows the silhouette of Princess Aurora. Clasped with a magnet closure, the inside of the locket reveals a round well of cream rouge. Once the product has been completely used, this necklace can be worn as a locket and the rouge can easily be replaced by a small photo of someone dear to your heart.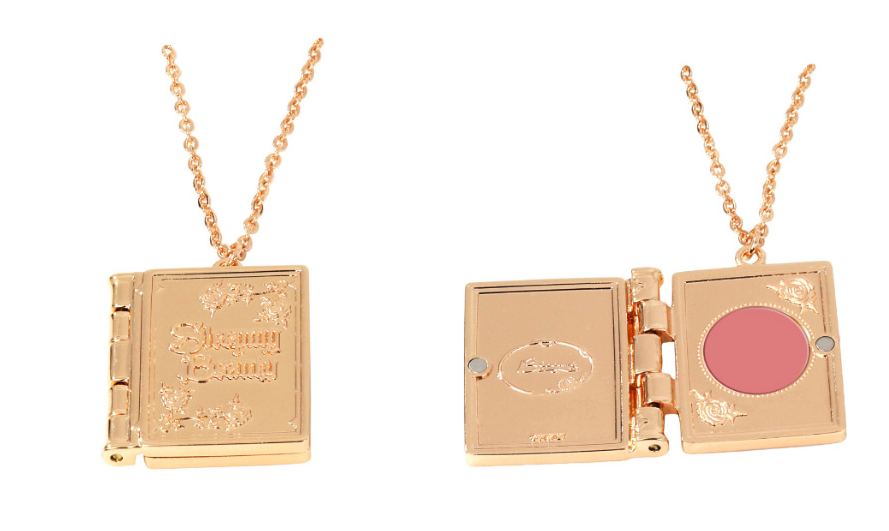 The cream rouge is Besame's signature formula of concentrated color, and comes in a natural rosy pink shade that compliments any skin tone. Our non-greasy, lightweight-but-lasting cream rouge formula is easier to blend than many powder blushes, and gives a soft, velvety finish. Can be applied easily with the fingertips or your favorite makeup sponge. This highly-pigmented rouge is versatile- it can be used not only for a fresh, sheer, healthy-looking lift on the cheeks, but also can be worn on the lips for a matching lightweight glow, while keeping lips moisturized just in case you're waiting for true love's kiss!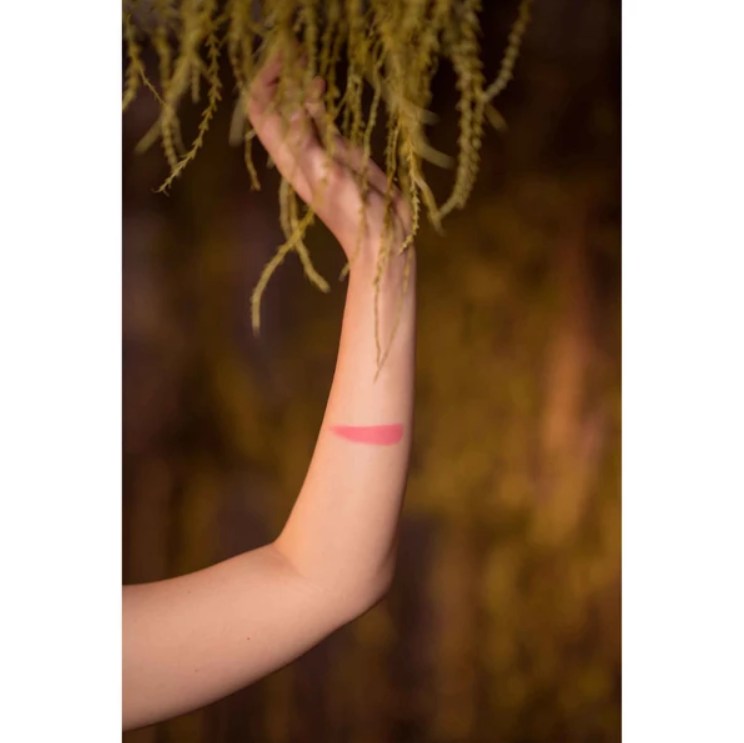 ROYAL VANITY MIRROR – $ 58
A mirror suited for the vanity table of a princess. A Medieval, rose gold hand-mirror adorned with roses, vines, and the original 1959 film title logo. Besame Cosmetics founder Gabriela Hernandez was invited back to the Disney archives to study the inspiring artwork from the film and create this stunning piece. Cast metal with deluxe gold plating and jewel-tone enamel detailing, and a mirror that gives a crystal-clear reflection. With a long handle, the weight is well-balanced in the user's hand. 12 inches tall by 4 inches wide in an attractive presentation box, this limited edition Disney licensed mirror is the perfect collector's item.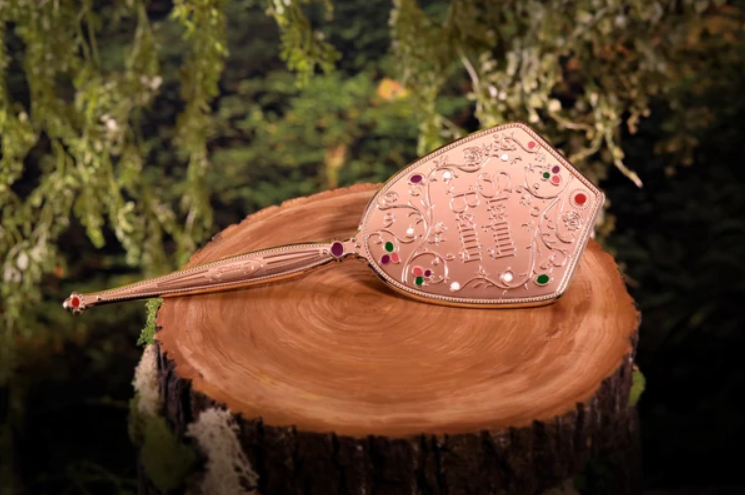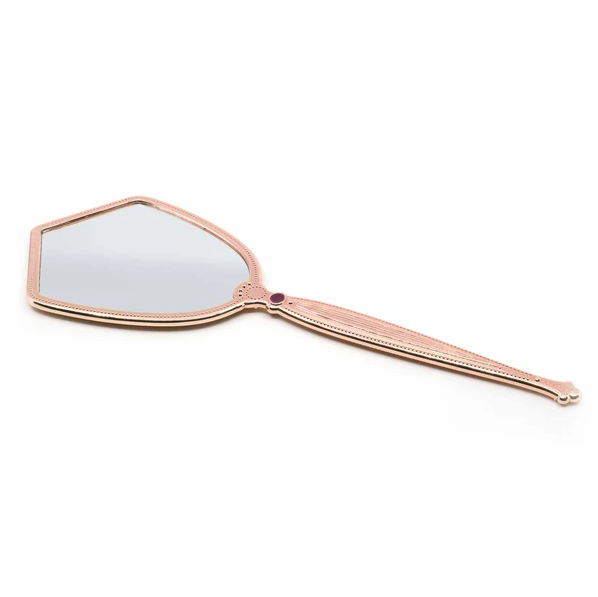 THE COMPLETE SLEEPING BEAUTY 1959 COLLECTION – $ 269