Fashion house Giorgio Armani presents two new perfumes, the limited editions Magenta Tanzanite and Indigo Tanzanite.
The new fragrance duo belongs to the exclusive Armani Privé and more specifically to the sub-collection inspired by fashion Les Éditions Couture.
Both pay homage to the spectacular, vibrant colors of Africa.
Magenta Tanzanite reinterprets the tanzanite gemstone in the color magenta, a fragrance that tries to evoke the atmosphere of the savannah in the morning.
The roasted warmth of a blend of tobacco leaves and coffee, crowned with fresh and spicy notes of cardamom, ginger, and bergamot, expresses this moment of serenity, against a backdrop of wild, natural surroundings
Top: bergamot, cardamom, ginger
Heart: coffee, cinnamon, myrrh
Base: tonka, vanilla, tobacco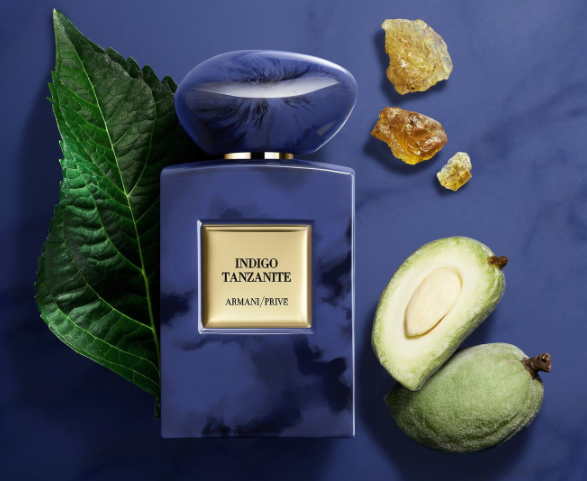 Indigo Tanzanite reportedly depicts the mysterious aura of the Tanzanian plains and their gorgeous skies at night, reminiscent of the intense purple-blue color of tanzanite in a dark but enchanting composition.
The fresh top of bergamot essence and an almond accord creates an enveloping and radiant effect, while milk and heliotrope accords bring smoothness to this woody scent.
Patchouli is wrapped in resins and amber, symbolizing the contrasting atmosphere of a dark night that is soothing.
Top: bergamot, almond
Heart: heliotrope, milk
Base: patchouli, labdanum, benzoin, tolu balm
The emanation of flavors and scent notes for Armani Prive Magenta Tanzanite unfurl in a whiff of spice and citrus opening top notes including bergamot, cardamom and ginger.
The spice and resin heart center notes blend in with myrrh, cinnamon and coffee while the deep spice and green base notes leave an impression of tobacco, tonka bean and vanilla.