The countdown to Christmas is always exciting, but beauty advent calendars make each morning all the more special.
Now, Get all the details on the YSL Advent Calendar 2020, Check out the details below!
PRICE:
$190
Official Release Date:
Available now at Selfridges , YSL Beauty
Brand Description:
The design is classic black with a festive touch of red glitter and will include best-selling fragrances such as Libre and Black Opium.
CONTENTS
Mini Rouge Pur Couture Shade 1
Mini Rouge Pur Couture Shade 9
Mini Rouge Pur Couture Shade 13
Mini Rouge Pur Couture Shade 19
Mini Rouge Pur Couture Shade 52
Mini Water Stain Shade 9
Mini Tatouage Couture Shade 1
Mini Tatouage Couture Velvet Cream Shade 216
Mini Mascara Volume Effet Faux Cils Shade 1
Mini Mascara The Curler Shade 1
Mini Dessin Du Regard
Tuxedo – Le Vestiaire Des Parfums 7.5mL
Top Secrets Instant Moisture Glow 5mL
Top Secrets Expert Makeup Remover 8mL
Touche Éclat Blur Primer 10mL
Pure Shots Night Reboot Serum 7.5mL
Pure Shots Hydra Bounce Essence-in-Lotion 10mL
Touche Éclat Radiant Touch Shade 2
La Laque Couture Shade 8
Black Opium Eau de Parfum 7.5mL
Mon Paris Eau de Parfum 7.5mL
Libre Eau de Parfum 7.5mL
Opium Eau de Toilette 7.5mL
Special Gift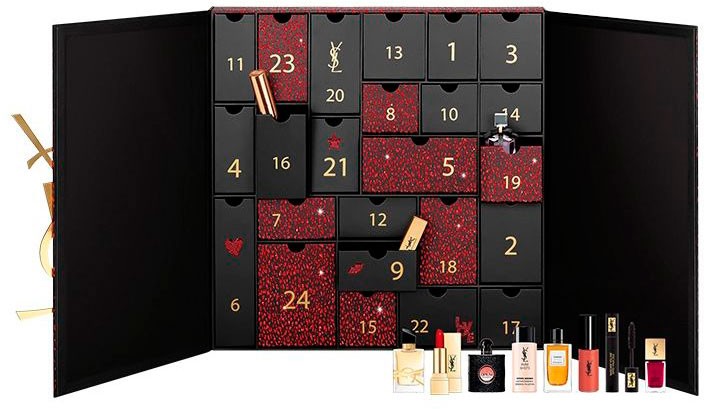 TIPS:
Gone are the days when we'd count down to Christmas with a teeny tiny chocolate that'd disappear in a single bite. Now, everything from stunning scented candles and wonder-serums, to luxe body oils and fragrances that smell so good it's insane are hiding behind those little paper doors – and we are 100% here for them.
Check out our list of beauty ADVENT CALENDAR releases, and be sure to check back as many more are announced. To help guide you to find the 'best beauty advent calendar of 2020', we've rounded up every single beauty advent calendar for 2020 – Watch this space for more details and in the mean time check out the best beauty advent calendars to snap up this Christmas. and if a brand is yet to share any details, we've predicted their offering based off last year. From the products included inside (think, lipstick, perfume, eyeshadow and so much more, to the on-sale dates.