Sneak Peek!
All the Care Bears makeup and cosmetics you've ever wanted, all in one place!
This set includes every item from the wet n wild Care Bears Collection.
From skincare to makeup brushes to glittery pigments and gels, this set has everything you need to create the ultimate Care Bears styled look that'll warm everyone's hearts!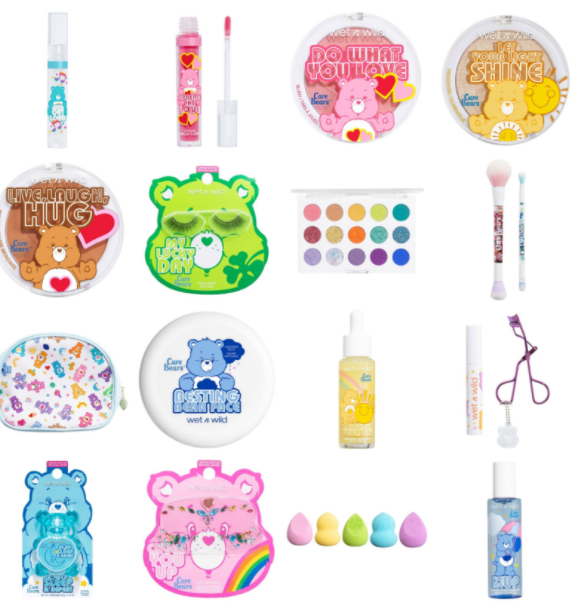 Price:
$16.99
Release Date:
Available now
Where to buy:
wet n wild starts as everyone's first and remains a lifelong destination for vibrant and accessible beauty.
Delivering over 40 years of trend-forward and all-inclusive innovations, we are your trusted beauty expert that will keep you looking fabulous without ever betraying your budget.
From the bold 'n' bright to the neutral 'n' nuanced, we set out to spoil you with options while setting the gold standard of achievability. So go ahead, get your feet wet with us again and go wild with your imagination!
CARE BEARS CARING COUNTS EYE & FACE PALETTE $16.99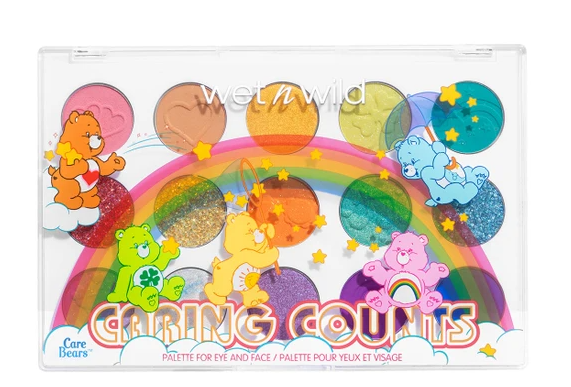 This palette features 15 hyper-pigmented shades perfectly curated to each cuddly Care Bear – in a mix of buttery-soft mattes, sparkly shimmers, gleaming satins and self-adhering multi-dimensional glitters to create beautiful looks infused with positive energy!
Formulated for a silky-smooth glide and seamless blending, this super versatile palette can be used to create an endless array of artistic styles – use dry or wet for high-impact color.
CARE BEARS 2-PIECE DUAL ENDED BRUSH SET $16.99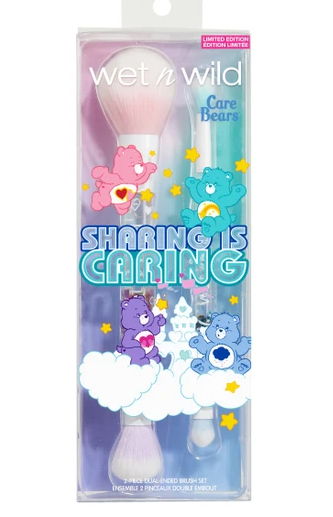 Sharing is Caring with this 2-Piece Makeup Brush Set, featuring dual-ended brushes that share liquid-filled handles with sparkling confetti that float for a dreamy makeup experience.
Like a fluffy bear hug, these brushes gently caress your face with the softest cruelty-free fibers and beautifully blend makeup to perfection. Whether you're applying eye shadow, blush, highlighter, or any other product, this multipurpose makeup brush is your new bestie!
CARE BEARS MAKEUP BAG $16.99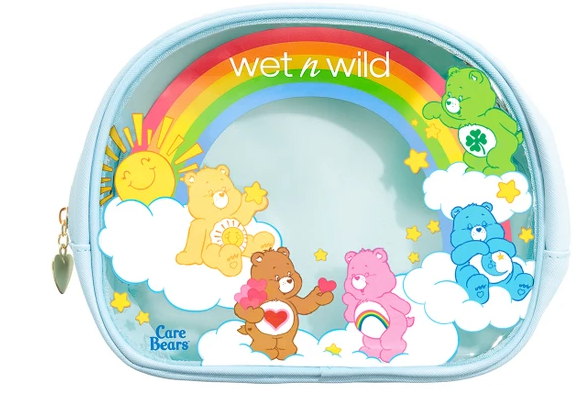 Keep your beauty essentials secure and oh-so-cozy in this positively adorable Care Bear themed makeup bag.
This medium sized makeup bag is the perfect way to store your favorite makeup, both at home and on the go. Just pack it, zip it, and you're ready to set out on your next Care-a-Lot adventure.
CARE BEARS 5-PIECE MAKEUP SPONGE SET $16.99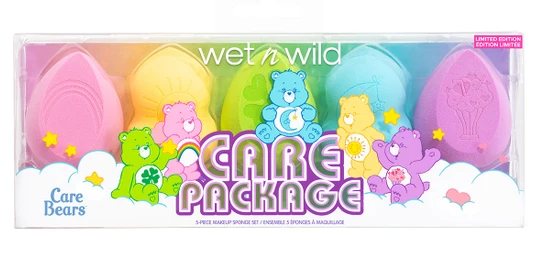 This 5-Piece Makeup Sponge Set features the essential teardrop and hourglass shapes to create 100% huggable looks.
The versatile beauty sponges provide smooth, streak-free blending every time. Designed with a unique hydrophilic material that expands twice its size when wet for a softer, seamless application.