Bring Bikini Bottom straight to your makeup kit with this ultimate F.U.N-filled Spongebob makeup collection.
This set is packed full with various makeup and applicator tools themed after your favorite sponge and all of his undersea pals.
From highlighters to shadow palettes to makeup sponges, this kit includes everything you need to craft any look your imaaaaaaginaaaaation can dream of.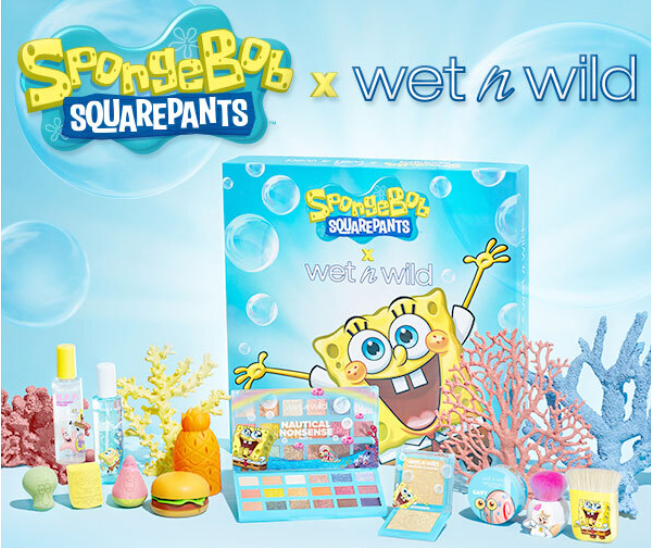 Price:
$69.99
Release Date:
Available now
Where to buy:
at Wet N Wild
wet n wild starts as everyone's first and remains a lifelong destination for vibrant and accessible beauty. Delivering over 40 years of trend-forward and all-inclusive innovations, we are your trusted beauty expert that will keep you looking fabulous without ever betraying your budget.
From the bold 'n' bright to the neutral 'n' nuanced, we set out to spoil you with options while setting the gold standard of achievability. So go ahead, get your feet wet with us again and go wild with your imagination!
Spongebob Makeup Collection: This all-in-one makeup collection includes everything you need to be READY for any occasion. Explore the various makeup sponges, brushes, highlighters, and other cosmetics, all based on your favorite pineapple-dwelling sponge
Prime and Set: The included primer and setting spray makes it easy to prep your skin for your makeover, and set it in place once you're finished
A Splash of Color: Shimmery highlighter and an 18-pan shadow palette makes it easy to create a rainbow of looks in an instant
Sponges, Brushes, and More: All the tools you need are right here, as well as convenient tools and cleansers to keep them clean
Cruelty-Free: No squids, snails, squirrels, or any other animals were harmed in the making of this product