Inspired by summertime travels,Viseart launches Chou Chou Petit Pro Palette with lively colors. This sweet palette belongs to the Petit Pro family and is a limited edition. It has eight gorgeous colors in matte and shimmer, the matte shades have a velvety finish and the metallic shades have a buttery smooth texture. The credit card-sized palette slips easily inside a purse or pocket and comes with a full-width mirror for easy touch-ups. As the brand describes, this palette can evoke memories of tiny coastal villages in the South of France. Let's check out more details!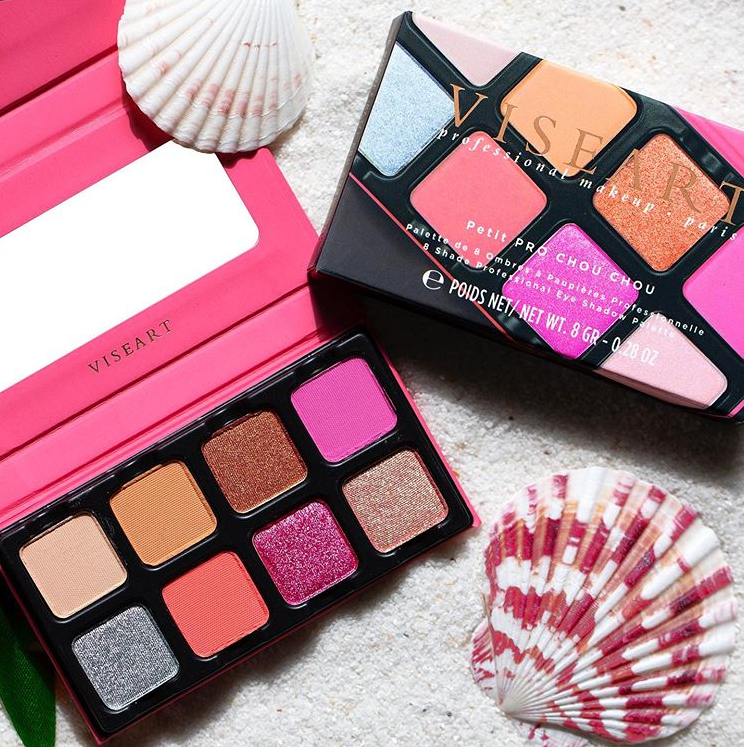 Viseart Chou Chou Petit Pro Palette
Available -Now at beautylish
Petit Pro Palette – $30 (limited edition)
Arriving like a postcard from the Cote D'Azur, this sweet limited edition Petit Pro Chou Chou proudly joins Viseart's wildly successful Petit Pro family. Eight gorgeously vibrant shades in matte and shimmer finish instantly evoke intoxicating, carefree beach days filled with snow cones and sweets, fireworks and fiestas! With beachy mattes and sandy nude shimmers, matte melons and sparkling sorbets, and a refreshing splash of starlit metallic sweetness, your eyes will be indulged in summertime bliss!
An adorable addition to the Petit Pro family, Chou Chou is sweet, playful, and evokes memories of tiny coastal villages in the South of France where blooming bougainvillea caress every dwelling and white sandy beaches are seconds away! Picture those magical hot days spent under a bright cotton-candy-colored parasol where sun-kissed skin glistens and everyone frolics in the silver-blue sea! Lovers lie on the beach whispering 'mon chou chou' whilst vendors down-shore bellow "Chou Chou!!"
This delightful eight pan petit palettes is a joyously sweet and fruity collection of neutrals, pops of color and a festival of shimmers exploding like glittering fireworks on eyes and cheeks!
The Shades
Sand Castle: Sandy beige with a matte finish
Creamsicle: Warm brown with a matte finish
Sangria: Orange with a shimmer finish
Popsicle: Bubblegum pink with a matte finish
Icy: Silver with a metallic finish
Melon: Pink-red with a matte finish
Cotton Candy: Hot pink with a shimmer finish
Sorbet: Shimmering peach with a duochrome finish