When is Black Friday 2022?
Black Friday for the year 2022 is celebrated/ observed on Friday, November 25th.
Urban Outfitters Black Friday 2022
Black Friday is the day after Thanksgiving Day in the United States. This day often falls on the fourth Friday in November each year. The day is one of the busiest shopping days of the year with shoppers getting gifts for the December Holidays the following month.
The term Black Friday comes from when retailers go from being in the red (at a loss) in their business for the year to going into the black (profitable), thus showing how important the end of the year holidays shopping season is to most retailers.

Last Year's Urban Outfitters's Black Friday
2021 ad
Black Friday + Cyber Monday 2021 Deals SHOP NOW➤
Black Friday 2021 at Urban Outfitters starts on Friday, November 26th! Get ready to shop UO for the best Black Friday clothing sales and Cyber Monday deals. Preview our sale section and holiday gifts center for the best Black Friday deals on our favorite women's clothing, men's clothing, electronics and more. Get major Black Friday clothing deals on favorite brands like Nike and Polaroid, plus Cyber Monday sales on fun holiday gifts and affordable gifts.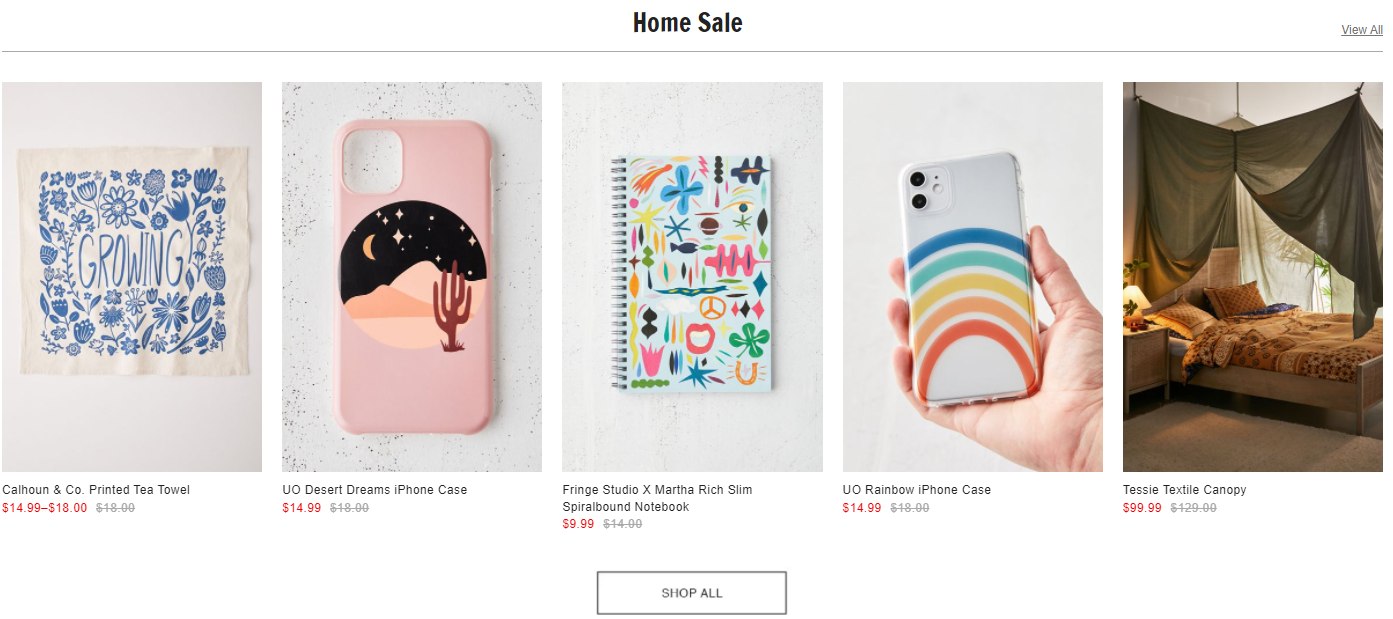 ---
History
Are you interested in seeing some of Urban Outfitters' older Black Friday ads? Then follow the links below to view the last few years of ad history.
2020 ad
Starting today, Urban Outfitters Black Friday 2020 officially started, You will see a huge deals update here;
Click: www.urbanoutfitters.com
Timing: Wednesday, 11/25 7am – Sunday, 11/29 at 7am
Promo: Black Friday BOGO 50% Off Entire Store
Timing: Friday, 11/27 at 7pm – Saturday, 11/28 at 7am
Promo: Tonight Only 25% Off Your Purchase
Timing: Saturday, 11/28 at 7am – Sunday, 11/29 at 7am
Promo: Flash Sale 50% Off Hundreds of Styles
2019 ads: page1
---
More about Urban Outfitters
Urban Outfitters is a multinational lifestyle retail corporation headquartered in Philadelphia, Pennsylvania. It operates in the United States, Sweden, United Kingdom, Spain, Denmark, France, Germany, Ireland, Belgium, Canada, Italy, the Netherlands, Israel, Poland, and the United Arab Emirates. The Urban Outfitters brand targets young adults with a merchandise mix of women's and men's fashion apparel, footwear, beauty and wellness products, accessories, active-wear and gear, and housewares, as well as music, primarily vinyl records and cassettes. Much of the merchandise is designed and produced by the company's wholesale division on multiple private labels.