The holidays are the best time of year to score major deals on makeup—whether you're buying for yourself or your loved ones. Beauty retailers launch limited edition Christmas collection for the holidays every year , This is the most worthwhile thing we have every year. SEPHORA 2019 Christmas Holiday Collection is coming, Let me pay attention to the updates on this page:
Sephora is not just a leader in global prestige retail, it also has its own private brand. As Sephora's own brand, they flex the extensive industry knowledge to create paycheck-friendly products that perform on par with more spendy ones.This year, Sephora Christmas Holiday Collection includes some amazing makeup products and makeup tools.Some of these products are limited editions with a sophisticated design and an attractive look.There are a lot of products in this collection, let's take a closer look!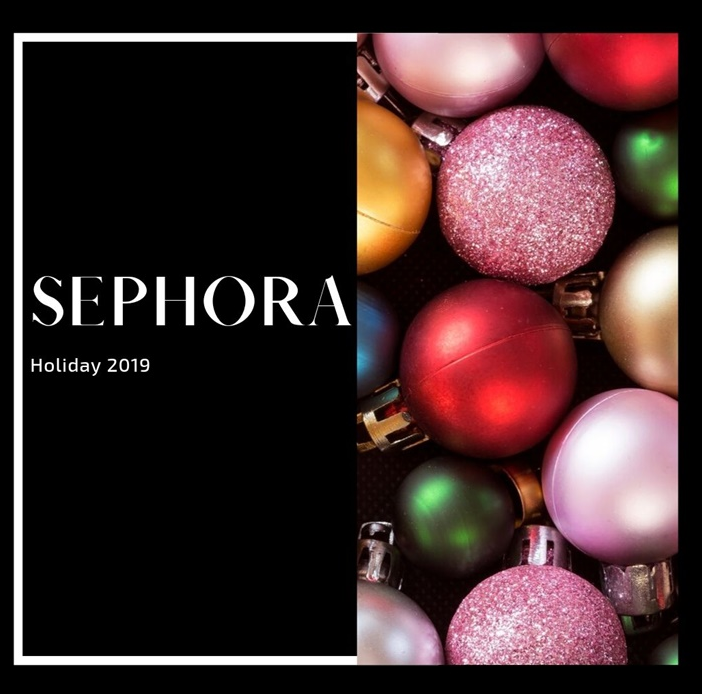 Sephora 2019 Christmas Holiday Collection
Available – Now at Sephora
Sephora Winter Eyes Eyeshadow Palette – $24
A limited edition palette that includes 16 neutral to smoky-toned shadows in matte, shimmer, and metallic finishes to create a day to evening look.

Sephora #LASHSTORIES False Lash Set – $28
A selection of four bestselling, cruelty-free, synthetic #LASHSTORIES false eyelashes.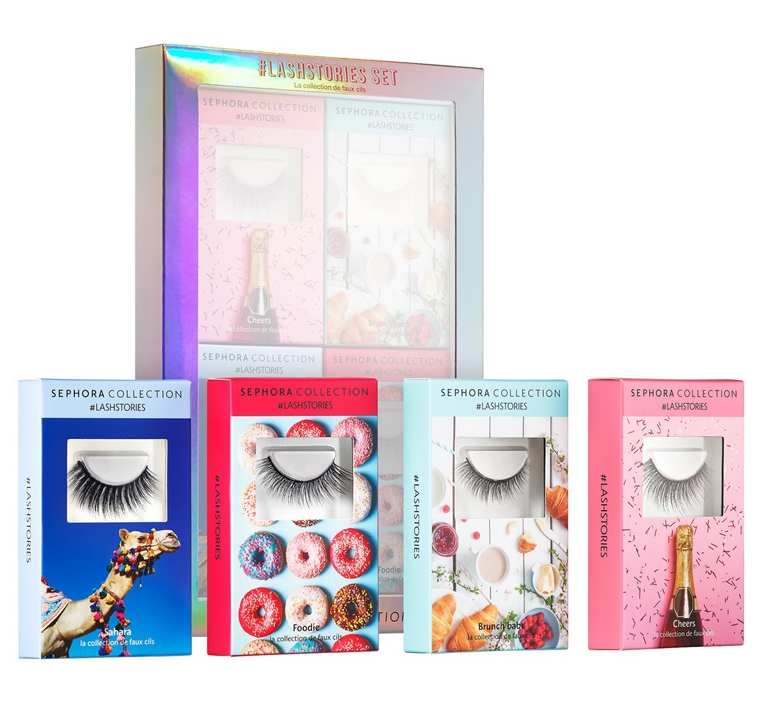 Sephora Tinsel Time Liquid Glitter Set – $14
A set of four liquid glitters for use on face and eyes in an assortment of festive shades.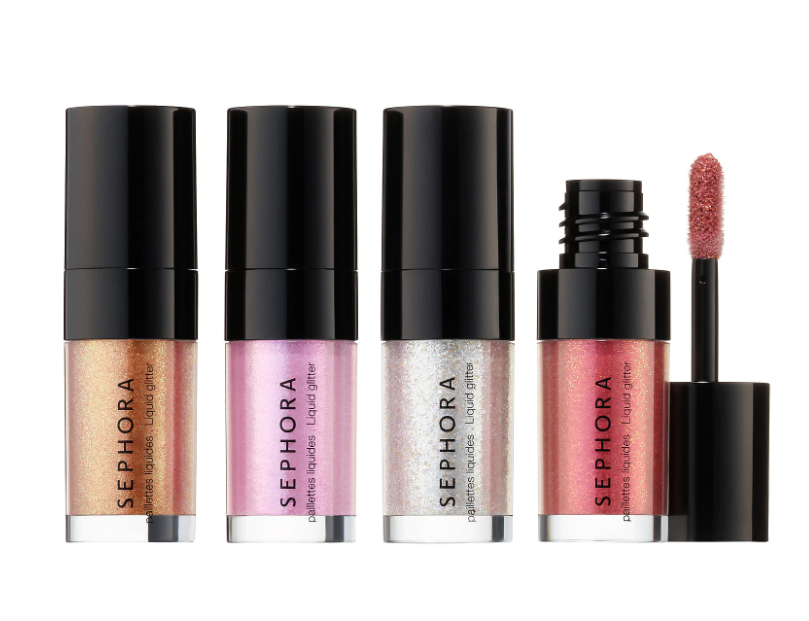 Sephora Bright Delights Lip Gloss & Pouch Set – $28
Eight beautiful shades of lipgloss high shine and glitter finishes housed in a holographic pouch.
Shades:
Clink Clink (Clear)
Cheer (Cream)
Bubbly (Shimmer)
Sparkler (Shimmer)
Dazzle (Shimmer)
Festive (Cream)
Sugar Plum (Cream)
Midnight Kiss (Shimmer)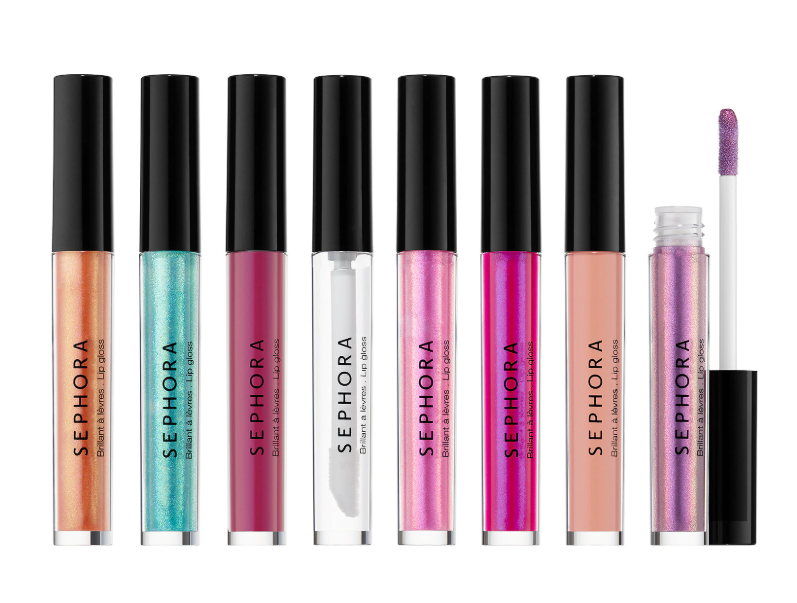 Sephora Penguin Sponges – $10
A cute giftable set of blending sponges!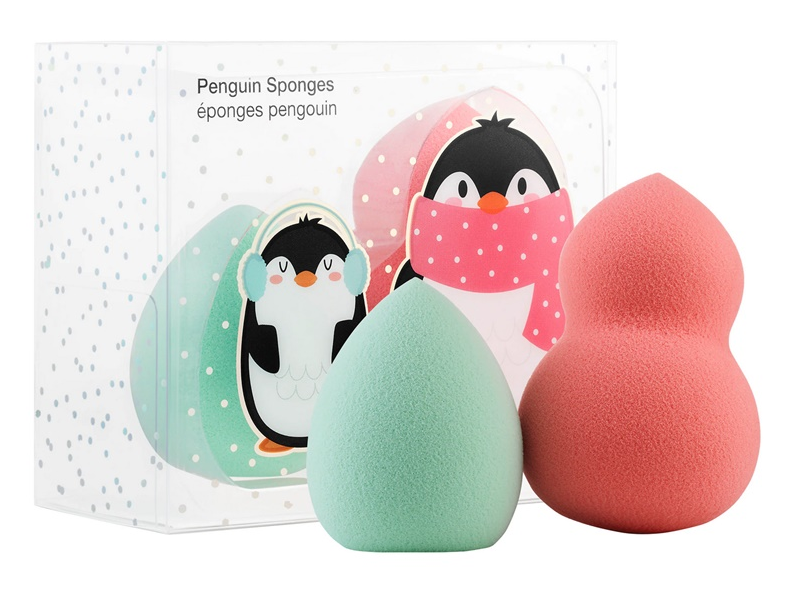 Sephora Uncomplicated Brush Set – $39
A five-piece set of essential eye brush set that includes a Shader, Crease, Liner, Allover Shadow, and Small Eyeshadow Brush.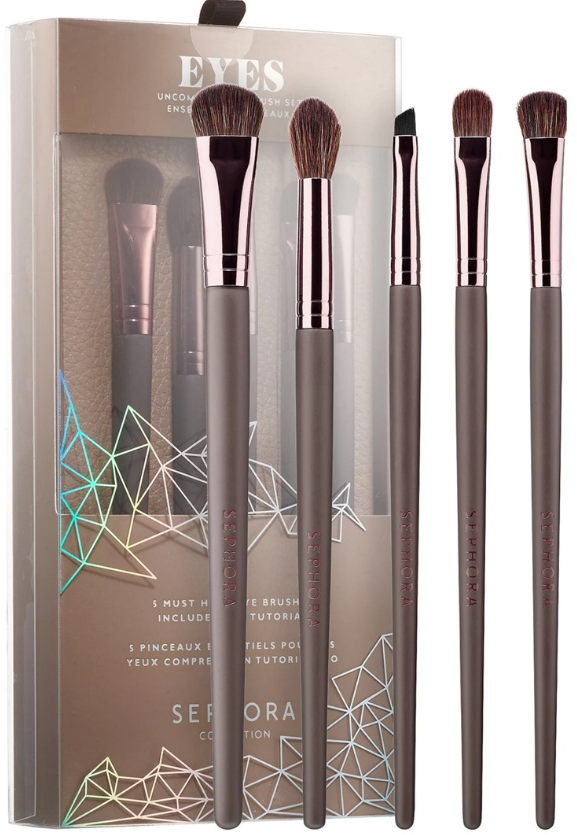 Sephora Holiday Touch Up Eye Brush Set – $20
A mini selection of brushes for perfect on-the-go looks that includes a Crease, Liner, Smudge, and All Over Eyeshadow Brush in a keychain pouch!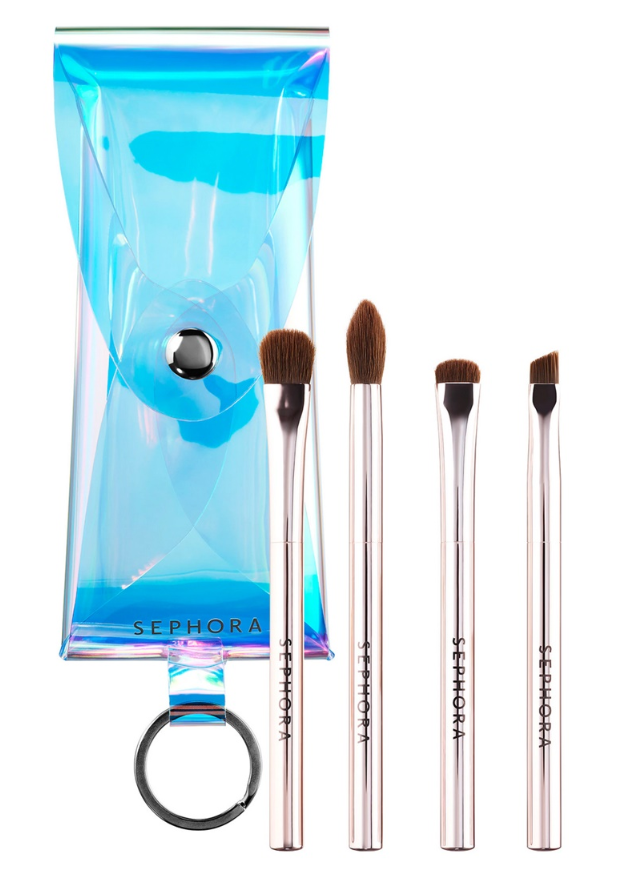 Sephora Winter Time Eye and Face Palette – $18
An eyeshadow and highlighting palette that contains eight eyeshadows and three highlighters in cool tones with matte and shimmer finishes!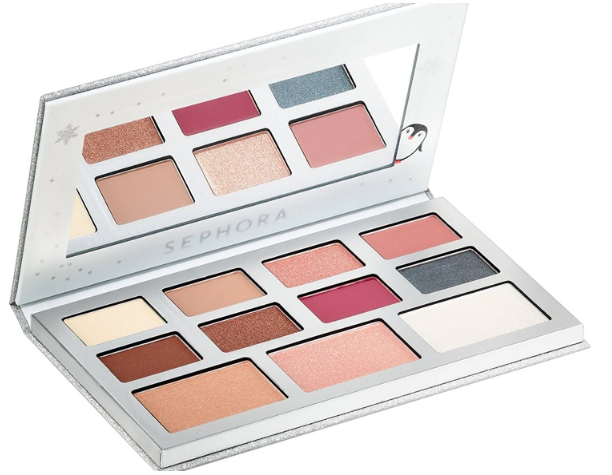 Sephora All is Bright Brush Set – $42
A six-piece makeup brush set inspired by Sephora Collection's cult-favorite I.T. brush collection that includes a powder brush, a blush brush, a foundation brush, a crease brush, a shadow brush, and a smudge brush.
Sephora Complexion: Uncomplicated Brush Set – $45
A five-piece set that includes foundation, concealer, powder, concealer, and buffing brushes plus a tutorial guide from the Sephora to create a flawless complexion.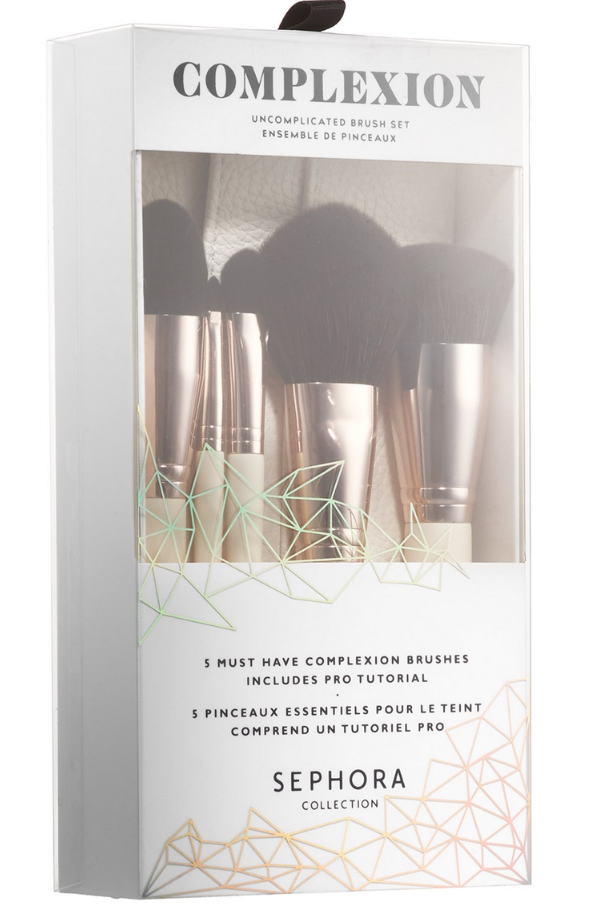 Sephora Arctic Eyes Eyeshadow Palette – $10
A cool, Wintery palette that contains eight matte and metallic eyeshadows.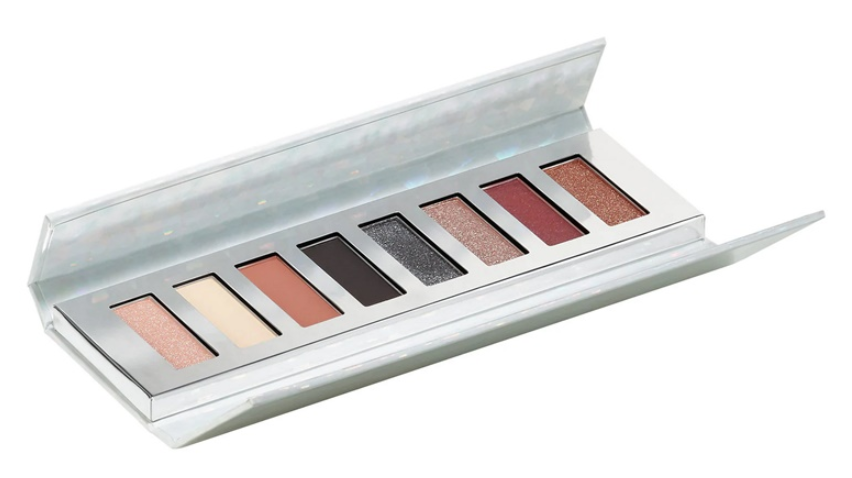 Sephora Glitter Wonderland Loose Glitter Set – $14
A set of four loose glitter vials to add a some sparkle to your holiday looks!
Shades:
Twinkle (Gold)
Tinsel (Silver)
Poinsetta (Fuchsia)
Snowflake (Iridescent)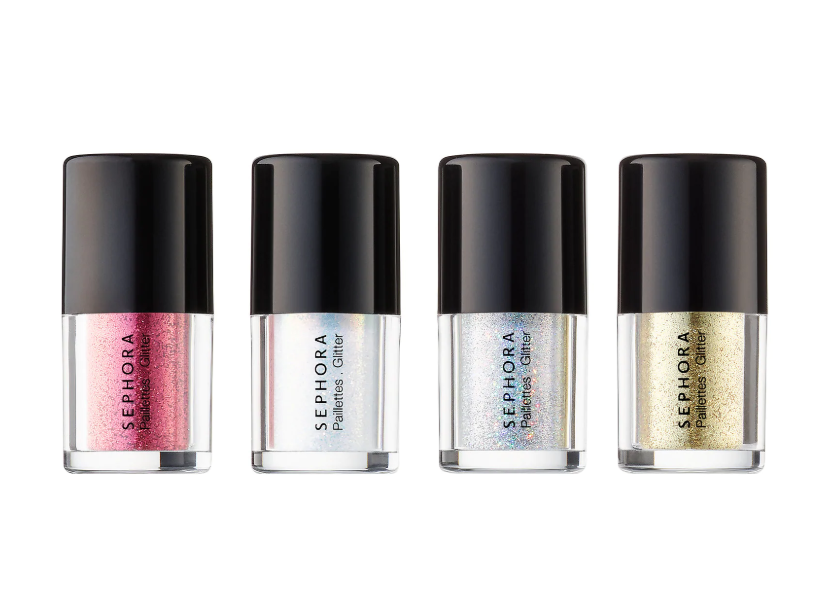 Sephora Total Coverage Sponge Set – $25
A set of Sephora Collection's most popular total coverage sponges and a sponge case.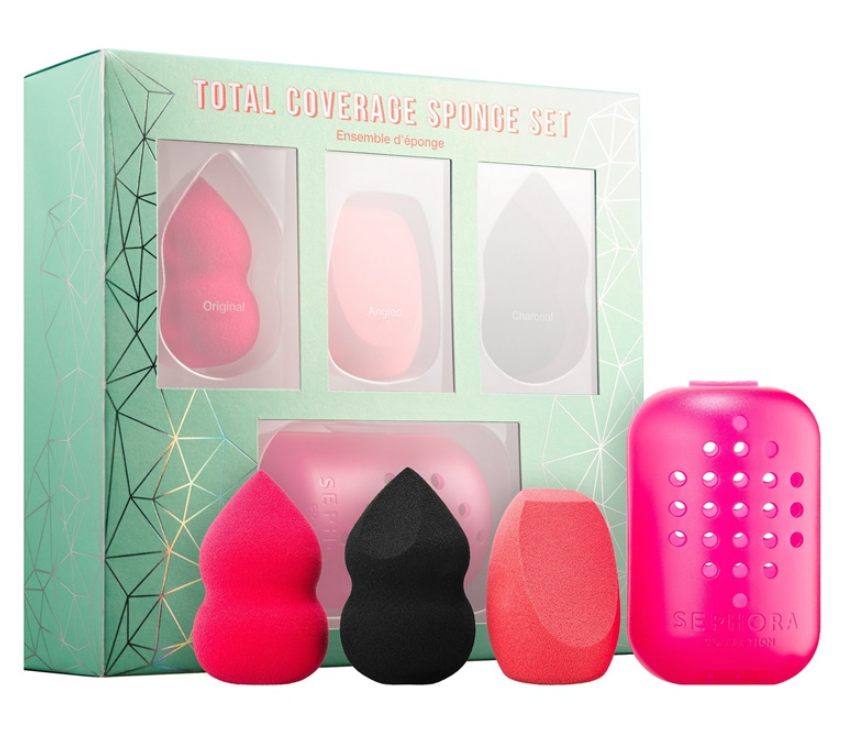 Sephora Frosted Kisses #Lipstories Set – $28
A selection of six bestselling shades of Sephora #Lipstories Lipstick wrapped in limited-edition Holiday packaging.
Shades:
Ice Dancing
Sweater
Campfire Cutie
Cabin Fever
Snow Day
Winter Blizzard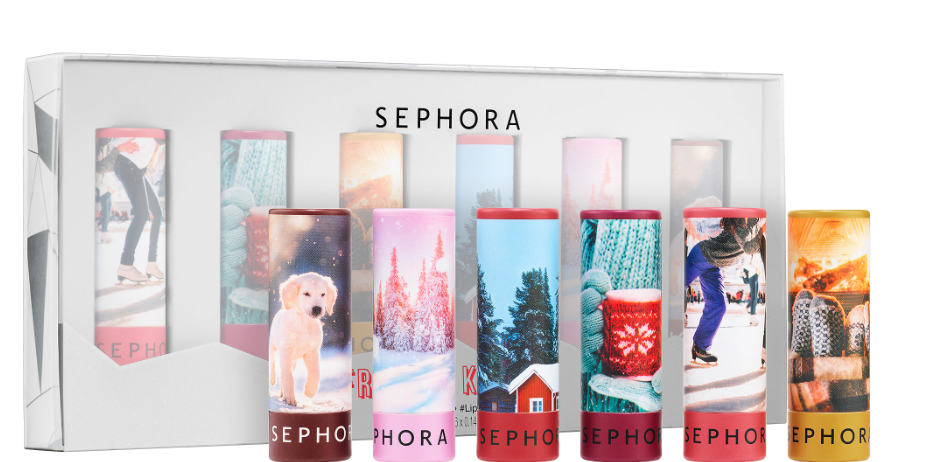 Sephora Glacial Glow Eyeshadow & Highlight Palette – $34
A holiday palette that contains two highlighters and 20 eyeshadow shades in a variety of finishes.
Eyeshadows: Champagne Shimmer (Shimmer), Apricot Shimmer (Shimmer), Burgundy Shimmer (Shimmer), Pewter Gold (Shimmer), Teal Shimmer (Shimmer), Fuchsia Shimmer (Shimmer), Dark Bronze (Shimmer), Blackened Teal (Shimmer), Black Gold (Shimmer), Peachey Beige (Shimmer), Plum (Shimmer), Purple (Shimmer), Yellow Beige (Matte), Warm Medium Brown (Matte), Light Taupe (Matte), Grey Brown (Matte), Cool Medium Brown (Matte), Chocolate Brown (Matte), Medium Dark Purple (Matte), Black (Matte)
Highlighter: Rosy Bronze (Metallic), Peachey Gold (Metallic)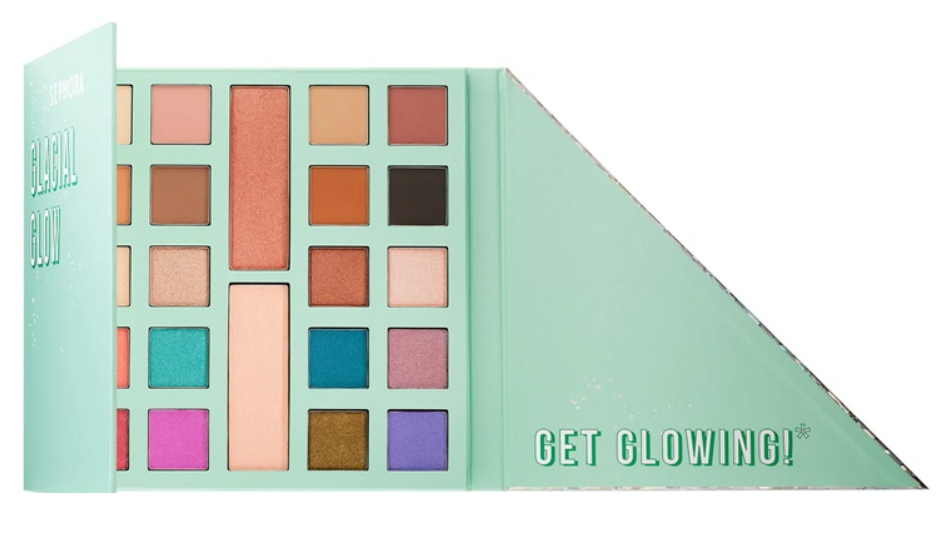 Sephora All Wrapped Up Soft Traincase – $40
A soft holographic traincase that includes a large outer bag, two removal zippered cubes bags, and one rectangular pouch.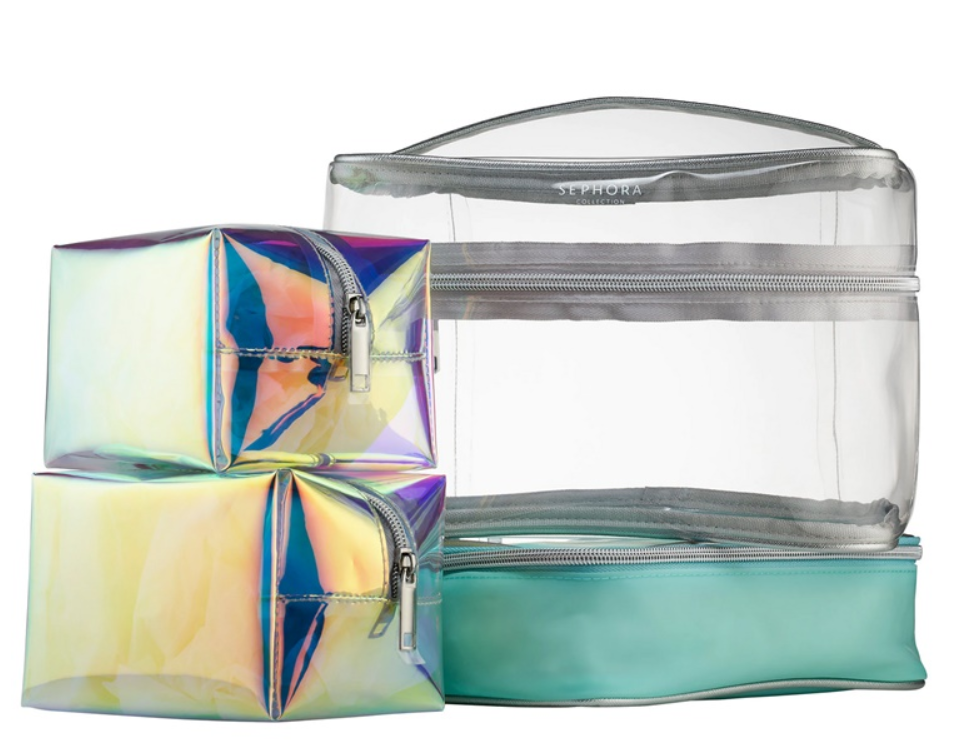 Sephora Igloo Palace Blockbuster Set – $39.50
A mega palette that contains 60 eyeshadows, 24 lipglosses, 8 cream eyeliners, 4 brow powders, 6 highlighters, 3 blushes, 3 bronzers, and a brightening powder!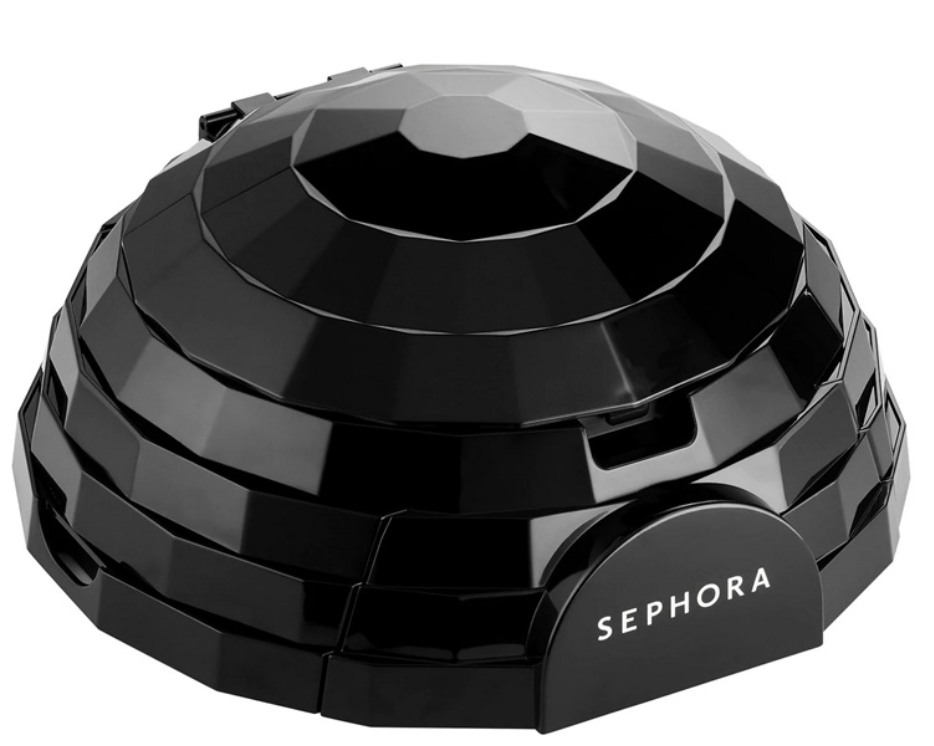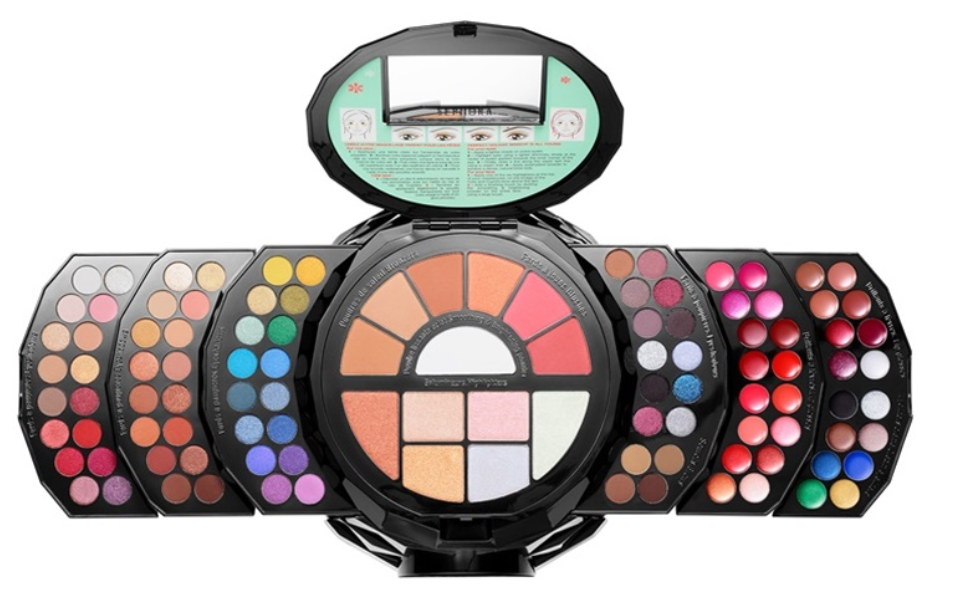 Sephora Shimmer and Shine Brush Set – $49
A limited-edition eight-piece brush that includes powder, blush, foundation, concealer, eyeshadow, crease, eyeliner, and fan brushes!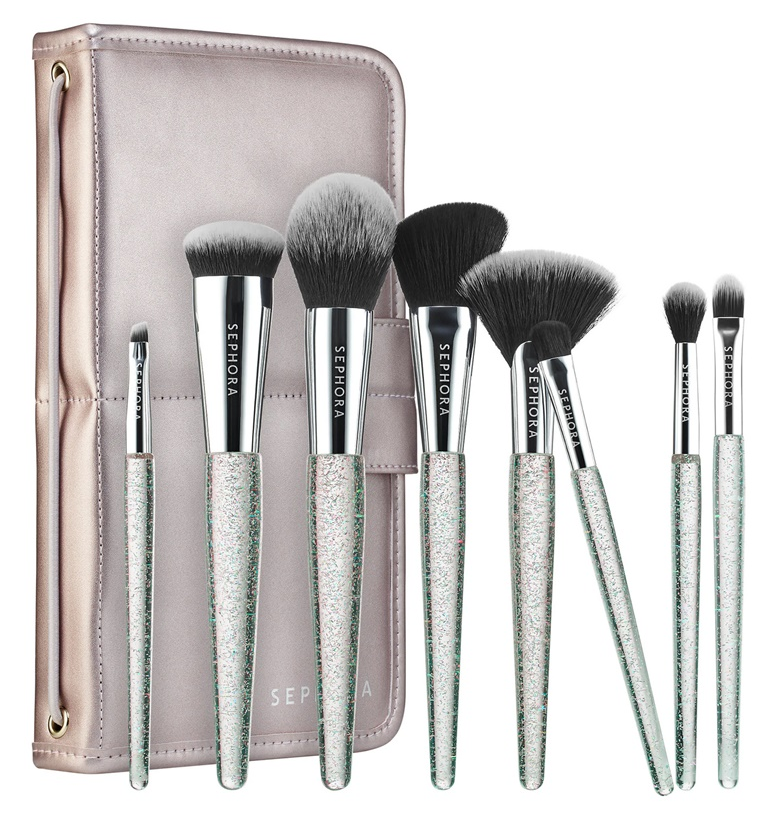 Sephora What a Gem! Crystal Face Palette – $28
A face palette containing blushes, highlighters, and bronzers.
Shades:
Highlight in Dream, Amplify, Passion, Power, Balance
Blush in Love, Harmony, Success
Bronzer in Joy, Confidence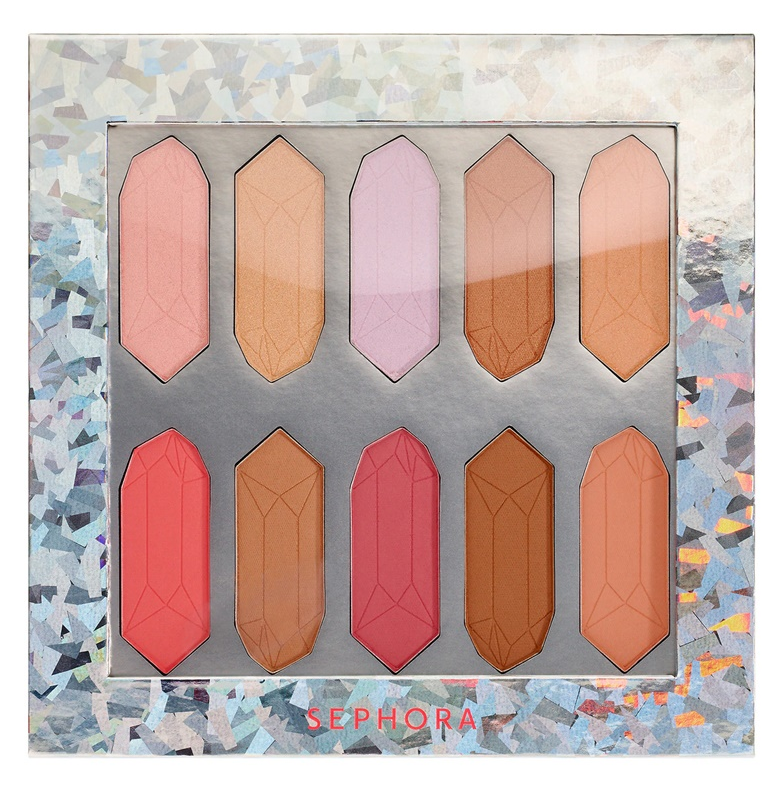 Sephora Ready To Roll Brush Set – $70
A set of 10 brushes in a black faux leather brush roll for easy travel!
Includes:
Powder Brush
Complexion Brush
Angled Blush Brush
Highlight + Contour Brush
Fan Brush
Eyeshadow Brush
Smudge Brush
Blending Crease Brush
Concealer Brush
Angled Liner with Spoolie Brush
Faux Leather Brush Roll
Sephora Let it Glow Highlighting Kit – $10
A highlighting stick that includes shades Moonrise Shimmer and Sunrise Shimmer!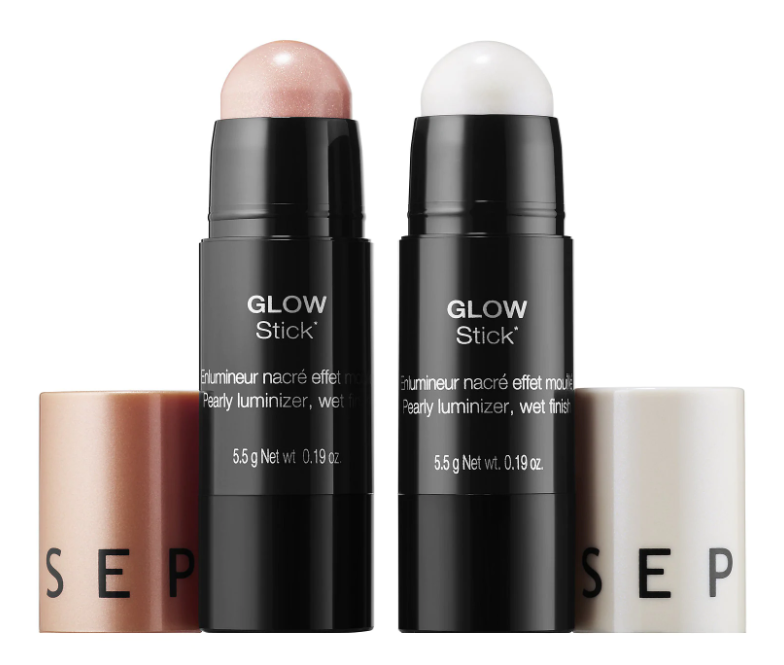 TIPS:
We're making our list and we're checking it twice, because it seems every beauty brand is getting into the holiday spirit this season, and we're just trying to keep up! With themed drops from Kat von D, Givenchy, YVES SAINT LAURENT, Tom Ford,Fenty Beauty, Tarte, and so many others, our own stockings are stuffed as much as we're shopping for the people on our list. Check out our list of 2019 holiday makeup and beauty releases, and be sure to check back as many more are announced. Our heart is growing three sizes just looking at these beauties.