The inevitable Christmas countdown has begun , and whether you love it or loathe it we can bet you still as excited as us about nabbing a snazzy beauty advent calendar. JO MALONE LONDON ADVENT CALENDAR 2019 is coming, Maybe a surprise.
This is the fifth consecutive year that Jo Malone London has created a beautiful beauty calendar that continues the exquisite design and surprises. This year's advent calendar features a classic style that looks like the brand's iconic London Townhouse. This calendar includes 24 best-selling products ,covering all categories of the brand's products, including fragrances, body products and candles. Jo Malone London Advent Calendar will make the countdown to Christmas even more beautiful and exquisite.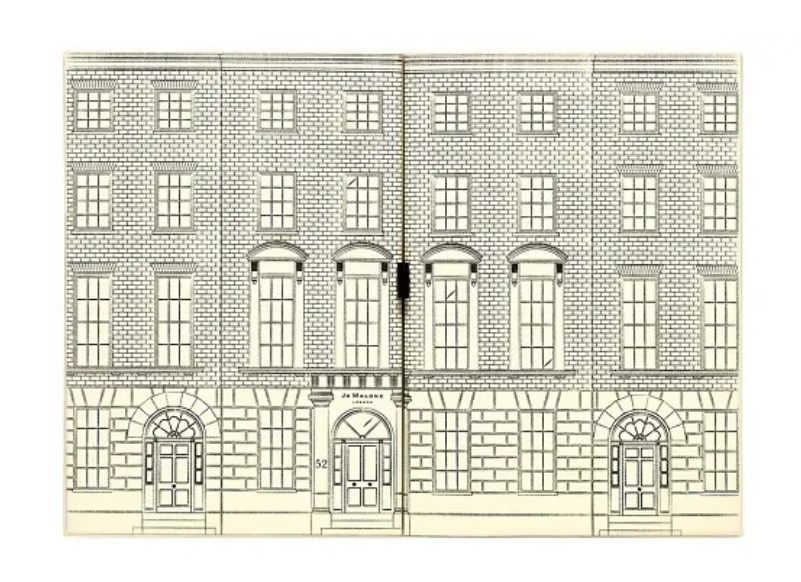 Jo Malone London Advent Calendar 2019
Available – October 1st at Jo Malone.
Jo Malone London Advent Calendar – £320
The full list of the Jo Malone London products within this year's beauty advent calendar can be found below:
Basil & Neroli Cologne 9ml
Wild Bluebell Body & Hand Wash 15ml
Oud & Bergamot Cologne Intense 9ml
Sweet Almond & Macaroon Mini Candle
Blackberry & Bay Cologne 9ml
English Pear & Freesia Body Crème 15ml
Tuberose Angelica Cologne Intense 9ml
Black Cedarwood & Juniper Cologne 9ml
Velvet Rose & Oud Shower Oil 15ml
Amber & Lavender Cologne 9ml
Incense & Embers Mini Candle
Dark Amber & Ginger Lily Cologne Intense 9ml
Early Grey & Cucumber Cologne 9ml
Myrrh & Tonka Body Creme 50ml
Orris & Sandalwood Cologne Intense 9ml
Nectarine Blossom & Honey Cologne 9ml
Peony & Blush Suede Bath Oil 15ml
154 Cologne 9ml
Jasmine Sambac & Marigold Cologne Intense 9ml
Mimosa & Cardamom Cologne 9ml
Pine & Eucalyptus Mini Candle
Bronze Wood & Leather Cologne Intense 9ml
Honeysuckle & Davana Cologne 9ml
Red Roses Mini Soap 50g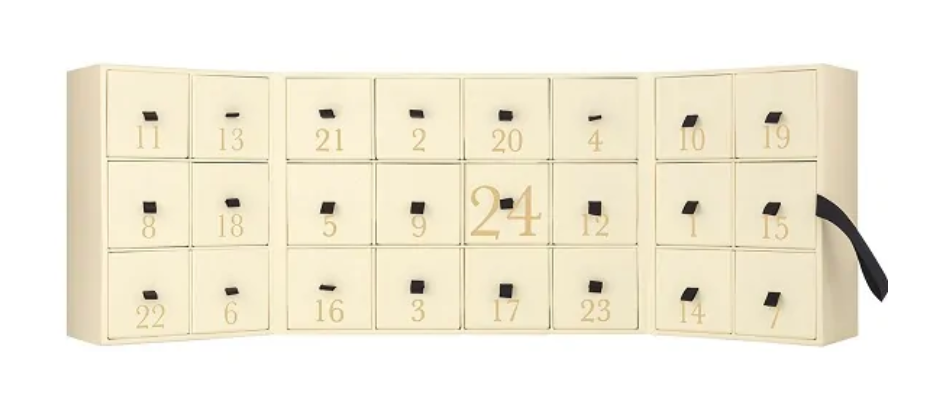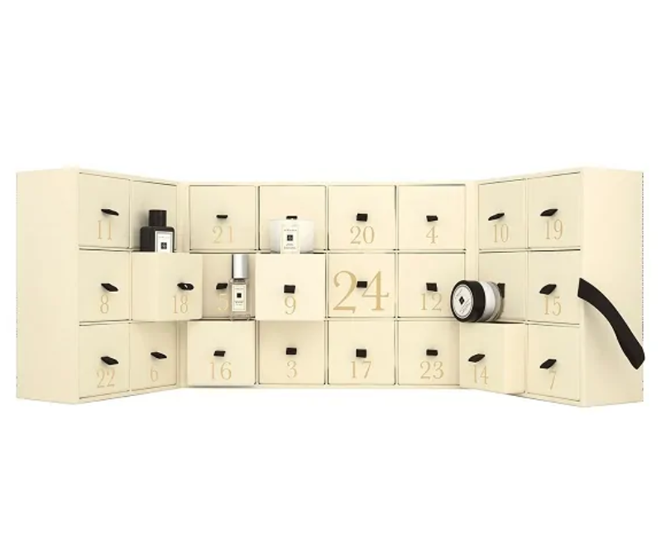 TIPS:
Gone are the days when we'd count down to Christmas with a teeny tiny chocolate that'd disappear in a single bite. Now, everything from stunning scented candles and wonder-serums, to luxe body oils and fragrances that smell so good it's insane are hiding behind those little paper doors – and we are 100% here for them.
Check out our list of beauty ADVENT CALENDAR releases, and be sure to check back as many more are announced. Our heart is growing three sizes just looking at these beauties.
RELATED: List of Jo Malone London gift with purchase 2019 schedule