Guerlain has announced some news and novelties regarding its famous collection, Aqua Allegoria. The main news is the newest scent in the line: Nerolia Vetiver.
This is a composition made by the in-house Guerlain perfumers Thierry Wasser and Delphine Jelk. Moreover, the entire line has been redesigned in order to make it more environmentally friendly.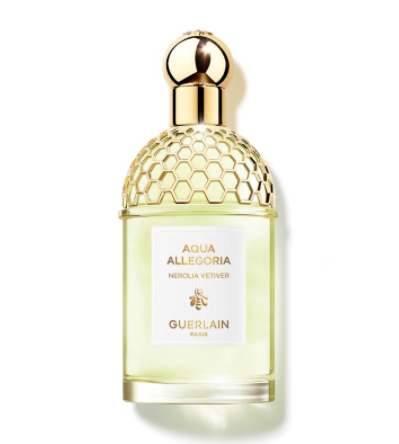 According to Luxe Packaging Insight, "The flacon (produced by Pochet du Courval), which takes its cues from Guerlain's iconic bee bottle, also produced by the French glassmaker, uses Pochet's new SEVA3 glass, which integrates 15% recycled glass from household waste collection, while retaining its shine and transparency."
The new bottle has a screw pump which allows it to be refillable, and therefore, reusable. The juice inside contains up to 95% ingredients of natural origin, and the alcohol used comes from organic farming.
Guerlain's Nerolia Vetiver will be available in February 2022.