L'Heure Bleue is an icon in the history of perfumery, and the house of Guerlain is now celebrating its 110th anniversary by creating a very special bottle showcasing a specific shade of blue: the International Klein Blue – IKB.
L'Heure Bleue Yves Klein Edition is a very limited edition of only 30 bottles, each one of them containing 1.5 liters of L'Heure Bleue in extrait de parfum concentration.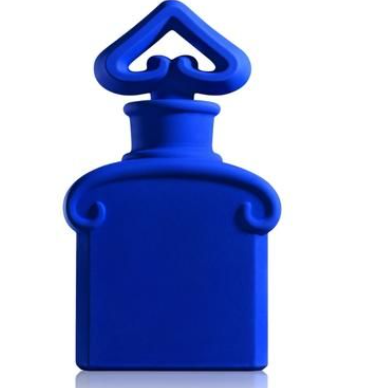 Coming soon at Guerlain,com
Guerlain established a partnership with Archives Yves Klein and glassmaker Waltersperger to create a large format of L'Heure Bleue's "inverted heart" bottle designed by Raymond Guerlain in 1912.
"The semi-automatic glassmaker explains that achieving perfect glass distribution inside the bottle was a feat due to the flacon's large size. Both the bottle and cap are hand polished", reports Luxe Packaging Insight magazine.
International Klein Blue, the hue created by French artist Yves Klein, is hand brushed onto the bottle, followed by several layers of matte finish.
According to the Tate Museum, International Klein Blue is "a distinctive ultramarine which Klein registered as a trademark colour in 1957.
He considered that this colour had a quality close to pure space and he associated it with immaterial values beyond what can be seen or touched." It's a very poetic association with the original idea of L'Heure Bleue, and a very dreamy but modern concept.