Estée Lauder just released their new Enchanted Evening Makeup Set for the 2022 Holiday season.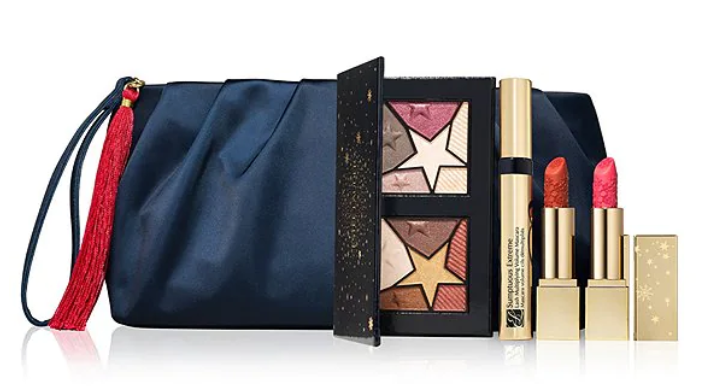 Price:
The set is available now and priced at $39.50 with any Estée Lauder purchase over $188.
Release Date:
Available now
Where to buy:
A great 5-piece set including soft and bold shades for lips, cheeks, and eyes.
All in a navy clutch ready for an enchanted evening. Quantities are limited – shop now.
Inlcudes:
Pure Color Envy Lipstick, full-size (12 oz./3.5g) in 420 Rebellious Rose (A midtone rose with a neutral undertone)
Pure Color Envy Matte Sculpting Lipstick, full-size (.12 oz./3.5g) in 333 Persuasive (A burnt apricot with a warm undertone)
Limited Edition EyeShadow Palette, deluxe travel size (.24 oz. /7g) includes 12 shades: Left Pan: #1 (Amber Alloy 6A), #2 (Bronze 5C), #3 (Beach Metals 7C), #4 (Beach Metals 7C), #5 (Platinum Petals 4C) and #6 (Bronze 5B). Right Pan: #1 (Amber Alloy 6C), #2 (Amber Alloy 6B), #3 (Bronze 5A), #4 (Bronze 5A), #5 (Sterling Plums 8C) and #6 (Beach Metals 7A)
Sumptuous Extreme Mascara in Extreme Black, full-size (.27 oz./8ml)
Navy Clutch with Red Tassel (Bag fabric made with 100% recycled content. Enjoy this keepsake with the environment in mind.)