When is Black Friday 2020?
Black Friday is always the day after Thanksgiving. In 2019, Black Friday will be on Friday 29th November 2019 . On this day, most major retailers open extremely early, often at midnight or earlier.
ULTA Black Friday 2020
Updated on Sunday November 24, 2019: ULTA Beauty officially released their Black Friday ad on their site early this morning. This year's deals include a mix of limited edition sets for $10 to $20, cult favorites at 40 to 50% off, and brand/category deals typically at 40 to 50% off (or more).There will also be free shipping on any $35+ purchase.
We've got it scanned in for you below but you can also check it out at ulta.com.
Sale Start & End Dates
Here are this year's Black Friday start and end times/dates:
Start date, online: Thursday, Thanksgiving day, at 3:00PM PT / 5:00PM CT / 6:00PM ET (November 28, 2019).
Start date, in-stores: Thursday, Thanksgiving day, November 28, 2019 when doors open. Most locations are expected to open at 5:00PM local time.
Expected end time: The best doorbuster deals will likely sell out by Thursday evening. Everything else will likely be available through the end of day on Friday, November 29, 2019.
Ulta Beauty's Black Friday 2019 Ad Scan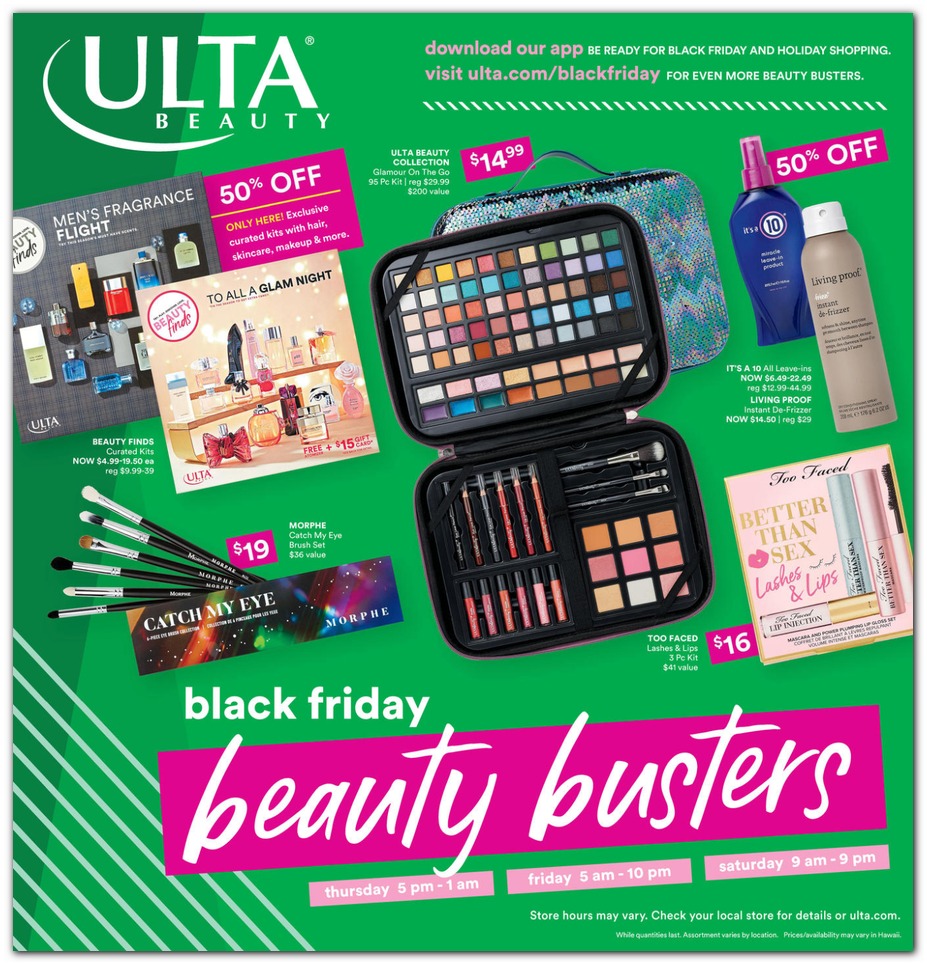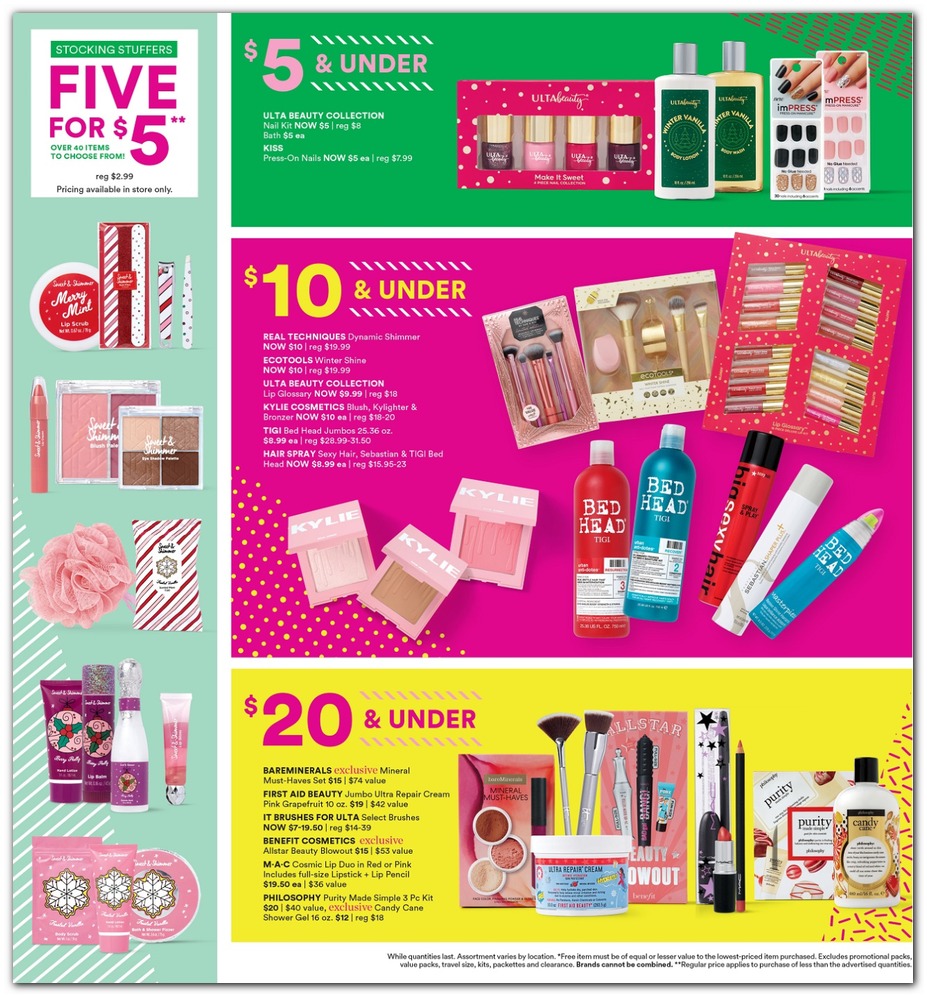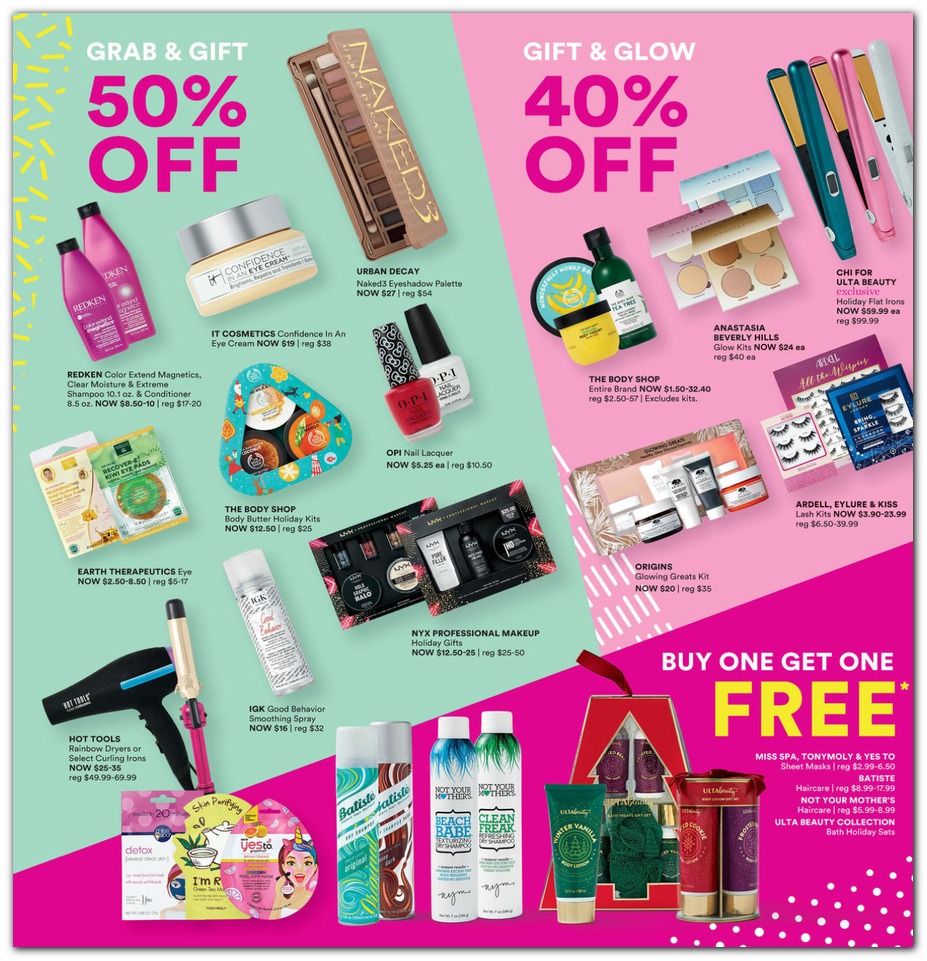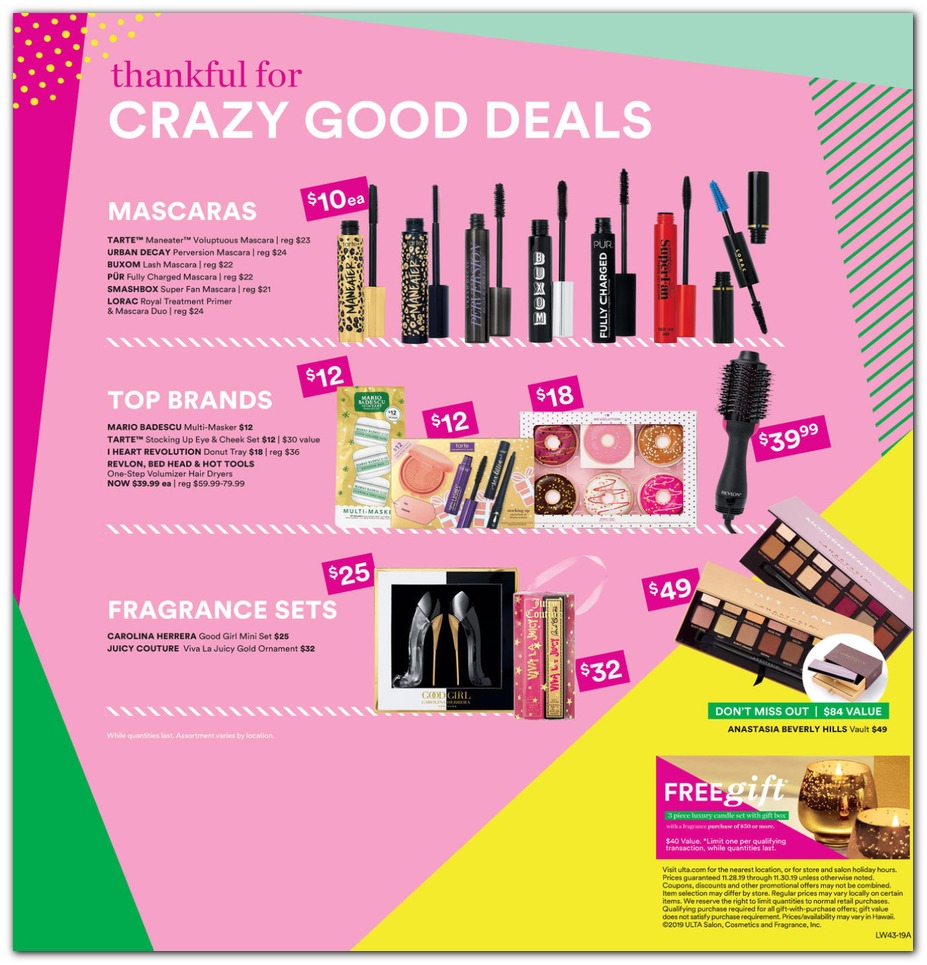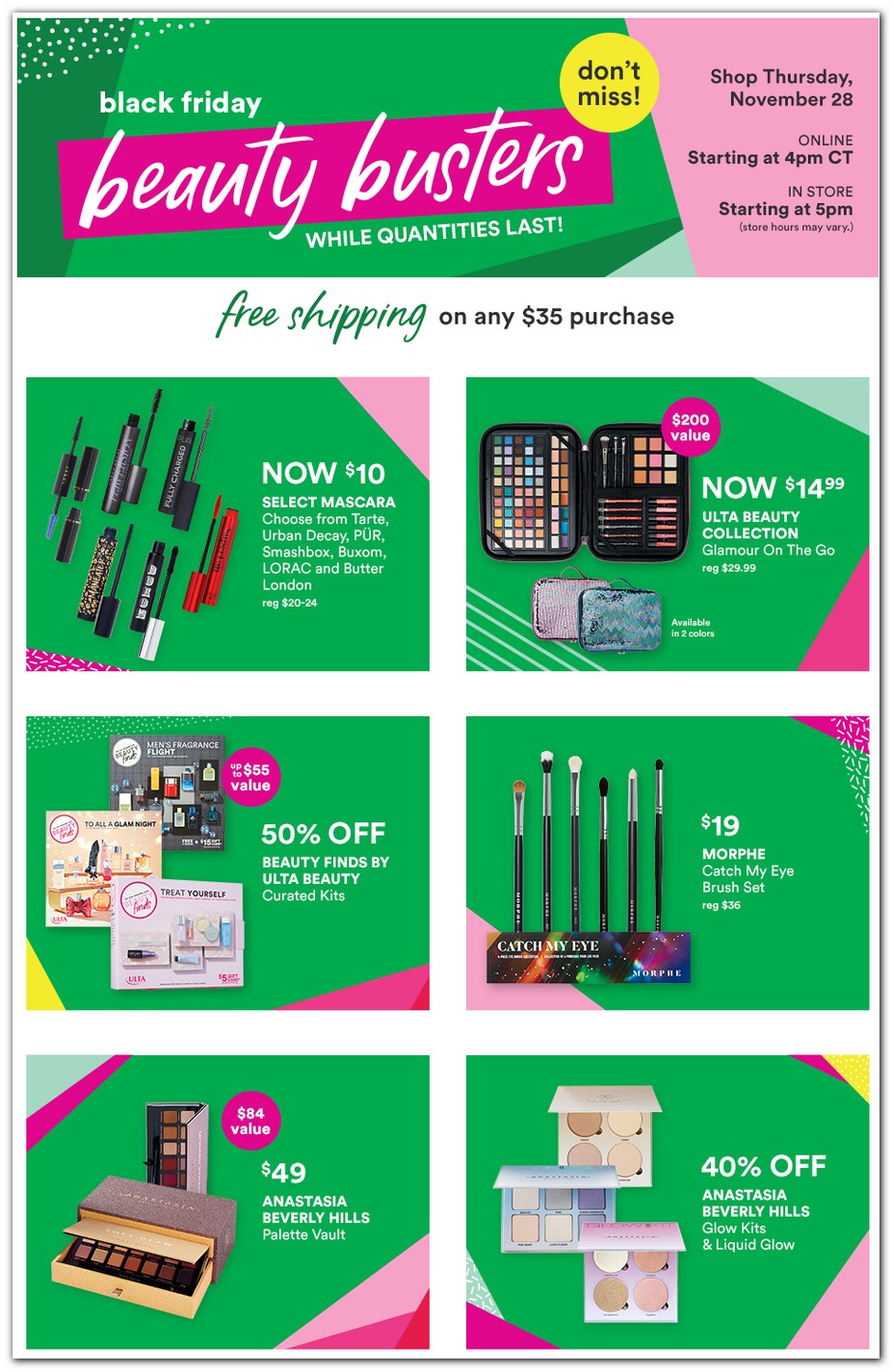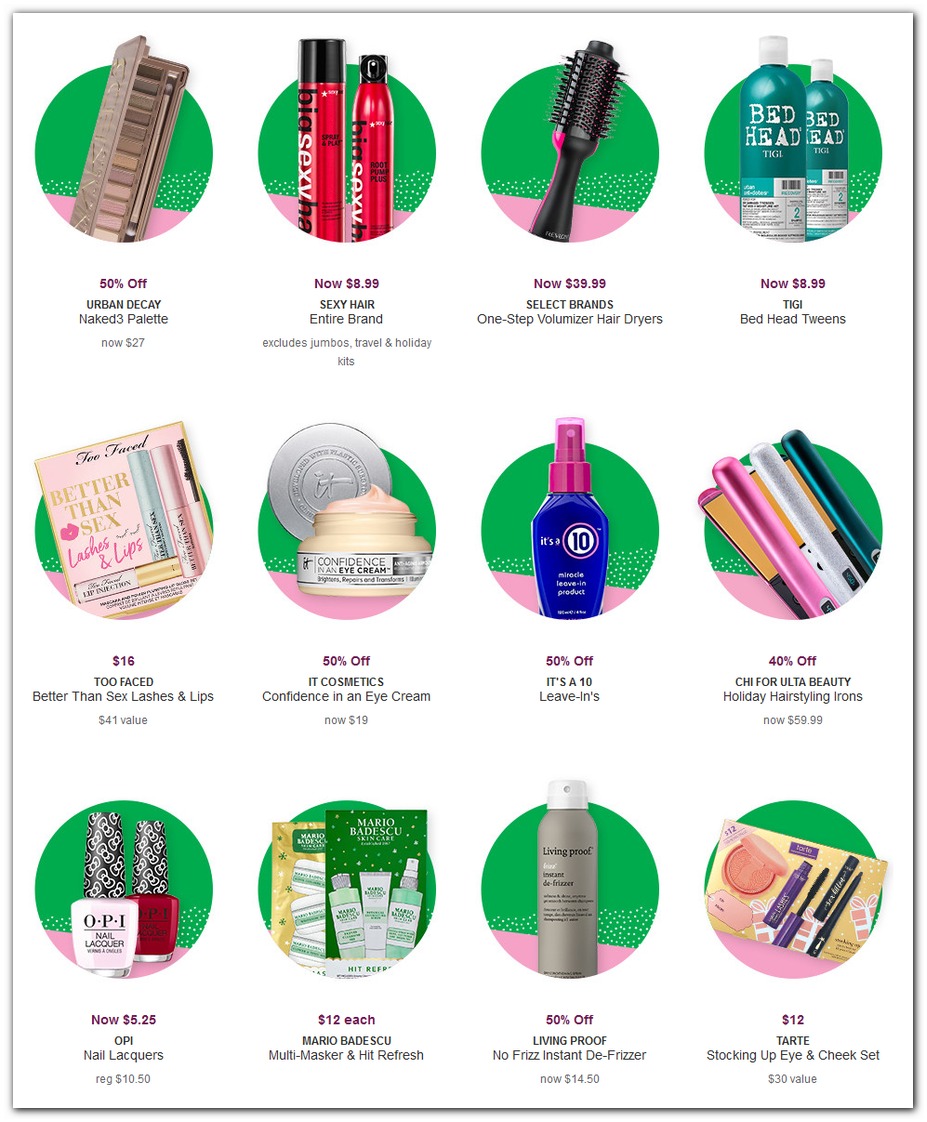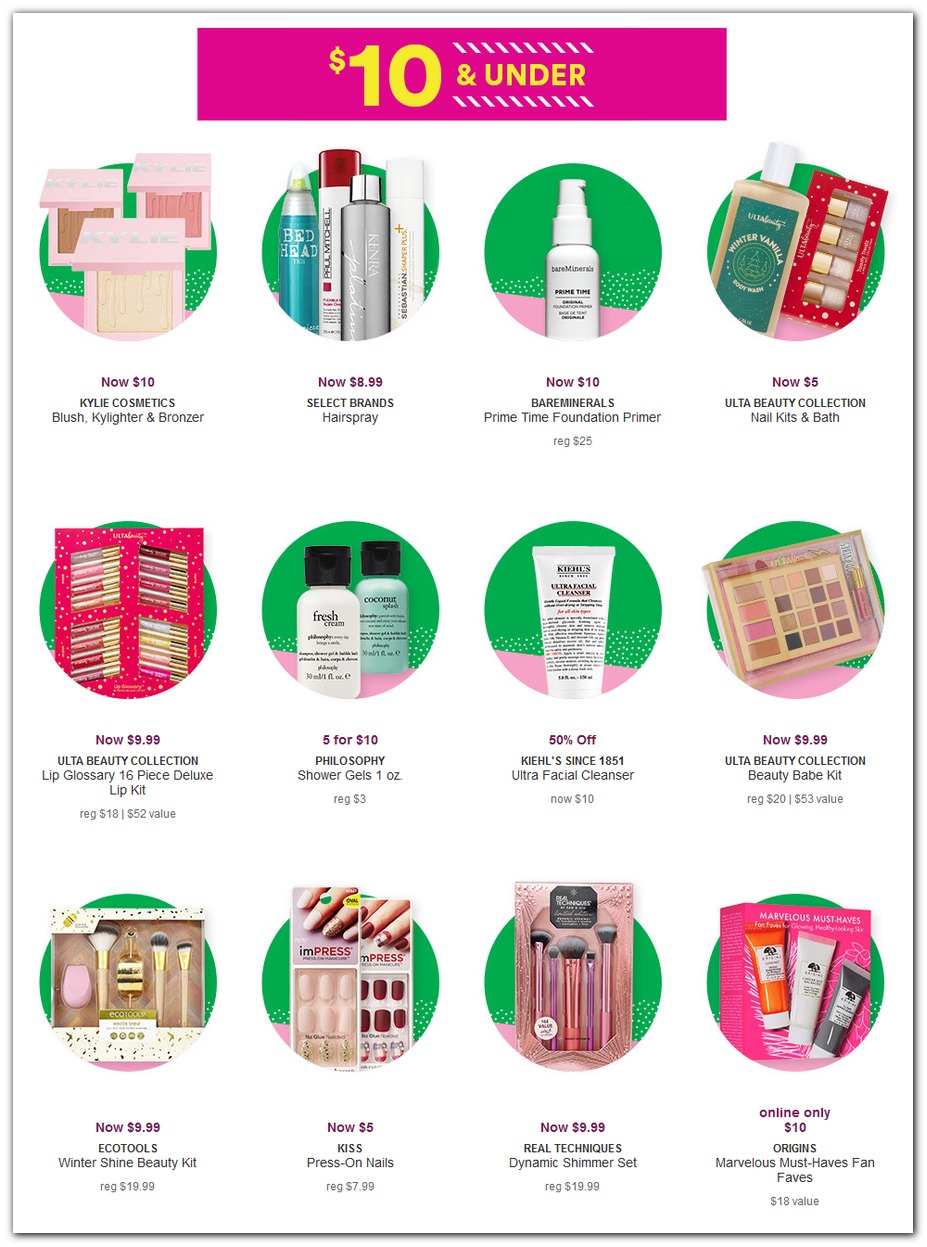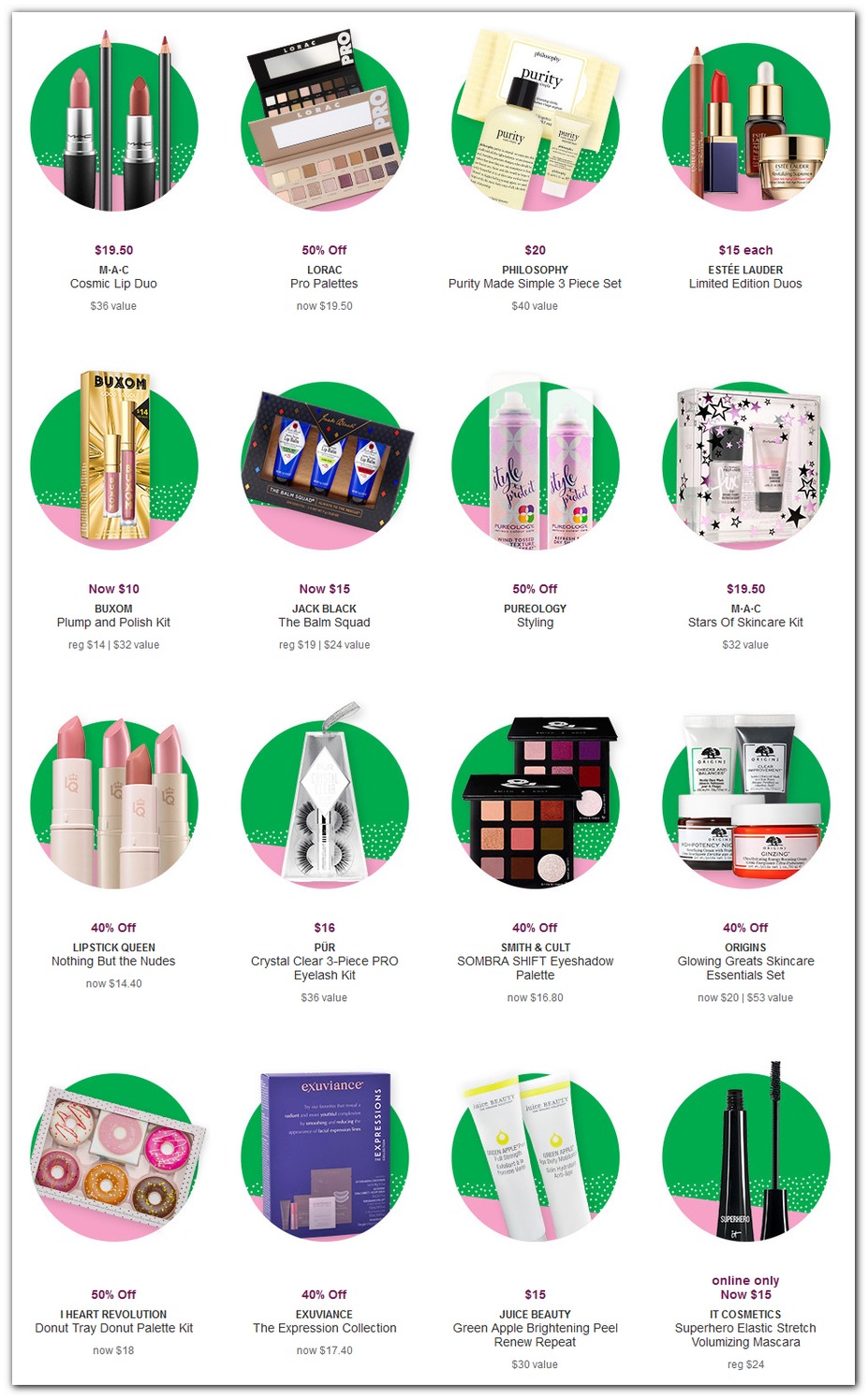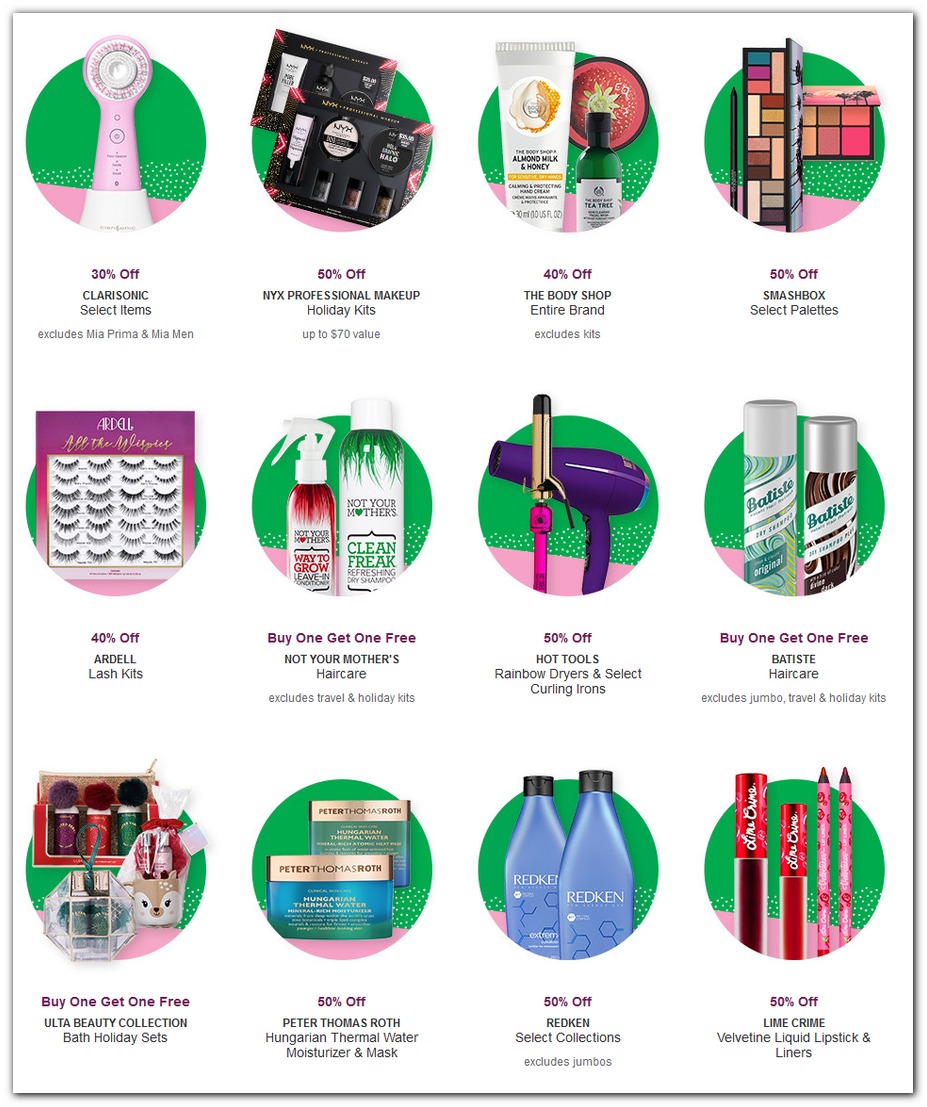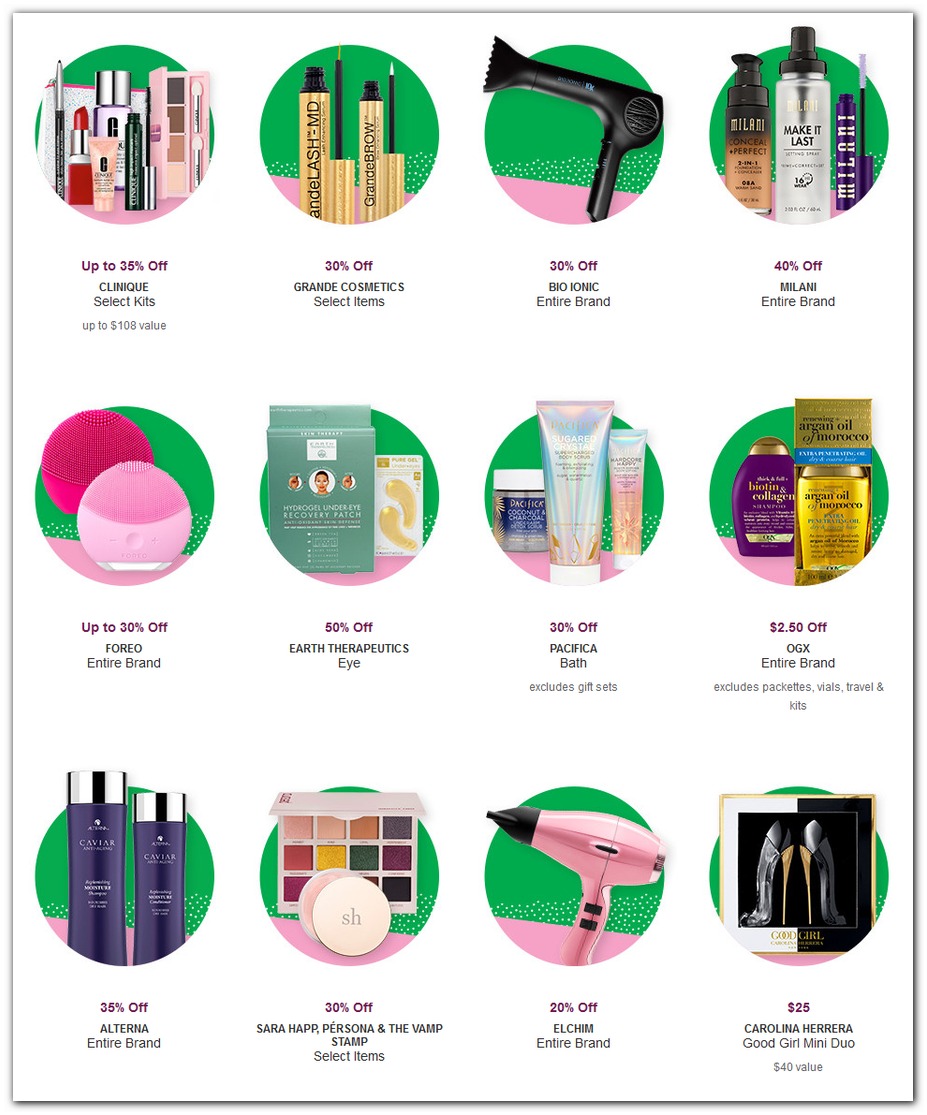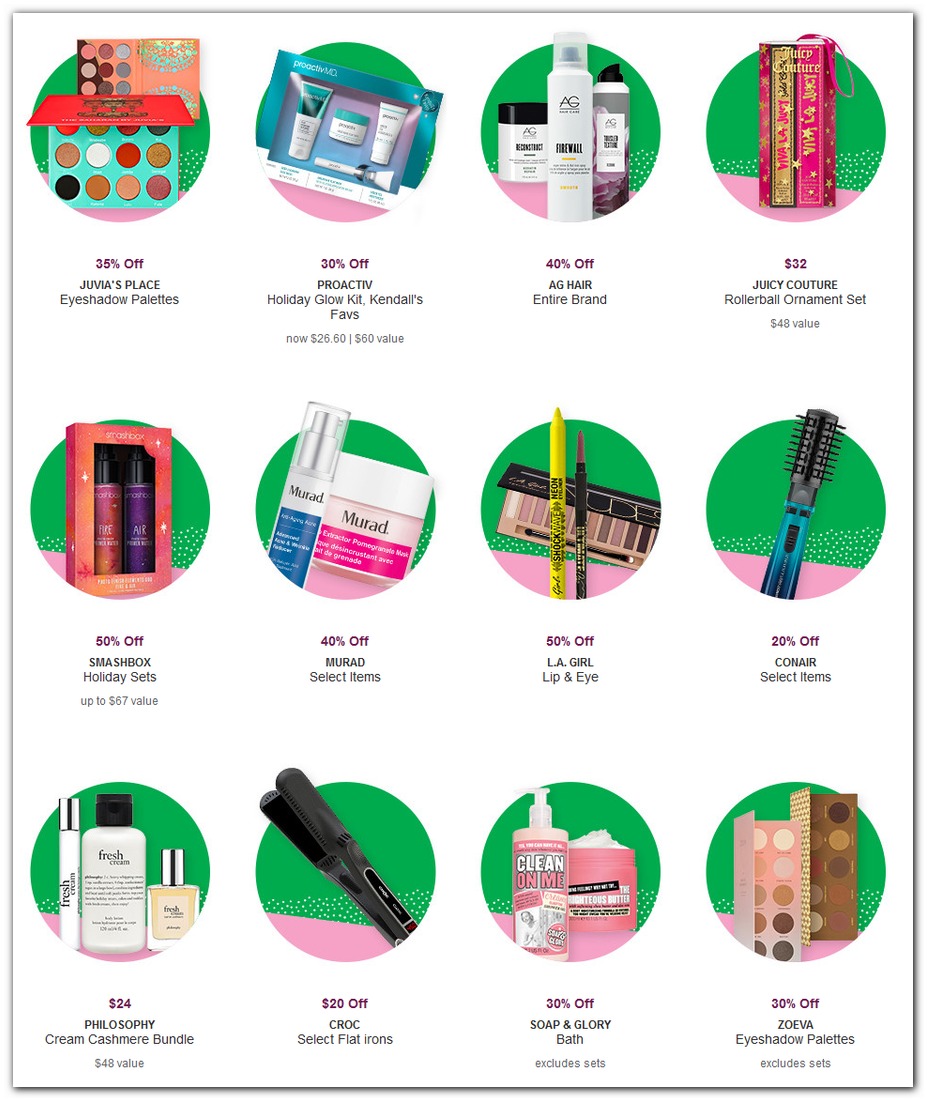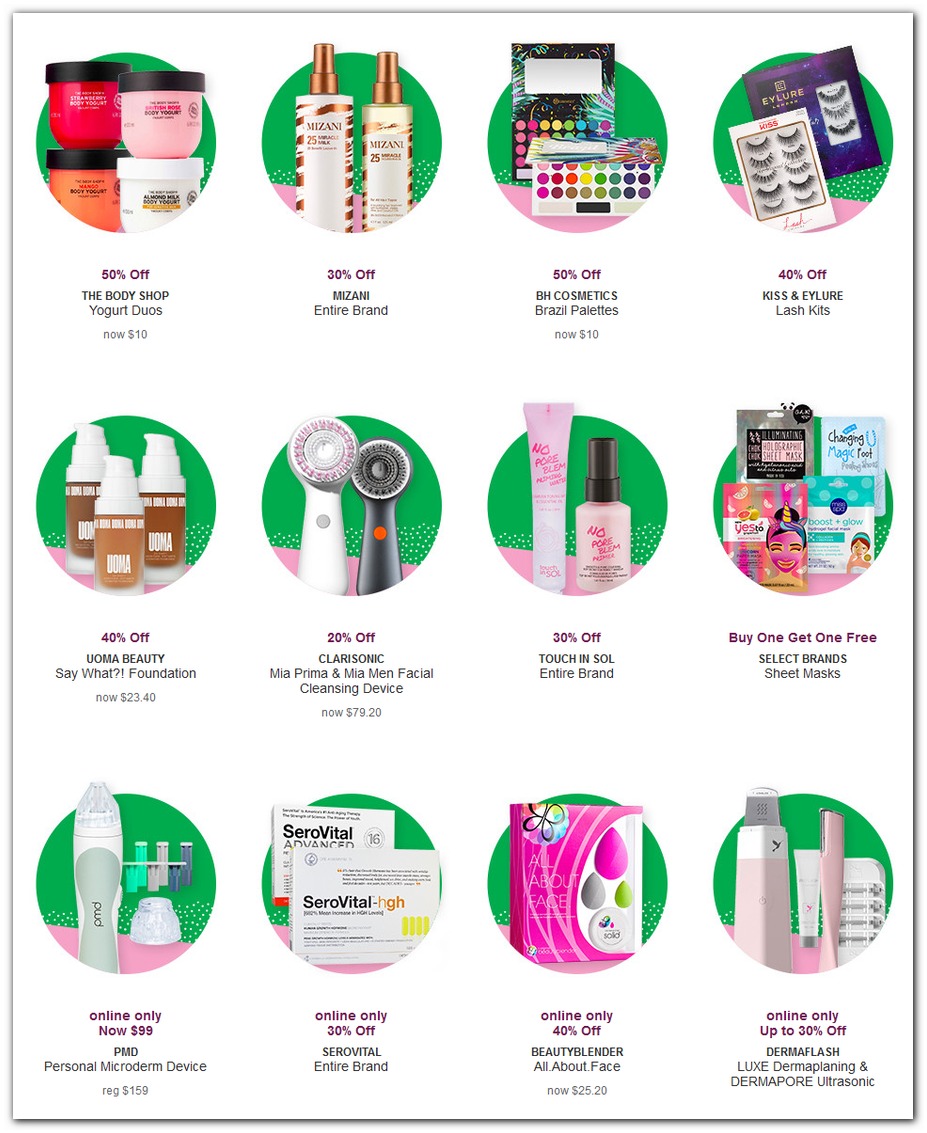 Last Year's Ulta

Black Friday
2018 ads
Updated on Sunday November 18, 2018: ULTA's Black Friday ad has just leaked
You'll be able to shop ulta.com beginning on Thanksgiving day at 5:00PM CT (that's on November 22, 2018). In stores, the deals also begin on Thanksgiving day. Most ULTA Beauty locations will open at 6:00PM, although it may vary in certain areas. Good luck and happy bargain hunting!
2017 ads
Updated on Tuesday, November 14, 2017: Ulta Beauty's Black Friday ad for 2017 has just leaked
A few quick notes: The sale officially begins at online and in-stores on Thanksgiving day, Thursday November 23rd. Store hours this year are Thursday 6:00PM—2:00AM, Black Friday 6:00AM—10:00PM, and Saturday 9:00AM—9:00PM. Unless otherwise indicated, sale prices are valid through the end of day on Saturday November 25th, 2017, or while supplies last.
In terms of the deals, we won't go much into the details as you can check those out for yourself. Just remember to use coupon code 503784 at checkout if shopping online or print the coupon on page 4 of the flyer to get an extra $3.50 off your total qualifying purchase of $15.00 or more. If you end up purchasing more than $40.00 worth of fragrances you'll also be able to qualify for a free tumbler set (a $40 value!).
2016 ads
Updated November 20, 2016: Ulta Black Friday ad has just been released. We've posted all four pages down below so check out this year's deals.
This year stores open once again on Thanksgiving day (Nov 24, 2016) at 6:00PM and stay open until 2:00AM. Then just a few hours later they reopen at 6:00AM on Black Friday and say open until 10:00PM. You'll also be able to shop online with pre-Thanksgiving day deals starting on Wednesday November 23rd at 6:00PM PST / 9:00PM ET.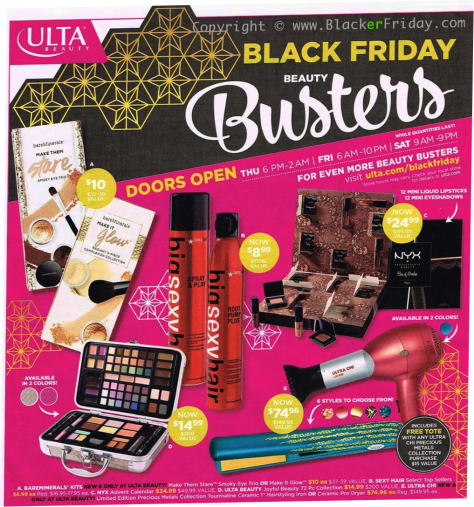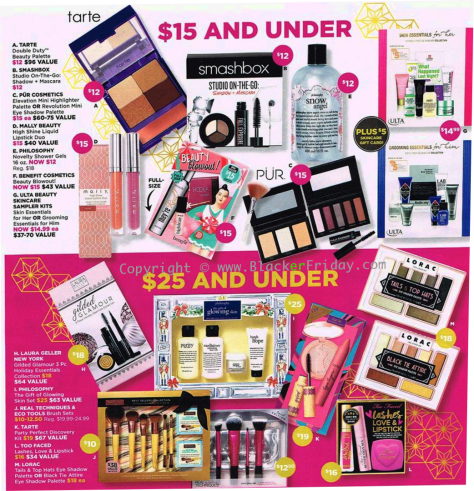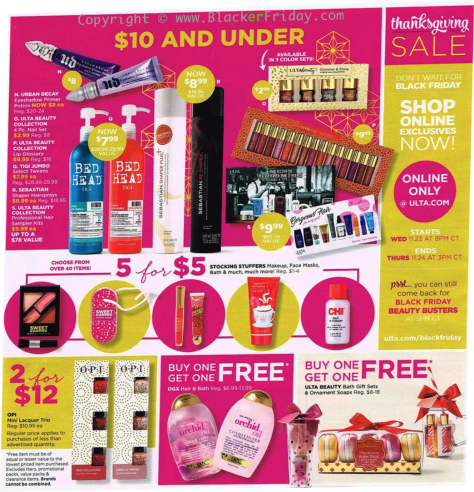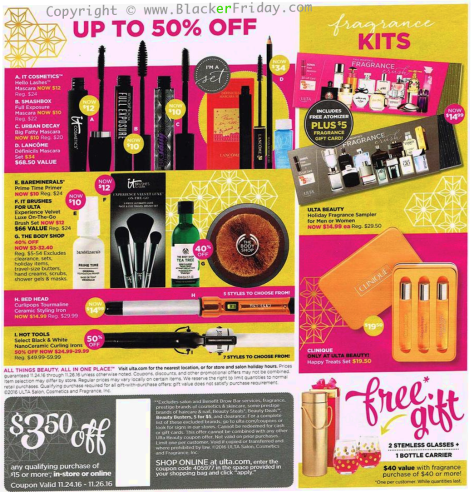 2015 ads
We just got in the details on Ulta's Black Friday sale for 2015. We've posted the full ad scan below so be sure to check out the highlighted bargains this year. If shopping online, you'll be able to pick up the deals at ulta.com beginning at 3:00PM PST on Thursday, Thanksgiving day (with free shipping available on all orders of $35.00 or more). If you're planning on heading to your local Ulta Beauty store, then you'll have to get their at 5:00PM on Thanksgiving day when stores open to not miss out on the hottest sellers (that's on November 26, 2015). Then most stores will then remain open through the night until Friday, 10:00PM local time.
Some of our favorite deals this year include the Ulta Beauty 74-piece makeup kit on sale for $14.99 (it's a $175.00 value!), select BareMinerals collections for the eyes and face for $10.0 (it's a $36.00 to $39.00 value), Ultra Chi flat iron or dryer for $74.96 each with coupon, and the Philosopy Pink Marshmallow Buttercream Duo for $12.00 (it's exclusively available only at Ulta). Plus, be sure to enter coupon code 301528 at checkout to save an extra $3.50 on your total purchase of $10.00 or more. They are also giving everyone a free gift – a 5-piece glass serving kit that has a $50.00 value – with any fragrance purchase of $40.00 or more.
Here are more details: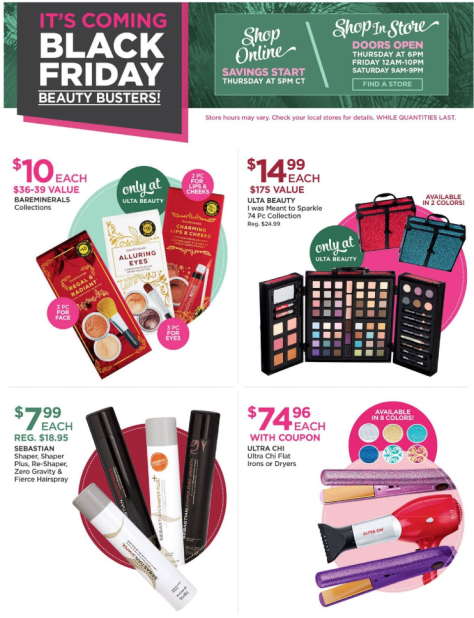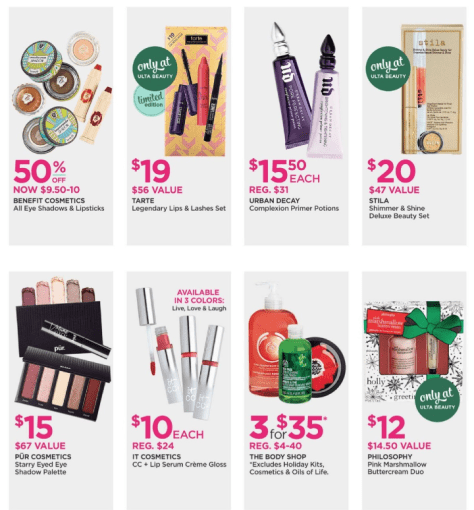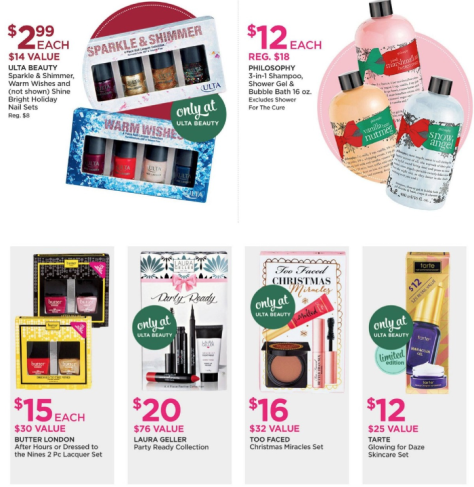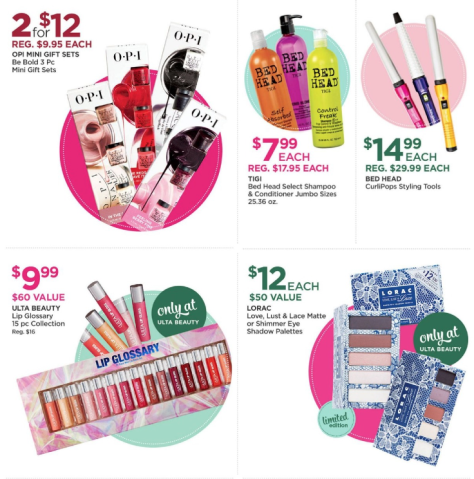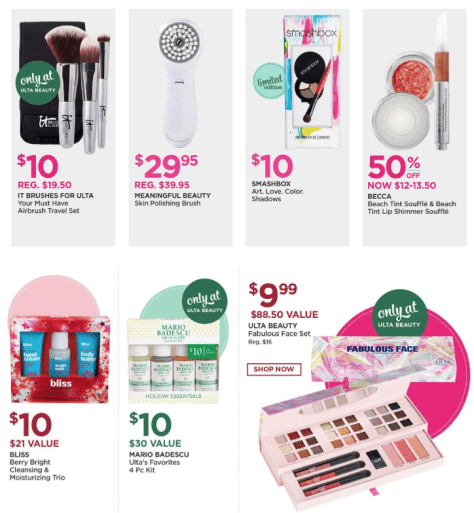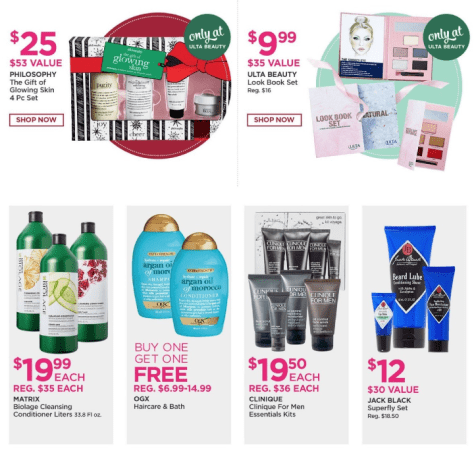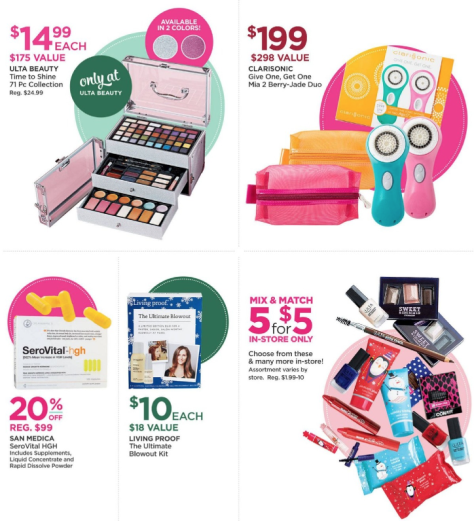 2014 ads
Ulta's Black Friday sale is huge this year and has to be one of the best that we've seen recently. Especially the online-only offers which include a free Ulta 15-piece set with any $50.00 purchase made at ulta.com (an $88.00 value). You'll also get free shipping on any order above $25.00 and some free samples thrown in there as well.
Our favorite offers include the 72-piece Irresistible Beauty Blockbuster makeup set for $14.99 (a $175.00 value, 25% off select Ultra Chi Flat Iron or Hair Dryer's (be sure to use coupon code 203400 at checkout), and up to 50% off on select fragrance. You'll also get 40% off on select Bare Minerals products , 40% off on The Body Shop brand creams and soaps (excludes sets and cosmetics), and 30% off the entire line of Ahava creams and lotions.
Be sure to also get your $3.50 off coupon that you can use on any order above $10.00 (print one out for in-store or use code 201951 when shopping online). Black Friday store hours and opening times will vary by location so be sure to contact your local outlet for more details.
Here's a look at their full paged Black Friday weekend flyer: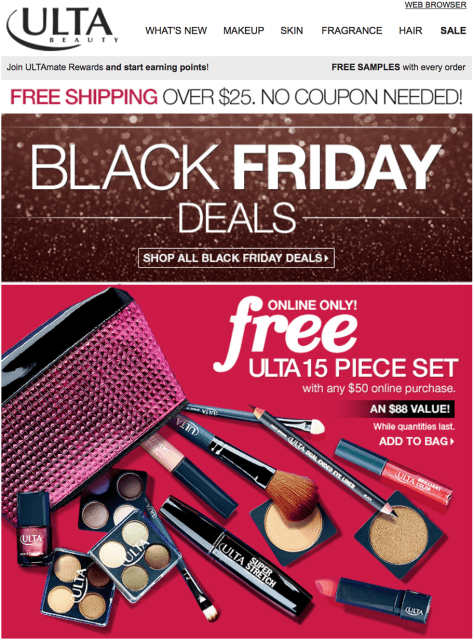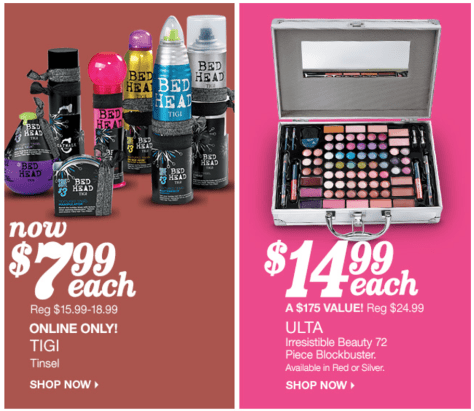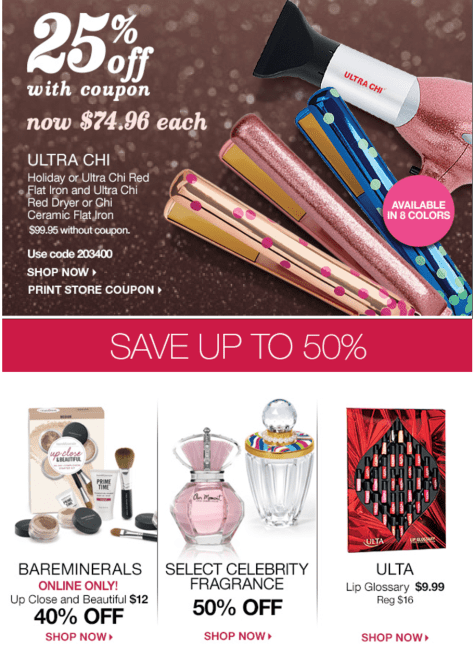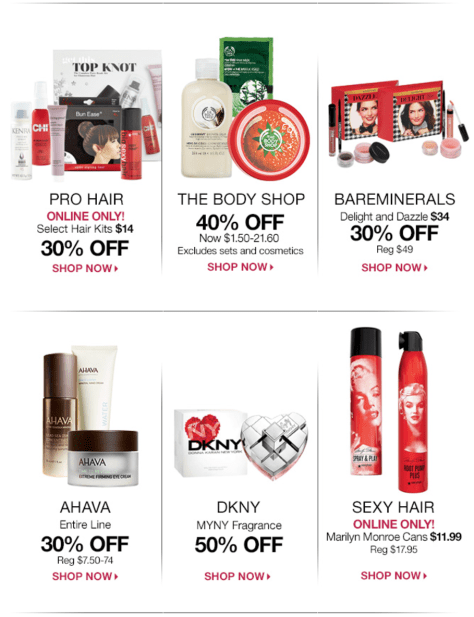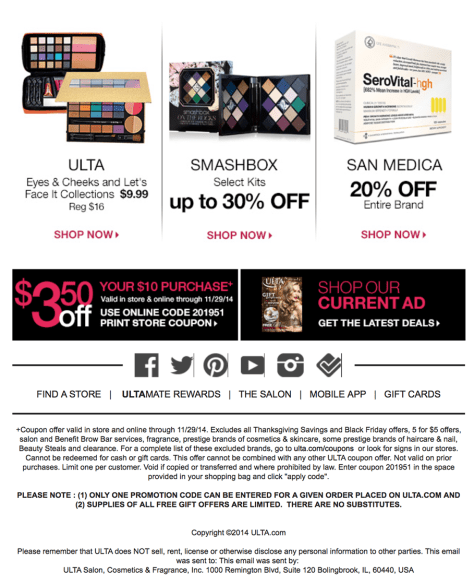 More about Ulta Beauty
Ulta Beauty is famous for being "the largest beauty retailer in the United State and the premier beauty destination for cosmetics, fragrance, skin, hair care products, and salon services." The retailer opened its first store 25 years ago and it has since grown into a beauty retail destination that offers more than 20,000 products from over 500 different beauty brands.