Hello lovelies! The inevitable Christmas countdown has begun , and whether you love it or loathe it we can bet you still as excited as us about nabbing a snazzy beauty advent calendar.
If you want to know all the details on the Lynx Africa 12 Day Countdown Advent Calendar 2020, Check out the details below!
Official Release Date:
£20 | Boots *On sale from Sept 28
Brand Description:
A low cost treat for the teenage boy or man in your life, Lynx Africa is marking 25 years of the iconic scent with a compact 12-day advent calendar. The travel-sized toiletries and grooming tools are ideal for stashing in his wash bag or travel case so he always looks good on the go.
CONTENTS
Lynx Africa 25 Year Body Spray 150ml
Lynx Africa 25 Year Body Wash 250ml
2 X Lynx Africa Body Spray 35ml
2 X Lynx Africa Body Wash 50ml
Lynx Mobile Phone Key Ring Stand
Lynx Styling Comb
Lynx Travel Toothbrush
Lynx Africa Limited Edition Pair Of Socks
Lynx Credit Card Holder
Lynx Multi Charging Cable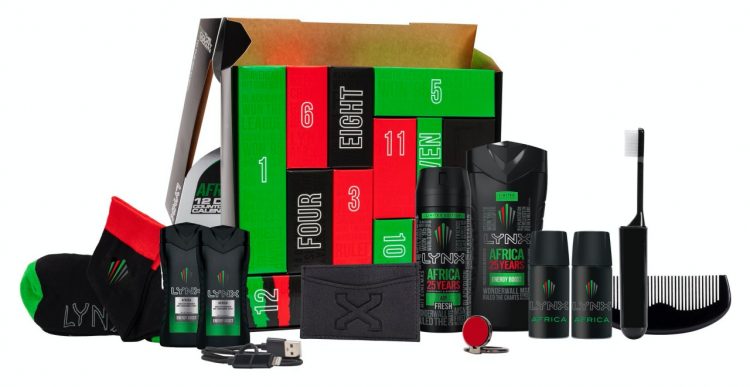 TIPS:
Check out our list of beauty ADVENT CALENDAR releases, and be sure to check back as many more are announced. To help guide you to find the 'best beauty advent calendar of 2020', we've rounded up every single beauty advent calendar for 2020 – Watch this space for more details and in the mean time check out the best beauty advent calendars to snap up this Christmas. and if a brand is yet to share any details, we've predicted their offering based off last year. From the products included inside (think, lipstick, perfume, eyeshadow and so much more, to the on-sale dates.