The inevitable Christmas countdown has begun, and whether you love it or loathe it we can bet you still as excited as us about nabbing a snazzy beauty advent calendar. Now, Get all the details on the L'Occitane Advent Calendars 2020, L'Occitane has released three calendars for 2020.Check out the details below!
PRICE:
$160
Official Release Date:
Available now at L'Occitane and John Lewis
Brand Description:
L'Occitane Classic Advent Calendar has designed by award winning French illustrator Edith Carron. L'occitane have added an additional calendar to their line-up. As well as the classic and luxury calendars, they will also have a reusable calendar. They have collaborated with UK illustrator Isla Simpson to hand design this beautiful reusable cotton calendar.
CONTENTS
Almond Shower Oil 75ml
Herbae par L'OCCITANE Eau de Parfum 5ml
Shea Intensive Hand Balm Travel Size 50ml
Herbae par L'OCCITANE L'Eau Perfumed Soap 100g
Shea Butter Hand Cream 30ml
Aqua Réotier Water Gel Cleanser 40ml
Intensive Repair Conditioner 75ml
Immortelle Precious Overnight Mask 8ml
You Carrock! Delicious Lip Oil 10ml
Lavender Foaming Bath 100ml
Relaxing Pillow Mist 15ml
Almond Milk Concentrate 50ml
Shea Ultra Rich Lip Balm Certified Organic 12ml
Divine Cream 8ml
Verbena Eau de Toilette 10ml
Aqua Réotier Ultra Thirst-Quenching Gel 20ml
Intensive Repair Shampoo 75ml
Cherry Blossom Hand Cream 30ml
Soothing Face Mask Pod 6ml
3-in-1 Micellar Water 30ml
Precious Cream 8ml
Shea Butter Foot Cream 30ml
Overnight Reset Serum 5ml
The Petit Remedy 15g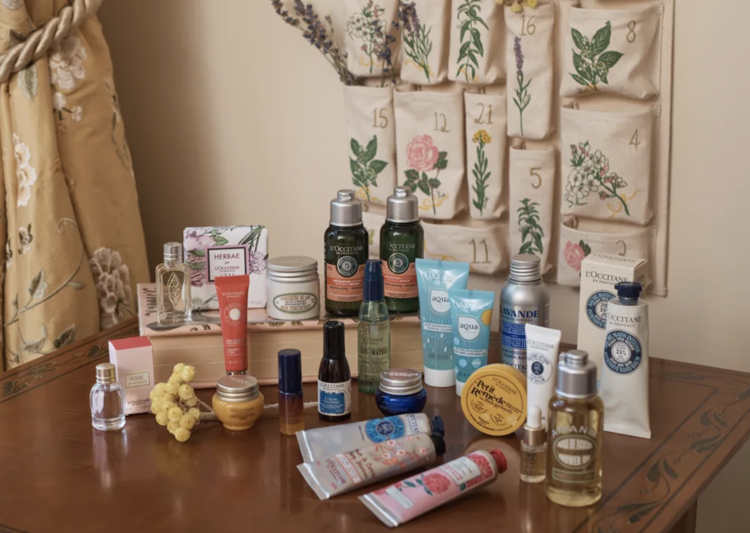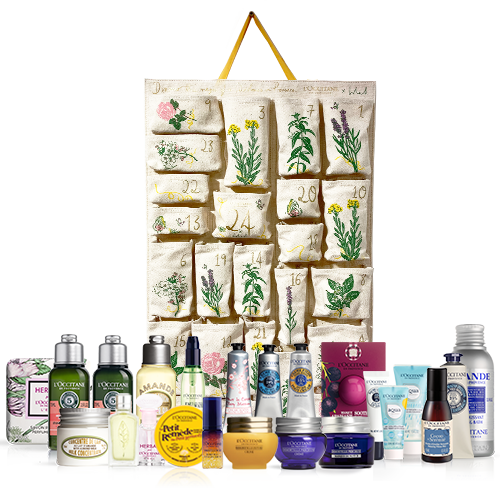 TIPS:
Gone are the days when we'd count down to Christmas with a teeny tiny chocolate that'd disappear in a single bite. Now, everything from stunning scented candles and wonder-serums, to luxe body oils and fragrances that smell so good it's insane are hiding behind those little paper doors – and we are 100% here for them.
Check out our list of beauty ADVENT CALENDAR releases, and be sure to check back as many more are announced. To help guide you to find the 'best beauty advent calendar of 2020', we've rounded up every single beauty advent calendar for 2020 – Watch this space for more details and in the mean time check out the best beauty advent calendars to snap up this Christmas. and if a brand is yet to share any details, we've predicted their offering based off last year. From the products included inside (think, lipstick, perfume, eyeshadow and so much more, to the on-sale dates.