This beauty advent calendar is back for its fourth year!
This year, the Jo Loves Advent Calendar makes an appearance in the shape of a star and it looks absolutely stunning.
The brand is saying that you could use the emptied design as a table centre centre-piece or use the Jo Loves red ribbon to hang it from a door.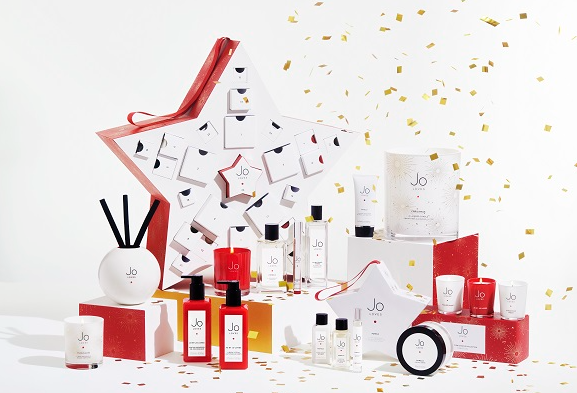 PRICE:
£325
Official Release Date:
Available now at joloves
My Rating: 4 /5
Contents:
Jo Loves Eucalyptus & Cedar Woods Hand Lotion 75ml
Jo By Jo Loves Bath & Shower Gel 75ml
Jo Loves Pomelo Shampoo 75ml
Jo Loves Pomelo Conditioner 75ml
Jo Loves Pomelo Paintbrush 7ml
Jo Loves Eucalyptus & Cedar Woods Hand Wash 75ml
Jo Loves Pink Vetiver 10ml Vial
Jo Loves White Rose & Lemon Leaves Paintbrush 7ml
Jo Loves Mulled Wine Votive 70g
Jo Loves Christmas Trees Votive 70g
Jo Loves Roasted Chestnuts Votive 70g
Jo Loves Cobalt Patchouli & Cedar 10ml Vial
Jo By Jo Loves Body Crème 50ml
Jo By Jo Loves Paintbrush 7ml
Jo Loves Green Orange & Coriander 10ml Vial
Jo By Jo Loves Votive 70g
Jo Loves Pomelo Bath & Shower Gel 75ml
Jo Loves Cobalt Patchouli & Cedar Bath & Shower Gel 75ml
Jo Loves Snowflakes Room Spray 14ml
Jo By Jo Loves Body Lotion 75ml
Jo Loves Christmas Trees Room Spray 14ml
Jo Loves No. 42 The Flower Shop 10ml Vial
Jo Loves Pomelo Body Lotion 75ml
Jo Loves Fragrance Voucher 100ml