If you're looking for help in deciding between Elizabeth Aden and Lancôme, then you've come to the right place. In this article, I'm going to some important aspects of choosing skincare products from any of these brands.
Aside from showing you their similarities and differences, you'll also learn about some of their products. To make it easy for you to choose, I'm going to compare some of these products. You'll see the pros, cons, and how you can use each product.
Background Information
Elizabeth Arden

is a bit older than Lancôme- the American brand was born a little bit after

1900

, whereas Lancôme appeared around

1930

. This can only mean one thing: they have together almost 2 centuries of experience in cosmetics.

Lancôme

creates fragrances, skincare products and makeup products, while the American manufacturer stands out from the crowd especially with its makeup creations.

Elizabeth Arden

does produce though fragrances and cosmetic products just as well.

Lancôme

's most precious ingredient for the skincare products is

LR2412

, well known for its efficiency when fighting against aging. This incredible ingredient makes miracles when it comes to the fine lines, wrinkles or aging spots and acne scars.

Elizabeth Arden

brings to the

cosmetic environment Prevage

, one of the most innovative cosmetic products and Ceramide. Ceramide tightens the skin and restores Ceramides- essential when it comes to hydration. Prevage was created in combination with Allergan and contains a powerful concentrate of super antioxidant Idebenone.
Lancôme Renergie Lifting & Firming Cream vs Elizabeth Arden Flawless Future Cream
Elizabeth Arden Flawless Future Cream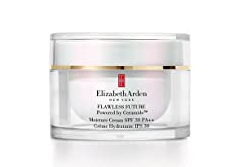 A perfect alternative to the Lancome Renergie Lift Multi-Action Lifting and Firming Cream, this cream from Elizabeth Arden is a luxury product. It comes in a 1.7 oz package and is designed to help you eliminate fine lines and wrinkles.
It's similar to the Ceramide Time Complex Moisture Cream. In fact, the cream is filled with ceramide that helps in enhancing the skin's hydration level.
Lancôme Renergie Lifting & Firming Cream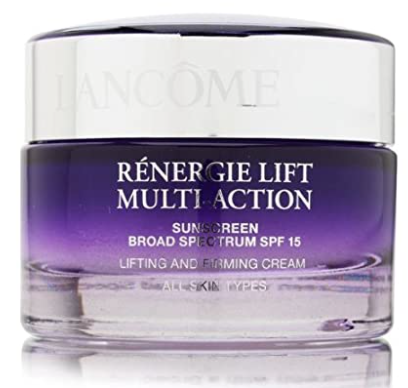 The Lancôme Multi-Action Lifting & Firming Cream is a thick alternative to the Clinique Firming Cream. It's creamer and promises to make the face look firmer and smoother.
It doesn't have phthalates, sulfates, or parabens so that you can get a natural treatment for your face. It also has a pleasing fragrance that's not too strong.
You can use the Lancôme Firming Cream on normal or combination skin. It claims to be an anti-aging cream for all types, which I see as a step above the Clinique Moisturizer.
Buy Here :
Lancôme Renergie Lifting & Firming Cream Elizabeth Arden Flawless Future Cream
---
Lancôme Bienfait SPF 30 24-hour Moisturizing vs Elizabeth Arden Visible Difference Cream
Elizabeth Arden Visible Difference Cream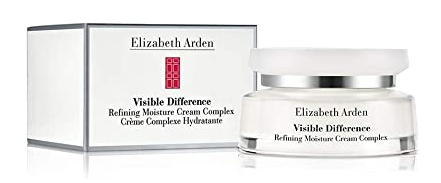 Elizabeth Arden's moisturizer is not greasy, comes also in a SPF version and gives no outbreaks. A little goes a long way so it's going to stick for some months around you. This doesn't clog pores and works great under makeup.
The moisturizer from Elizabeth Arden is thick, not sticky and has no side effects on the sensitive skin. Your skin remains supple afterwards and the fine lines get smoothen.
Lancôme Bienfait SPF 30 24-hour Moisturizing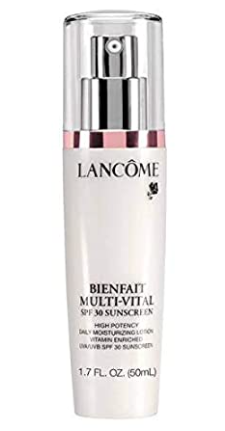 Lancôme's moisturizer absorbs fast, smells amazing (floral scent) and slides onto skin. This is easy to spread, keeps away outbreaks and you only need a pea size drop for one use. So, you can use it for one year for sure.
Lancôme's moisturizer leaves no trace of greasiness, but only a radiant, glowing, clearer and smoother skin.
---
Other

Information
Lancome
Greater brand recognition than Elizabeth Arden (estimated)
Offers debit & prepaid card support
Offers loyalty programs
Offers live chat support
Offers free return policies
Offers international shipping policies
Elizabeth Arden
Offers more frequent discounts and promotions than Lancome
Significantly better cruelty-free policies than Lancome
Does not offer live chat support
Does not offer free return policies
Does not offer international shipping policies
---
Comparison Details
---
At the end of the article, you should understand both brands better. And be able to decide which product is best for you from any of them.