Hello beauties! Here is everything you need to know about Decleor Advent Calendar 2020, You are going to be completely thrilled with the contents this year. It's amazing.
PRICE:
$85
Official Release Date:
Available now at Decleor, John Lewis, Beauty Expert & Look Fantastic.
Brand Description:
Decleor have a hexagon shaped calendar with an underwater theme designed by creative artist Radim Malinik. Inside are all the pampering treats you'd expect from Decleor to treat you over the festive season.
My Rating: 4 /5
CONTENTS
1. Rosemary Officinalis Fluid Care 50ml
2. Accessory Face Cleansing Glove
3. Rosemary Officinalis Black Clay Mask 15ml
4. Rose Damascena Shower Gel 50ml
5. Antidote 10ml
6. Rosemary Officinalis Cleansing Gel 50ml
7. Neroli Bigarade Tonifying Lotion 15ml
8. Green Mandarin Cream 15ml
9. Rose Damascena Night Balm 2,5ml
10. Lavender Fine Shower Gel 50ml
11. Neroli Bigarade Aromessence 0,7ml
12. Neroli Bigarade Light Cream 15ml
13. Neroli Bigarade Eye Cream 15ml
14. Grapefruit 1000 Grains Body Exfoliator 50ml
15. Neroli Bigarade Body Milk 50ml
16. Neroli Bigarade Cleansing Mousse 50ml
17. Lavender Fine Light Cream 15ml
18. Lavender Fine Night Balm 2,5ml
19. Neroli Bigarade Shower Gel 50ml
20. Neroli Bigarade BB Cream 15ml
21. Eucalyptus Cica Balm 15ml
22. Neroli Bigarade Night Balm 2,5ml
23. White Magnolia Hand and Nails Cream 50ml
24. Green Oregano Cleansing Powder 30ml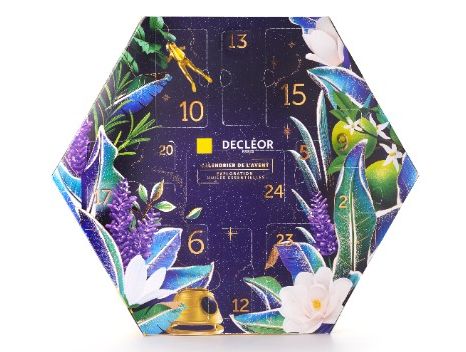 TIPS:
Check out our list of beauty ADVENT CALENDAR releases, and be sure to check back as many more are announced. To help guide you to find the 'best beauty advent calendar of 2020', we've rounded up every single beauty advent calendar for 2020 – Watch this space for more details and in the mean time check out the best beauty advent calendars to snap up this Christmas. and if a brand is yet to share any details, we've predicted their offering based off last year. From the products included inside (think, lipstick, perfume, eyeshadow and so much more, to the on-sale dates.