Coach Dreams Sunset by Coach is a Amber Floral fragrance for women.
Top notes are Pear Ice Cream and Bergamot; middle notes are Magnolia and Jasmine Sambac; base notes are Vanilla and Tonka Bean.
Inspired by golden hours and one-of-a-kind journeys with friends, Coach Dreams Sunset evokes the warmth of memories in the making and the magic of possibilities on the horizon. Created by perfumer Nathalie Lorson, the floral gourmand and fresh fragrance opens with fruity notes of pear and bergamot, revealing a heart of jasmine flowers before drying down to warm Tonka bean and vanilla.
Crafted of ombré glass inspired by changing skies, the bottle is finished with a refined leather ring at the base of the cap, a nod to Coach's rich history of leather craftsmanship. The eye-catching box twinkles with rose gold glitter, evoking the magic of dreams. Playful illustrations speak to the inspiration for the fragrance: an adventure with friends.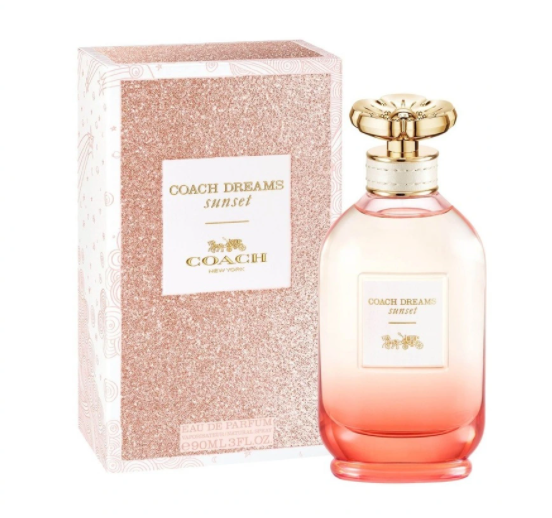 Price:
$62
Release Date:
Available now
Where to buy:
What does Coach Dreams Sunset smell like? Well it is an aroma highlighted by a bouquet of fragrant fruity, sweet and gourmand scented tones that will bring a sensual, light and uplifting perfumed sensation.
Examining it closer once applied you will notice a lingering quality of softer fragranced aquatic, bitter and citrus hints that hide an essence of comforting, pleasing and warm feelings.
If Coach Dreams Sunset seems like a pleasant smell for your taste or maybe special occasion then the best is to aromatize yourself and give it a try!
The best practice is before buying Coach Dreams Sunset, sample it, and see if it blends with your body chemistry and character. This way you will know first-hand if you like it and even how long it lasts before making a decision. The more perfume reviews you read on Coach Coach Dreams Sunset from different people and especially experts who have the nose the better prepared for making your choice.