When is Cyber Monday 2022?
Cyber Monday for the year 2022 is celebrated/ observed on Monday, November 28th.
Vitamin World Cyber Monday 2022
Cyber Monday is one of the biggest shopping days of the year, when retailers of all kinds bring deep discounts to their online stores.
You can scroll down the page to view last year's details to get a general idea of the type of offers they typically run (you can expect to see similar deals return). As we always do, we'll be posting the latest Thanksgiving 2022 news the moment we know more. Be sure to check back again soon for more updates or join our newsletter to stay informed.

Last Year's Vitamin World Cyber Monday
2021 ad
Cyber Monday: $30 off $100, $60 off $200, $90 off $300! + Buy 2 Get 3 SHOP NOW >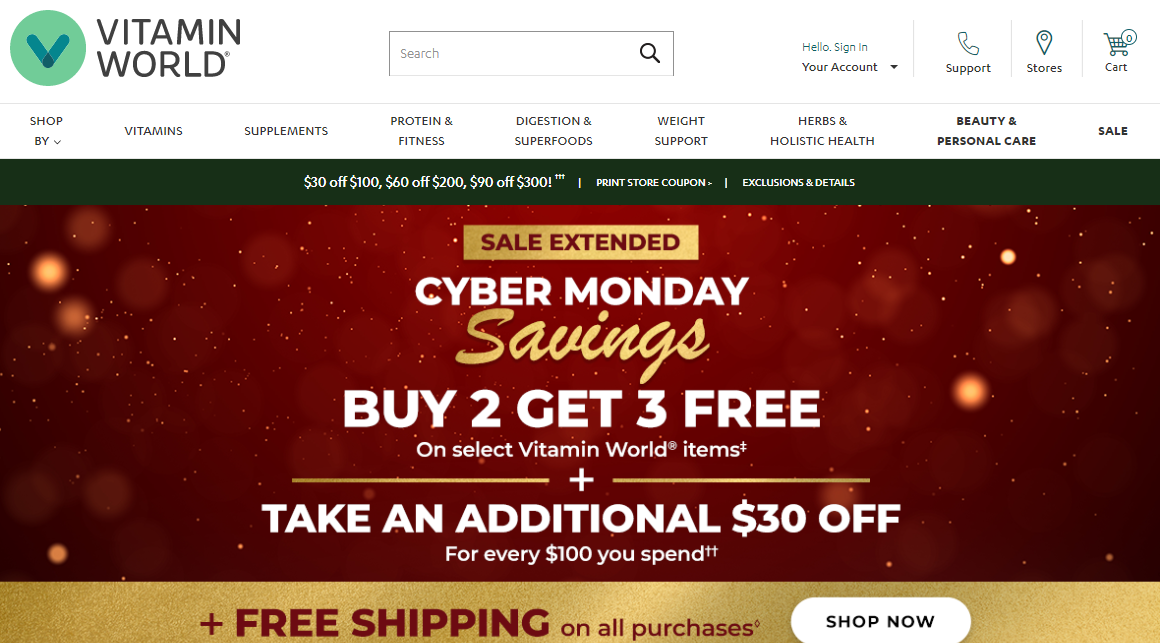 History
Are you interested in seeing some of Vitamin World' older Cyber Monday ads? Then follow the links below to view the last few years of ad history.
2020 ads: page 1
2019 ads page 1
---
More about Vitamin World
Vitamin World USA Corporation is a global retailer of vitamins and nutritional supplements and is headquartered on Long Island, New York in the United States. Vitamin World was a subsidiary of NBTY Inc. NBTY manufactured and sold products under the "Vitamin World" label and currently does so under the "Holland and Barrett" and "Puritan's Pride" labels.