Now, Get all the details on the Revolution Advent Calendars 2020, Check out the details below! Revolution have two calendars this year; You Are A Star! and The Advent Calendar which both have a selection of make-up and accessories including a. mirror, scrunchies and make-up brushes inside.
PRICE:
Now £20
Official Release Date:
The Advent Calendar is available now at Superdrug / Revolution
Brand Description:
This one is black and metallic rose gold with 25 boxes and a sparkly star design. There is a full-size eyeshadow palette and a mixture of face, lip and eye products.Revolution The Advent Calendar 2020
CONTENTS
Revolution Blusher Brush
Revolution Concealer Brush
Revolution Brow Brush
Revolution Lip Brush
Revolution Black Hair Scrunchie
Revolution Amazing Lipstick – Nude Shade
Revolution Compact Mirror
Revolution Lip Gloss Squeezy Tube – Clear Shade
Revolution Lip Gloss Squeezy Tube – Translucent Pink Shade
Revolution Mini Eyeshadow Palette – Seven Powder Shadows
Revolution Lip Liner Or Eyeliner Pencil x 3
Revolution Brow Gel
Revolution Shimmer Lip Gloss – Nude Shade
Revolution Shimmer Lip Gloss – Bright Pink Shade
Revolution Mini Blusher – Coral Shade
Revolution Mini Highlighter – Light Gold Shade
Revolution Mini Highlighter – Champagne Shade
Revolution Lip Gloss / Liquid Lipsticks x 3
Revolution Eyeshadow Palette – 15 Powder Eyeshadows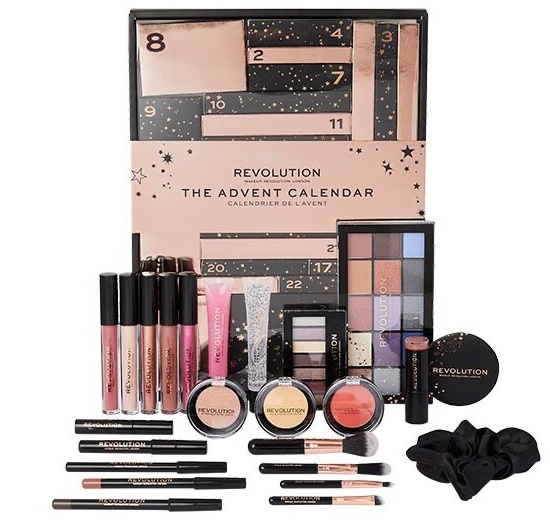 TIPS:
Gone are the days when we'd count down to Christmas with a teeny tiny chocolate that'd disappear in a single bite. Now, everything from stunning scented candles and wonder-serums, to luxe body oils and fragrances that smell so good it's insane are hiding behind those little paper doors – and we are 100% here for them.
Check out our list of beauty ADVENT CALENDAR releases, and be sure to check back as many more are announced. To help guide you to find the 'best beauty advent calendar of 2020', we've rounded up every single beauty advent calendar for 2020 – Watch this space for more details and in the mean time check out the best beauty advent calendars to snap up this Christmas. and if a brand is yet to share any details, we've predicted their offering based off last year. From the products included inside (think, lipstick, perfume, eyeshadow and so much more, to the on-sale dates.