When is Black Friday 2021?
Nars Cosmetics just officially went live their Black Friday sale!
NARS Cosmetics Black Friday 2021
Starting now, shop narscosmetics.com with promo code CYBER to get either 20% off your entire purchase or 30% off your entire purchase of $150+. Complimentary shipping is also included on all orders over $35 within the continental U.S.

---

Last Year's Black Friday Ad
Updated on November 23, 2020:
Starting today, NARS Cosmetics Black Friday 2020 officially started, You will see a huge deals update here;
Click: www.narscosmetics.com
Shop The Biggest Event of The Year at NARS! Up to 30% Off! Starting 11/24.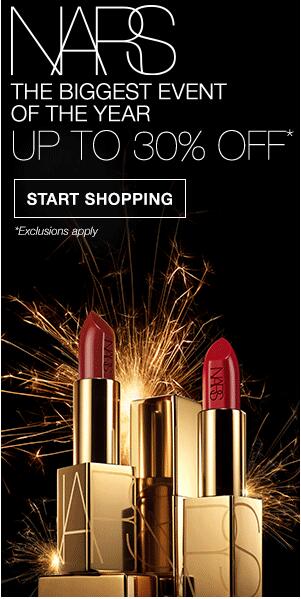 History
Are you interested in seeing some of NARS ' older Black Friday ads? Then follow the links below to view the last few years of ad history.
2019: page 1 page 2 page 3
2018: page 1 page 2
2017: page 1 page 2 page 3
2016: page 1
2015: page 1
2014: page 1 page 2
---
More about NARS Cosmetics
NARS Cosmetics is a French cosmetics and skin care company founded by make-up artist and photographer François Nars in 1994. The cosmetics line began with twelve lipsticks sold at Barneys New York. Since then, NARS has created various multi-use beauty products and now is a subsidiary of Shiseido.