When is Cyber Monday 2021?
Cyber Monday is the Monday that follows the Thanksgiving Day and Black Friday. Cyber Monday 2021 falls on 29 November.
Marc Jacobs Beauty Cyber Monday 2021
Cyber Monday is one of the biggest shopping days of the year, when retailers of all kinds bring deep discounts to their online stores. now we've still got a long ways to go until Marc Jacobs Beauty's 2021 Cyber Monday sale arrives again. But you can scroll down the page to check out what was offered last year to get an idea of what's likely to come.
As mentioned, We'll be updating this page with the latest news the moment we know more. you can bookmark this page right now, we think they are worth checking out.
What To Expect About Marc Jacobs Beauty Cyber Monday 2021?
The guide to the Marc Jacobs Beauty Cyber Monday deals 2021 is here to get you all prepped and ready with everything you need to know about what's sure to be one of this year's biggest sales events. Key dates, what to expect, and the best deals from the previous Cyber Monday event are all here to help arm you with the essential info you'll need come November 2021. There's no time to recover from Black Friday madness as most Cyber Monday sales start immediately after Black Friday ends.
Cyber Monday 2021 falls on 29 November this year. However,It's still too early to know what's coming at Marc Jacobs Beauty Cyber Monday sale this year but you can scroll down the page to view last year's details to get a general idea of the type of offers they typically run. This page will be updated as soon as I know more. Be sure to check back again soon for the latest informations.
Since the sales event is not start yet, you can check the latest beauty sales here: Makeup Sales & Deals This Week

Last Year's Marc Jacobs Beauty Cyber Monday
Updated on November 30, 2020:
Starting today, Marc Jacobs Beauty Cyber Monday 2020 officially started, You will see a huge deals update here;
Click: www.marcjacobs.com
Take 30% off all full-price items, plus a free mini mascara on all orders $25+. Scroll, search & see which beauty picks click. No code needed.
Offer ends 12/2.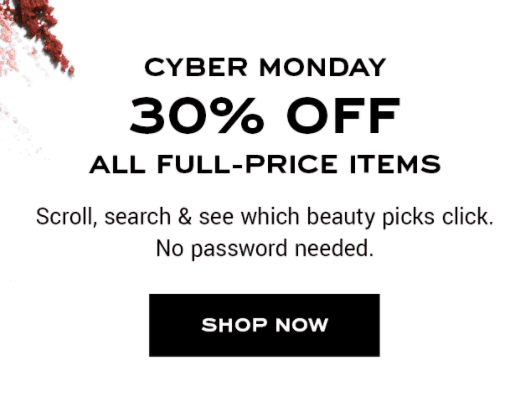 History
Are you interested in seeing some of Marc Jacobs Beauty' older Cyber Monday ads? Then follow the links below to view the last few years of ad history.
2019 ads:page 1
---
More about Marc Jacobs Beauty
Marc Jacobs is a member of the LVMH group. It is good at discovering the beauty of makeup in unexpected ways and conveying the true meaning of luxury in daily life. The company's core values ​​are to believe that everyone is a movie star in their minds, and to show a unique personality through fashion, makeup and perfume.