When is Black Friday 2021?
The Black Friday 2020 sale has ended. Mark your calendar for Best Buy Black Friday 2021 on November 26, the second day after Thanksgiving.
Lime Crime Black Friday 2021
BLACK FRIDAY SALE SHOP NOW>>>
Up To 75% Off Sitewide
All Lipsticks Are $10
Free Mini Red Velvet Velvetine & Extra Poppin Gloss With $50 +
Feee Shipping On All US Orders + International Orders $50 +


Last Year's Black Friday Ad
2020 Ad
Last updated on Tuesday November 28, 2020:
Lime Crime Black Friday 2020 officially started, You will see a huge deals update here;
Click: www.limecrime.com
Black Friday Savings! Get 30% off sitewide and Free GWP with orders $50+ plus free shipping! Ends 12/1/20, some exclusions apply
Free standard shipping on all US orders and on all International orders of $50+ USD at Lime Crime. Ends 12/1/20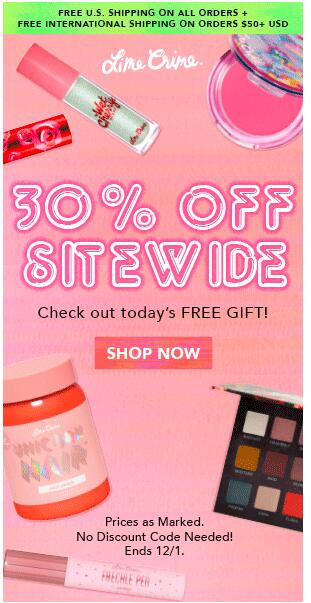 ---
History
Are you interested in seeing some of Lime Crime' older Black Friday ads? Then follow the links below to view the last few years of ad history.
2019: page 1 page 2
2018: page 1 page 2
2017: page 1
2016: page 1
---
More about Lime Crime
Lime Crime is an American cosmetics brand that was founded and launched by Doe Deere. The brand is well known in the beauty community for its eccentric and colourful products, as well as the controversies surrounding Deere and the company.