When is Black Friday 2022?
Black Friday for the year 2022 is celebrated/ observed on Friday, November 25th.
Kohl's Black Friday 2022
Kohl's officially announced it's Black Friday 2022 sales schedule via press release. Here's what you will be able to take advantage of in-stores and at kohls.com this year:
From Friday Nov. 11th to Thursday Nov 17th you'll get a chance to earn $10 in Kohl's Cash earn for every $50 spent.
From Friday Nov. 11th to Saturday Nov 12th get $10 off your $25+ purchase with coupon (some exclusions may apply).
From Friday Nov. 11th to Sunday Nov 13th get 30% off your entire purchase if you're an active or former military personnel, veteran and your family (some exclusions will apply).
From Friday Nov. 11th to Saturday Nov 19th get an extra 20% off your entire purchase (some exclusions will apply).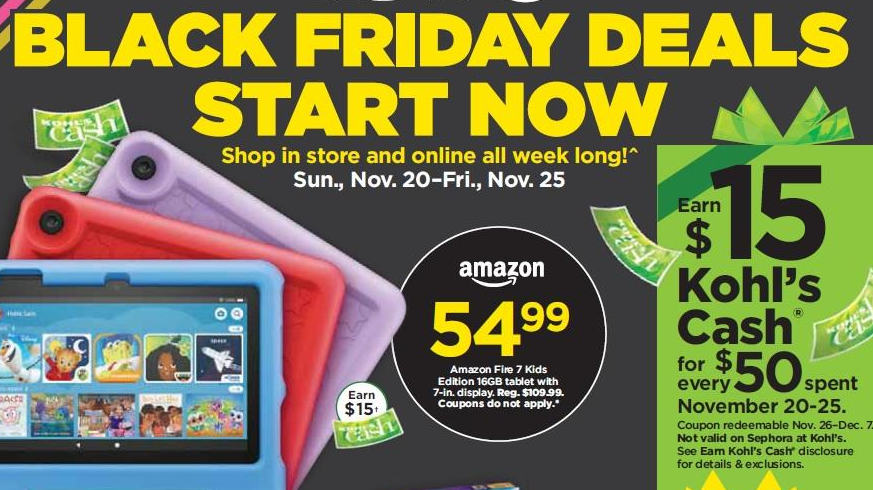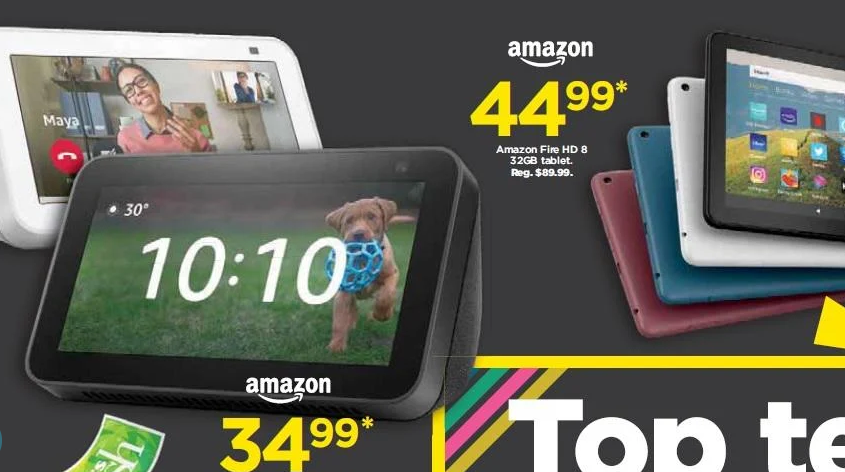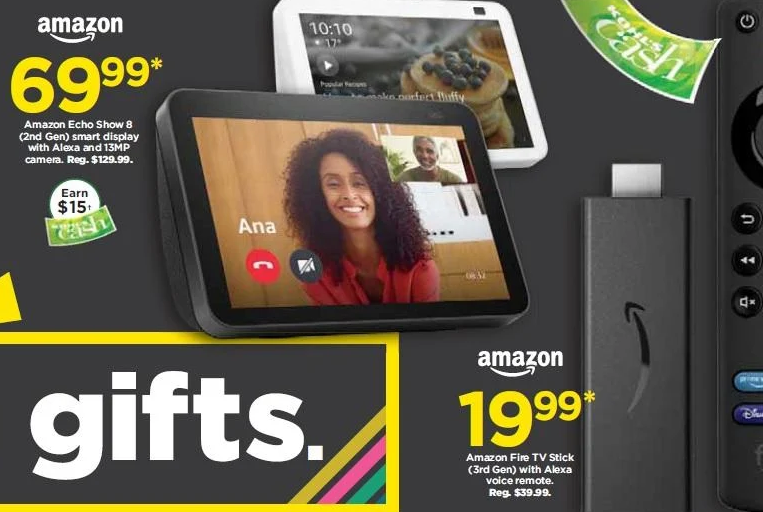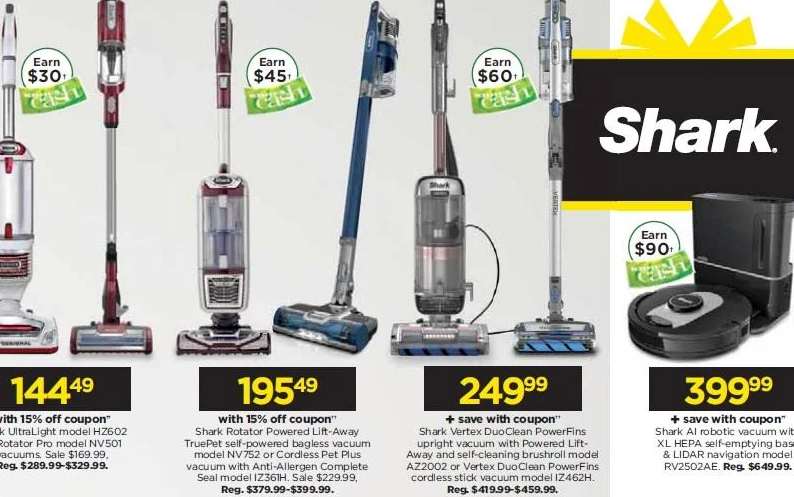 Last Year's Black Friday Ad
2021 Ad
These deals will be available online at kohls.com beginning on Sunday November 21, 2021 at 12:01AM CT/1:01AM ET (Saturday November 20, 2021 at 10:01AM PT on the west coast). In-stores the deals begin on Sunday when doors open at 8:00AM. All offers are valid through Friday November 26, 2021 or while supplies last.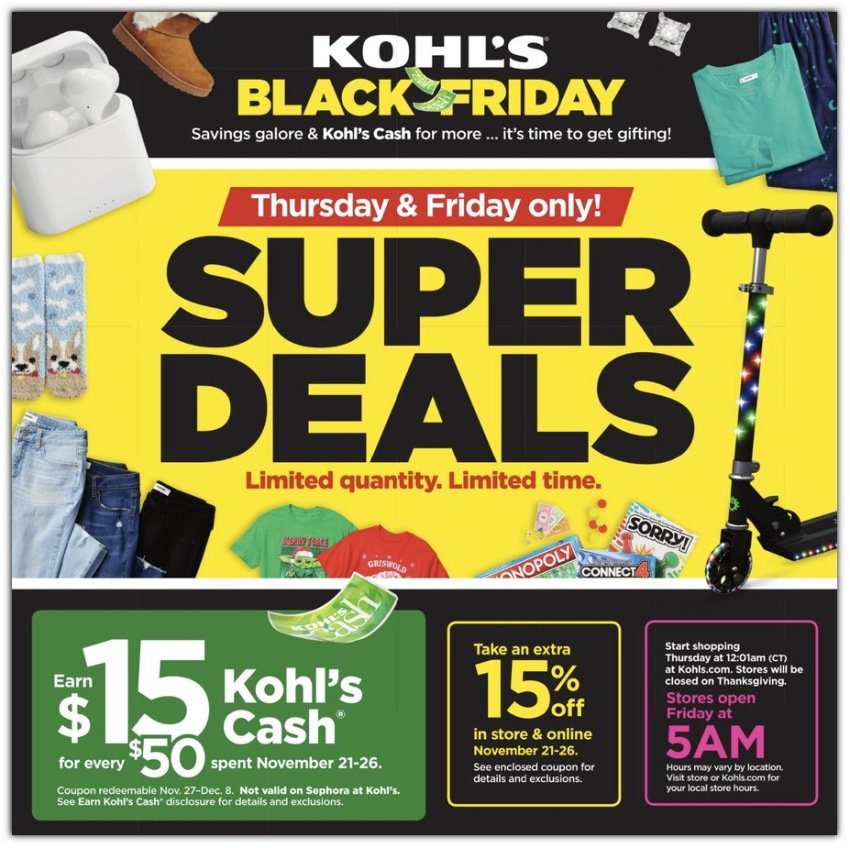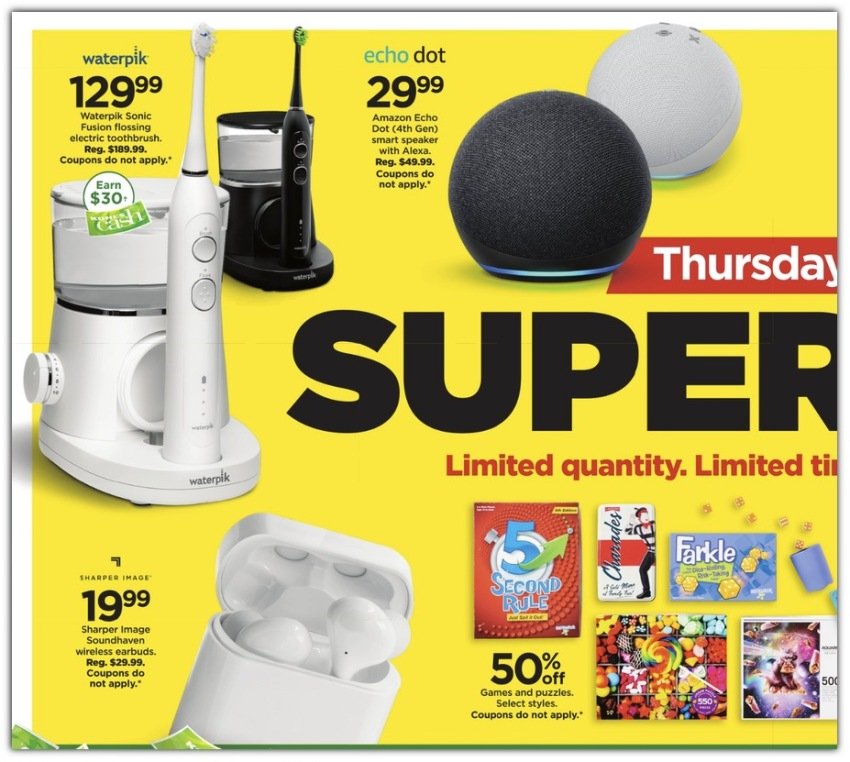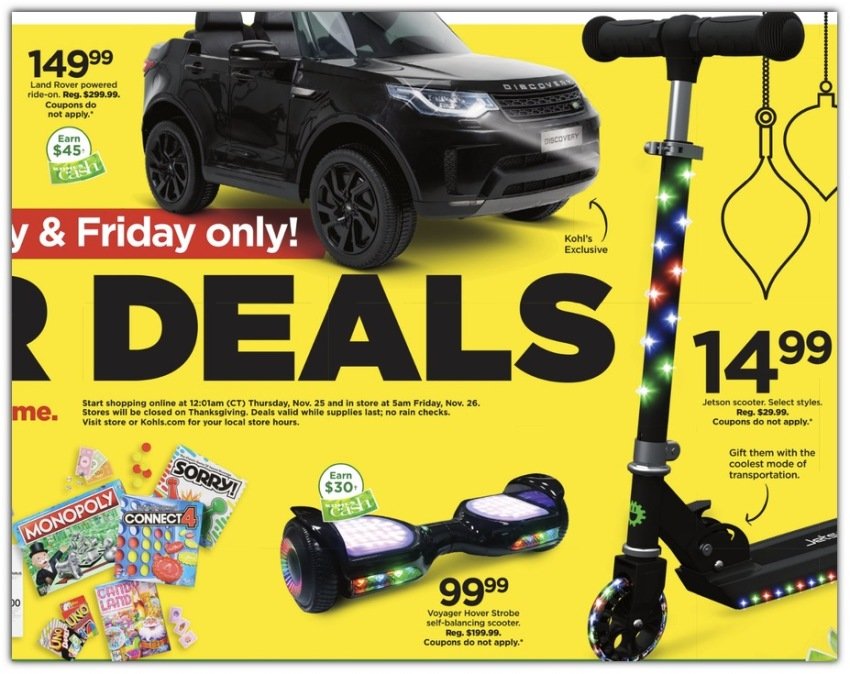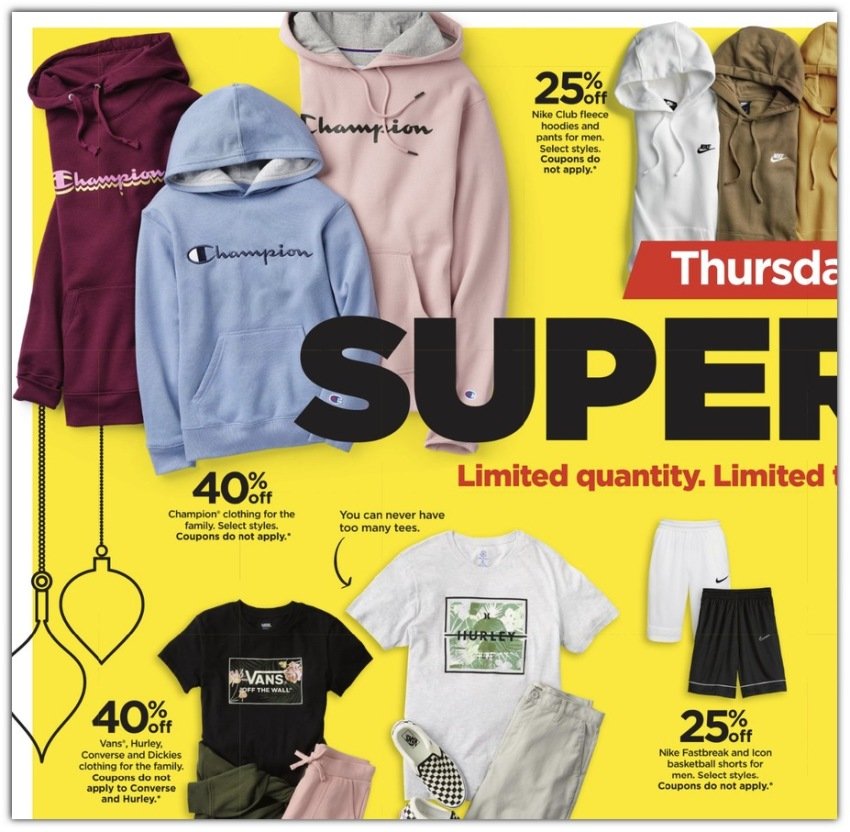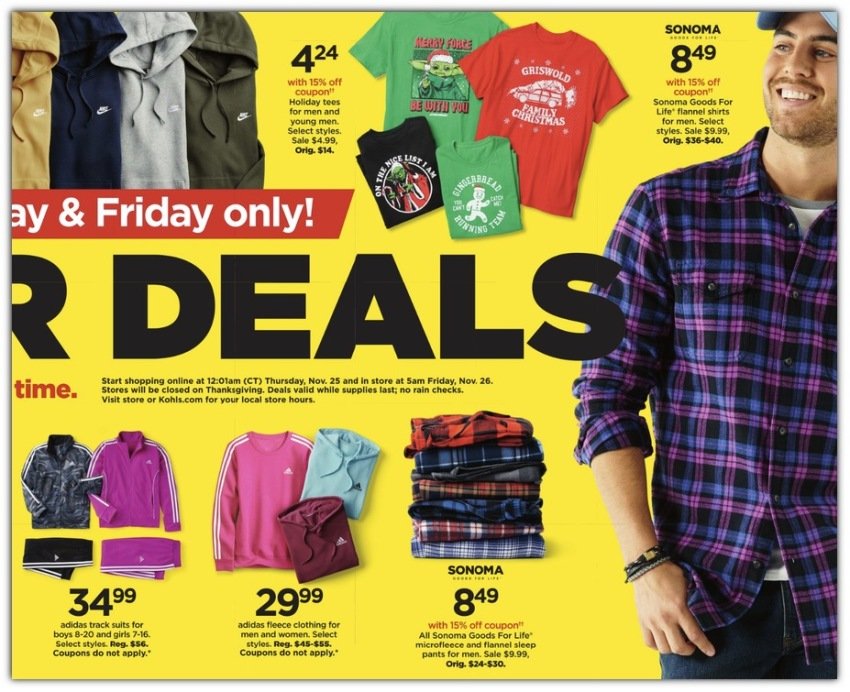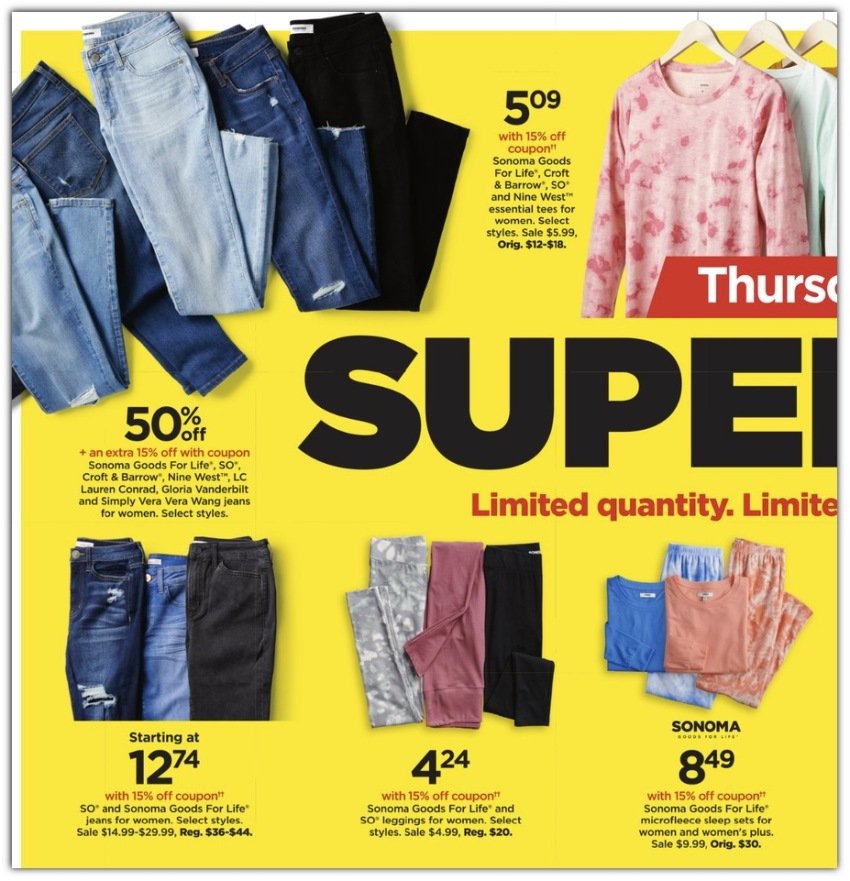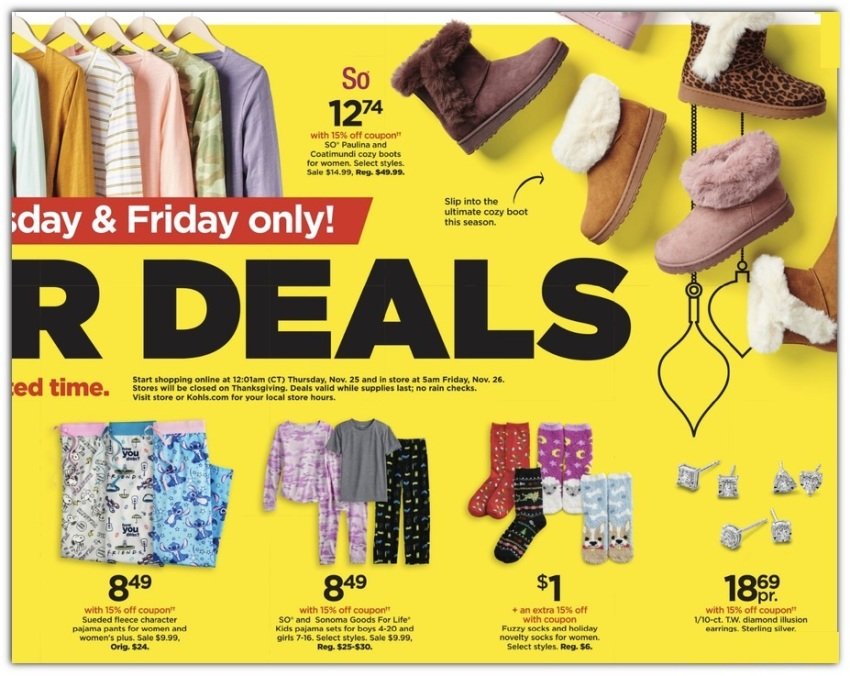 ---
History
Are you interested in seeing some of Kohl's' older Black Friday ads? Then follow the links below to view the last few years of ad history.
2020 Ad
Updated on November 28, 2020:
Starting today, Kohl's Black Friday 2020 officially started, You will see a huge deals update here;
Click: www.kohls.com
Kohl's offers Baking At Home extra 15% off , via coupon code THANKS
Free shipping on orders over $75
2020:page 1
2018: page 1
2017: page 1
2016: page 1
2015: page 1
---
What We Expect
At present, we have not received any discount information about Kohl's Black Friday in 2020. Based on the activities of previous years, we predict that the store will perform the same activities as in the past this year. We will update our website as soon as we receive the event information. You can follow or bookmark our website, we will update many discount activities, so that you can buy the things you need at the best price, exciting!
---
More about Kohl's
Kohl's is an American department store retail chain, operated by Kohl's Corporation. With 1,158 locations, it is the largest department store chain in the United States as of February 2013. The company was founded by Polish immigrant Maxwell Kohl, who opened a corner grocery store in Milwaukee, Wisconsin in 1927.