When is Cyber Monday 2021?
Cyber Monday is the Monday that follows the Thanksgiving Day and Black Friday. Cyber Monday 2021 falls on 29 November.
Kiko Cosmetics Cyber Monday 2021
Buy 3 products, other 3 are for FREE! UNTIL SUNDAY 28/11 ONLINE AND IN STORES
---

---
Last Year's Kiko Cosmetics Cyber Monday
2020 Ad
Updated on December 1, 2020:
Starting today, Kiko Cosmetics Cyber Monday 2020 officially started, You will see a huge deals update here;
Click: www.kikocosmetics.com
Kiko Cosmetics offerx 50% OFF.
Today Only!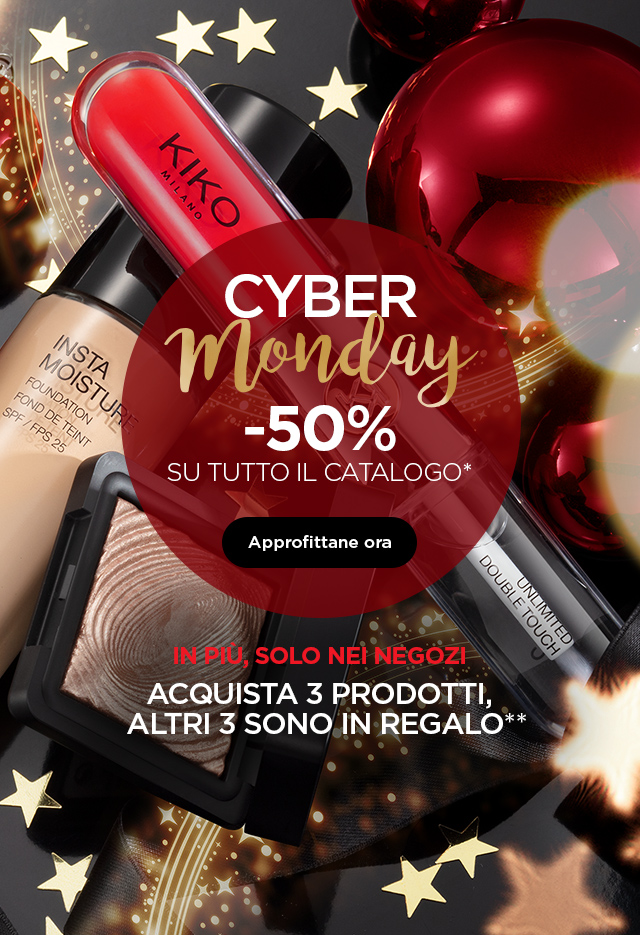 ---
History
Are you interested in seeing some of Kiko Cosmetics' older Cyber Monday ads? Then follow the links below to view the last few years of ad history.
2019 ads
50% discount on EVERYTHING, online only!
2019: page 1
---
More about Kiko Cosmetics
KIKO MILANO was established and founded in 1997 by Percassi. It is an Italian professional cosmetics brand that features a range of cutting-edge makeup, face and body treatments. Safe and effective products of the highest quality, created to satisfy the beauty requirements of women of any age.
Through its extraordinarily wide and diversified range of products, KIKO allows everyone to express their own personality with custom-made products. A variety of colours, effects and sensations that are unique in the market to suit your style, skin tone, skin type and specific requirements, at every phase of your life.KIKO's identity is rooted in "Made in Italy" values and the world of the capital for fashion, art and design. The research into original textures and colours is combined with research into quality formulas with guaranteed performance, for a perfect fusion of quality and creativity.The result of cutting-edge scientific discoveries and the latest fashion trends, KIKO continuously renews itself with products that are always new and closer to the multiple ideals of beauty.