When is Black Friday 2022?
Black Friday for the year 2022 is celebrated/ observed on Friday, November 25th.
Janie and Jack Black Friday 2022
Early Acess at janieandjack.com

---

Last Year's
Janie and Jack
Black Friday
2021 Ad
shop janieandjack.com to get 30% off sitewide on all full priced items with promo code ALLYOURS.
You'll also be able to save up to 70% off select sale items.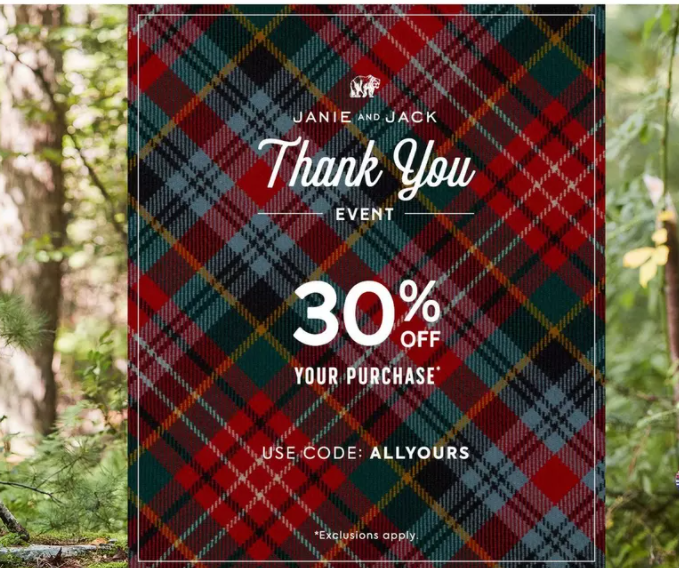 ---
History
Are you interested in seeing some of Janie and Jack' older Black Friday ads? Then follow the links below to view the last few years of ad history.
2020 Ad
Updated on November 27, 2020:
Starting today, Janie and Jack Black Friday 2020 officially started, You will see a huge deals update here;
Click: www.janieandjack.com
Janie And Jack offer Dress Sale. Up to 70% Off+Extra 30% Off
Free Shipping on over $100.
2020:page 1
2019: page 1
---
Expected 2020 Start and End Dates
Janie and Jack's Black Friday sales have historically been short and sweet. Usually available both online and in stores, their best deals have always been offered on Thanksgiving day and Black Friday only, while in-stock supplies lasted. As we all know, the COVID-19 coronavirus pandemic has turned the world upside down this year. If anything, you can not only expect some of the best deals ever due to months of lost sales when stores were closed, but also extended sale dates.
---
Janie and Jack Discount Tips
Refer a friend to Janie and Jack using their online link-sharing system, and you can each get a 15% discount code. This promotion is only available when you're shopping online, and it only applies to orders that are $40 or more.
---
More about
Janie and Jack
Janie and Jack is a children's clothing company known for its delicate fabrics and hand-sewn details. Jenny and Jack cherish the special moments of childhood. They not only provide the perfect style for every special occasion. Online stores range in size from newborns to 12 years old, and physical stores range from newborns to 6 years old. And also provide personalized customer service, gift suggestions and gift packaging.